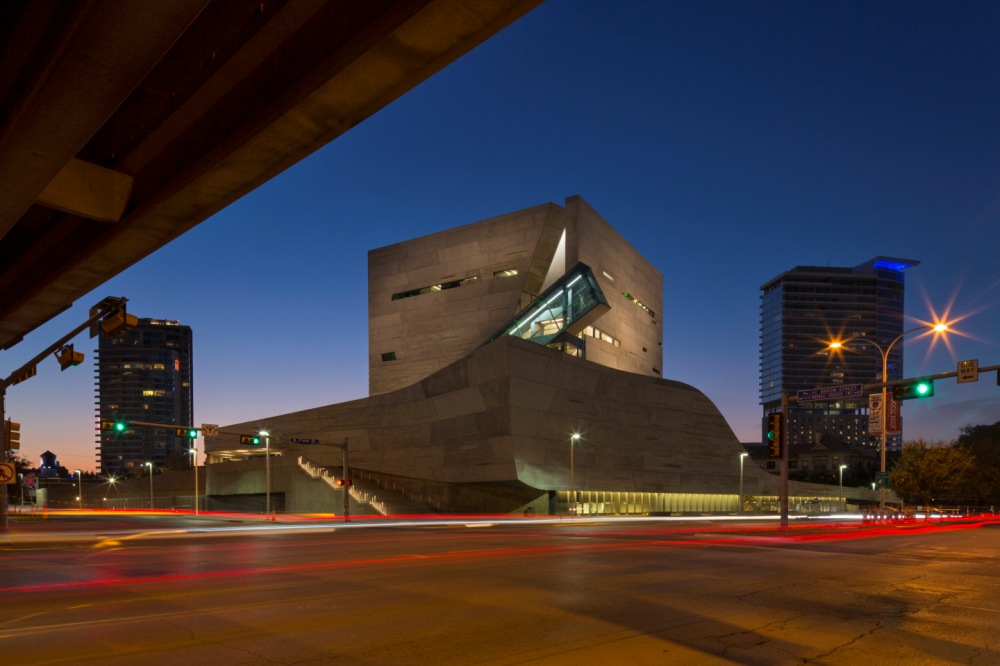 © Photo by Mark Knight Photography
Perot Museum of Nature and Science
2201 N. Field St.
Dallas
,
Texas
75202
214-428-5555
Enriching the city's evolving urban and cultural fabric with a mission to inspire minds through nature and science, the Perot Museum embraces the natural world and the manmade world, focusing on earth and space sciences, life and natural sciences, chemistry, physical sciences, and engineering. Designed by 2005 Pritzker Architecture Prize Laureate Thom Mayne and his firm Morphosis Architects and named in honor of Margot and Ross Perot, the museum is a place of exchange containing knowledge, preserving information, and transmitting ideas. The building is conceived as a large cube floating over a landscaped plinth (or base) and is landscaped by Talley Associates with an acre of rolling roofscape comprised of rock and native drought-resistant grasses that reflect Texas's indigenous landscape and demonstrates a living system that will evolve naturally over time.
Admission-free lobby and outdoor amenities include a solar-powered kinetic sculpture which hangs from the sunny atrium area, a mounted fossil skeleton of the Malawisaurus dinosaur, the innovative dancing water molecules, a motion-activated musical staircase that makes a distinct bubbling or melodic sound with every step a visitor takes, as well as access to the entrance of the 54-foot glass-enclosed escalator which provides a spectacular view of downtown Dallas as it travels at a speed of one mile an hour transporting up to 6,750 visitors per hour to Level 4. Located just off the main lobby on Level 1, the museum's large urban, outdoor plaza includes a rooftop observation deck, cafe tables, seating, free Wi-Fi, and outdoor enhancements. The adjacent one-acre Science Park includes a musical forest with large musical instruments tuned to pentatonic scales, a shallow cascading stream that flows into a koi pond, irrigation rain tubes and a gravity-fed waterfall highlighting the museum's sustainable design, the Founders Sculpture featuring the names of the Perot Museum's founding donors in 3D and stacked on top of each other, and a leap frog forest with sculptures that light up once the sun has set. The plaza, Science Park, and rooftop deck are admission-free areas open during the Museum's operating hours for the public's enjoyment.
The expansive, glass-enclosed lobby located on Level 1 serves as the ticketing area for Perot Museum visitors and allows access to a variety of exhibits such as:
Lower Level
Jan and Trevor Rees-Jones Exhibition Hall
Provides an accommodating, flexible, 7,500-square-foot space to house world-class exhibitions designed to excite, educate, and inspire a passion for science among all ages for decades to come.
Sports Hall
Every field, court, track, and gym is a hands-on science lab where visitors can explore the body in motion and get into action by throwing a fastball, kicking a soccer ball, turning cartwheels, or even trying to outrun a Tyrannosaurus rex while a high-speed camera captures it all.
Moody Family Children's Museum
Created for children aged five and younger, this space includes an environment mimicking the Great Trinity Forest, child-size replicas of local architecture, waterplay tables, art lab, outdoor dino dig, and more.
Education Wing
Houses six Learning Labs and the Robert and Ann Moody Forum
Level 1 (Plinth Level)
The Hoglund Foundation Theater
This sophisticated 3D digital cinema with seating for 298 boasts bright, crystal-clear images and striking colors through state-of-the-art 4K digital projection and will feature a variety of 2D and 3D films from educational features and cutting-edge documentaries to experimental independent films, animation, and even Hollywood blockbusters.
Level 2
Discovering Life Hall
Guests can uncover the fascinating stories of the biosphere with interactive games and dioramas, naturalist activities, displays and taxidermy that reveal unique stories associated with biodiversity and Texas ecology.
Being Human Hall
Visitors will be able to scrutinize slices of a human specimen, record the electrical activity of their heart, and even use their brain waves to launch a Ping-Pong ball.
Texas Instruments Engineering & Innovation Hall
Experience what it's like to build a better building, program movements in a 3D animation lab, create music in a sound studio, and even design and build a robot to race through a maze, pick up objects, or compete with other robots.
Level 3
Tom Hunt Energy Hall
Turn the valves of a full-size wellhead, use 3D technologies to map likely underground energy deposits, take a virtual trip deep underground to explore a drilling rig from the inside out, and discover how fossil fuels and alternative energy sources are playing a powerful role in the rising global demand for energy.
The Rees-Jones Foundation Dynamic Earth Hall
Experience an earthquake, touch a tornado, broadcast a weather forecast, and explore extreme Earth events all within controlled safety.
Lyda Hill Gems and Minerals Hall
Through and beneath the floor-to-ceiling arch of gleaming golden cubes representing crystals of the mineral pyrite, visitors can find sparkling cases of mineral masterpieces (many rarely seen by the public) on loan from the collections of top Texas mineral connoisseurs.
Level 4
Expanding Universe Hall
Experience what it's like to be a space explorer with a 3D-animated journey through the solar system, an interactive stargazing adventure, an unusual obstacle course that moves at the speed of light, stunning images of space as seen by the Hubble Space Telescope, and more.
T. Boone Pickens Life Then and Now Hall
Towering dinosaurs, rare fossils, virtual paleo-habitats, the first-ever installation of the Alamosaurus and much more make this a fascinating destination for dinosaur lovers and fossil collectors.
Rose Hall of Birds
Upstairs on the fourth floor mezzanine, discover the astonishing links between dinosaurs and modern-day birds, take to the air as a bird avatar via a full-body flight simulator, and create a virtual bird on one of six digital kiosks located within the exhibit.


See additional information below or visit:
Perot Museum of Nature and Science
Virtual fly-through of the Perot Museum of Nature and Science.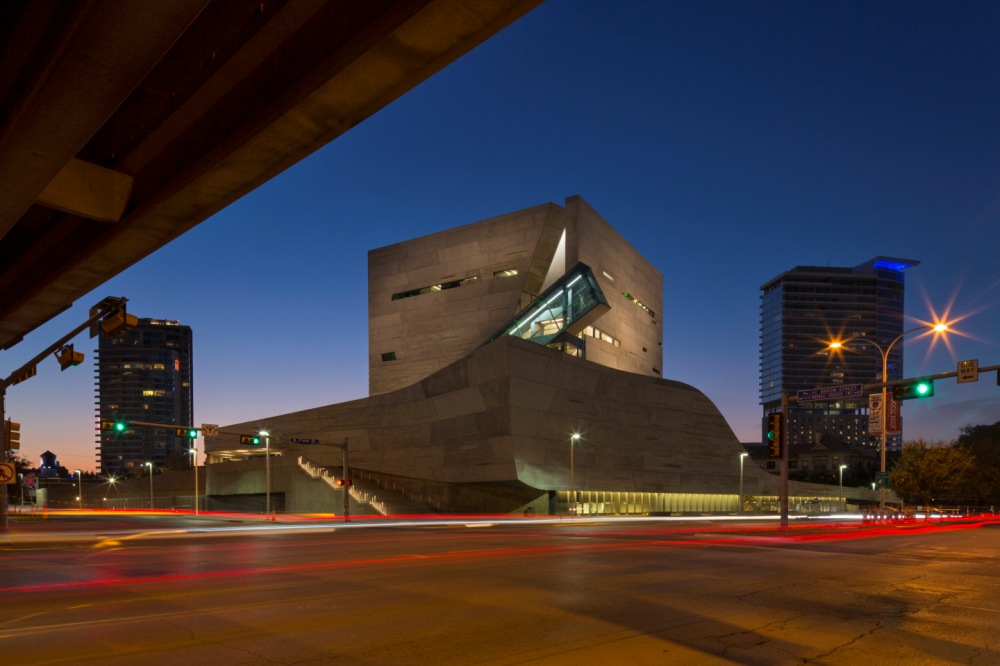 MORE ON THE FLASH LIST
50 Things to Do
Bored? Well, there's definitely no need to be. Take your pick of these fun things to do.
Entertainment News
The latest breaking news and top stories in arts, dining, culture, movies, music, and sports.
Events Calendar
Not everything in town that you could do, but a list of events that you definitely should consider.
Date Night Ideas
From retro candy stores to luxury car rentals, let us help you impress on your next date night out.
Movies in Theaters
See previews of movies coming soon and trailers for films now playing at local theaters.
Go Gallivanting
Our sister website, The Art of Gallivanting, offers extraordinary adventures for ordinary people.