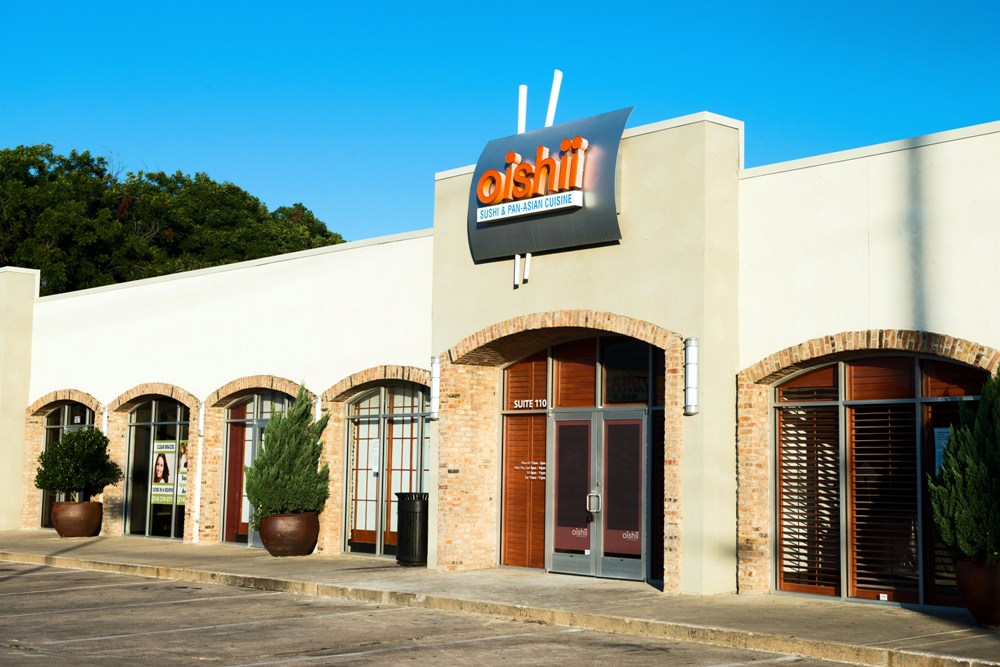 Oishii Sushi & Pan-Asian Cuisine
2525 Wycliff #110
Dallas
,
Texas
75219
214-599-9448
No-shame sushi.
That's the name of the game at Oishii (Japanese for delicious) on Wycliff just off the Tollway. Proprietor Thanh Nguyen not only has a passion for creating beautiful and extremely fresh sushi rolls and other Asian fare, but he also has a friendly and hospitable demeanor which allows American diners to ease into his brand of cuisine at a pace that is comfortable and appealing as well as affordable.
The first Vietnamese sushi chef in Dallas, Thanh is known for his custom sushi with special requests, and some of his most popular rolls include the #42 Roll and the G Roll. The Tribeca Roll (salmon and avocado stacked between rice with a crisp shrimp cracker and truffle oil) is cut into small triangles and can be eaten as finger food - therefore making it, in our opinion, a perfect sort of sushi snack alternative to the grilled cheese sandwich. Our favorite roll on the menu is the Donut Roll - named so because it's that good.
Weekday lunch specials at Oishii include a very reasonably priced sushi lunch platter, Vietnamese noodle soups, beef and broccoli, along with pot stickers and orange chicken which we found to be light, crispy, and cooked to perfection. For dinner, a variety of chicken, beef, pork, and seafood dishes are available such as coconut sea bass, pepper steak, seafood hot pots, and much more.
A former rice field worker originally from a small village outside of Saigon, Vietnam, Chef Thanh Nguyen understands that a love for sushi can be a developed art of gradually acquired tastes. If you love the basic California roll, he has no problem with that at all. He's happy to make you a plate of a number of standard assorted sushi rolls. If you're feeling brave however, try a scrumptious piece of his thinly sliced yellowtail tataki.
We share Thanh's simple (and shouldn't it be obvious?) viewpoint that fish should not taste fishy. And there is definitely nothing fishy about Oishii.
See additional information below or visit:
Oishii Sushi & Pan-Asian Cuisine
MORE ON THE FLASH LIST
50 Things to Do
Bored? Well, there's definitely no need to be. Take your pick of these fun things to do.
Entertainment News
The latest breaking news and top stories in arts, dining, culture, movies, music, and sports.
Events Calendar
Not everything in town that you could do, but a list of events that you definitely should consider.
Date Night Ideas
From retro candy stores to luxury car rentals, let us help you impress on your next date night out.
Movies in Theaters
See previews of movies coming soon and trailers for films now playing at local theaters.
Go Gallivanting
Our sister website, The Art of Gallivanting, offers extraordinary adventures for ordinary people.