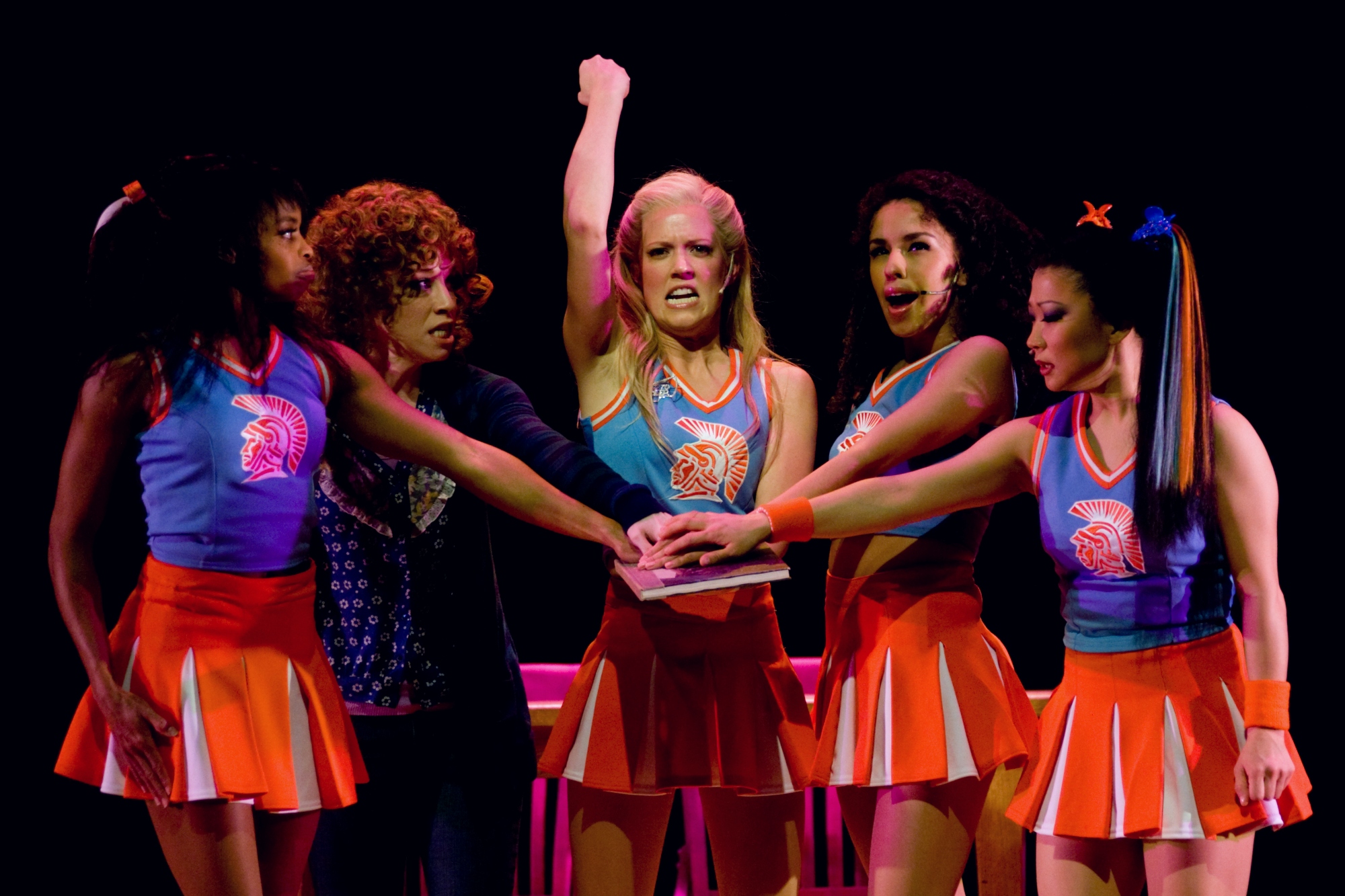 Posted January 25, 2010 | Photo by Brandon Thibodeaux
in your mind long after you leave the Wyly Theatre, that's for sure.
Dallas Theater Center's production of Give It Up! is a reinterpretation of an ancient comedy by Aristophanes in which one woman, Lysistrata, encourages the women of Athens to refrain from sexual activity with their husbands until the men agree to end the Peloponnesian War.
In this updated musical version, Lysistrata Jones is the head cheerleader at Athens University where the boys' basketball team is content to lose every game.In an attempt to arouse the boys' passion, Lysistrata leads the girls in an oath to hold out on 'giving it up' until the boys decide to quit 'giving up'.Conflict ensues when the guys have to choose between playing to win, abstaining from sex, or just looking elsewhere for satisfaction.This classic battle of the sexes story is an examination of stereotyping regarding gender roles, social status, sexual orientation, and even race and political affiliation - all set to a contemporary pop music score including an on-stage live band, high energy dance choreography, and a cast of great singers including Dallas' own Liz Mikel as Hetairai.
Patti Murin was fantastic in the role of Lysistrata, and her vocal performance of "Where Am I Now" was spectacular.
Script dialogue was frank for the topic, but not obscene; racy, but lighthearted overall.And although costumes were generally conservative, there were a couple of 'brief' wardrobe 'reveals' that left us feeling a bit surprised ... albeit 'briefly'.
All in all, audience reaction was hearty mouth-wide-open laughter at some truly funny comments and scenarios, oohs and giggles at several cultural and political quips, and a vigorous round of applause in the end.
Editorial Policy: The Flash List is dedicated to providing trustworthy editorial content by maintaining strict ethical standards, journalistic integrity, and credible professionalism regardless of potential compensation as working media. The Flash List discloses receiving tangible and/or intangible benefits for the purposes of providing media coverage for certain events, venues, products, and/or services.
MORE ON THE FLASH LIST
50 Things to Do
Bored? Well, there's definitely no need to be. Take your pick of these fun things to do.
Entertainment News
The latest breaking news and top stories in arts, dining, culture, movies, music, and sports.
Events Calendar
Not everything in town that you could do, but a list of events that you definitely should consider.
Date Night Ideas
From retro candy stores to luxury car rentals, let us help you impress on your next date night out.
Movies in Theaters
See previews of movies coming soon and trailers for films now playing at local theaters.
Go Gallivanting
Our sister website, The Art of Gallivanting, offers extraordinary adventures for ordinary people.