© Photo by Scott Tilley
The first Saturday of November, which is opening day of deer season, is considered an unofficial state holiday in Texas. Hunters in Texas will generate a little over $1 billion in retail sales every year. That revenue will create roughly 25,000 jobs a year. It reaches across all types of demographics. Churches are thinner, and good luck finding a plumber or an attorney that weekend. Opening day of deer season is such a big deal that Eddie Gossage, President of Texas Motor Speedway, has asked NASCAR for a number of years to move the fall NASCAR race off the first weekend of November because he could lose somewhere between 600,000-750,000 potential race attendees or viewers annually that weekend.
Truck for All Seasons
The Ram crew cab 1500 4x4 with the Rebel package has been designed with the true outdoorsman in mind. That could be someone who enjoys those muddin' weekends on some remote trail or national park or the hunter who will drive 4+ hours of interstate and then across a 4,000-acre deer lease to one of their numerous deer stands. The deer lease I would be hunting on this year is almost three hours east of Dallas, so I would get a great chance to simulate a true hunters weekend and see how the Rebel performs.
Loading up Hunter Style
I started loading up all my hunting gear for a five-day trip as well as a Honda 450 ATV and headed out east with a quick dinner stop in Tyler. The first thing I noticed about the Ram Rebel as I was loading my gear is how well it was laid out. There is no wasted space anywhere on the truck. Hunters have a lot of gear, and the Ram Rebel has the ability to stow all your gear neatly for your long trip.
Inside Storage
There are two large glove boxes. One can be used for all the user manuals that typically fill up a glove box, and then a second for anything you might need to lock up while you are on your way to the hunt. One of my favorite interior designs on the Ram is the space specifically designed to hold two charging cell phones without interfering with the drink holders or other storage. The convenience and ease with which you can view and charge your phone is something most vehicles have not yet mastered. There are also two rear floor board storage areas big enough to store a large first aid kit, road flares, or any extra tie downs or chains you might want to carry without it always being underfoot. In the doors, there are padded bottle holders to protect and hold bottles for those rough rides once you leave the paved surfaces and are heading cross country toward your stands. The center console is so big that one of my hunting buddies commented, You could house a family of four in it. It does come with a split shelf for items that might be too small to throw in the large console.
Outside Storage
For your outside storage and hauling needs, Ram offers an efficient box storage system called Rambox Cargo Management System. This system is more than just a toolbox; so think more along the lines of a closet organizer for your truck bed. This Rambox system is perfect for hunters who need a place to carry their long guns safely as well as a way to secure a 4 wheeler in the bed of the truck. If you are traveling on the highway with other hunters you can stack up 4 long guns in soft cases in each of the two locking storage areas that easily lock or unlock by key or by using the Ram's key FOB. If you are on the hunting property, you can leave the cases at the cabin and carry 4 long guns in gun racks ready to go. If you are an old guy like me, the racks remind me of the rear window gun rack my dad had in his truck.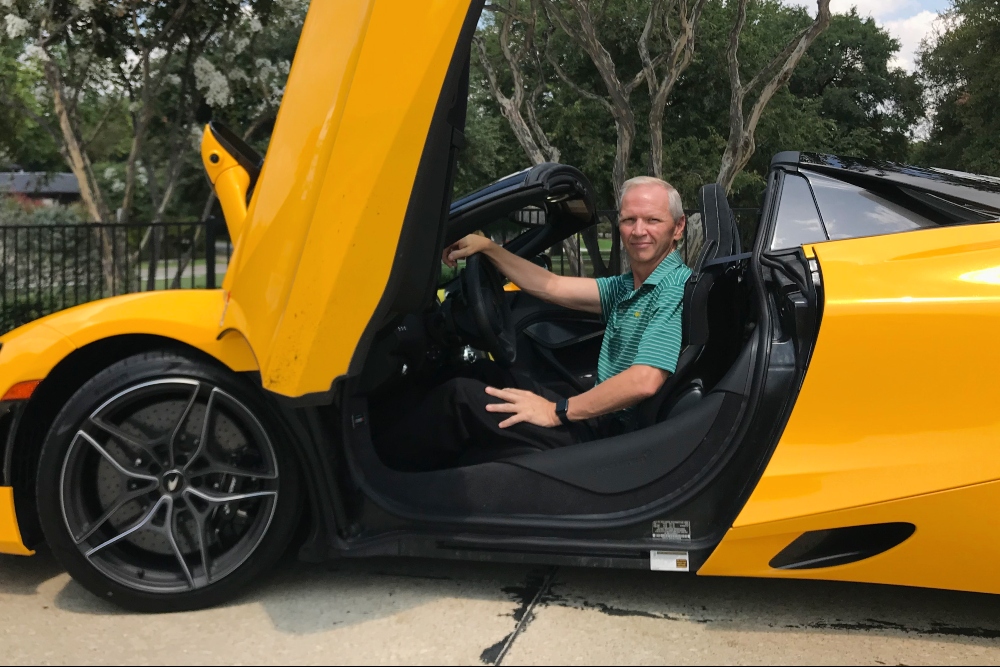 ATV Tie Down
The Rambox System doesn't interfere with the size of the cargo box either. The system has adjustable box cleats to allow you to tie the ATV down perfectly. There is also a heavy duty tailgate and box extender that supports the rear of the 4 wheeler as well. Loading and securing the Honda 450 4 wheeler I had was a breeze. There is some scuttlebutt out there that Ram was awarded a patent for an adjustable loading ramp system earlier this year, so it looks like carrying your ATV ramps might be a thing of the past as well! Throw in the bed spray liner, and you are ready to go.
Interior Comfort with Outdoor Durability
For most deer hunters in Texas, deer leases are not typically just a few hours away. They are more likely to be up to 4+ hours away, so comfort to and from the lease is important. The interior must also be durable and functional to stand up to the toughest wear, and the Rebel accomplishes that with ease. The black and red cloth seats are embossed with the actual Toyo tire pattern and are made from a durable premium cloth material that should clean up with ease and stand up to pretty much anything the outdoor lifestyle throws at it. The seats are also 10-way adjustable with a 3-level heater, which will make the morning and evening trips back to camp a little more enjoyable after sitting in a cold deer stand for 5+ hours. The steering wheel is heated as well. The space design of the Rebel can allow you to carry any combination of hunters from 3 hunters, gear inside, and an ATV in the bed or 4 guys, gear in bed, pulling a trailer full of ATV's. The second row has so much leg room that you can fold up the rear seats and roll out a large sleeping bag for those times you are staying overnight at your deer stand.
Convenient and Clean Center Stack
There is a saying, There is a place for everything and everything has its place, and that is very true for the cleanly designed center stack on the Rebel. Within the stack, there are 3 different places to store small things like sunglasses, extra keys for 4 wheelers, or even work gloves. It also has a big 8.4-inch touch screen that is on par with many of today's high-end luxury cars and also an AC plug for any tech devices that may need charging. From a digital standpoint, you have a weather app that can give you up to the minute conditions as well as a 7-day forecast for the area you will be hunting in. The Rebel also offers you the ability to turn the truck into a hotspot, so you won't burn your cell phone minutes or battery while you are traveling.
Smooth Sailing in a Storm
The afternoon I left Dallas was beautiful blue skies and sun, but about half way to Tyler I ran into a rain storm. I was a bit disappointed because I wanted to see how the Rebel would handle and what kind of gas mileage the Hemi would get loaded down in ideal conditions, but now I would see how it would handle in a driving rain storm. The storm wasn't the usual Texas rain storm that hits hard and fast from the west. This was a gulf storm coming up from the south that hit hard and slow. It had driving-blowing rain as well as straight line winds and tornado warnings in it.
Trip Into Tyler
The rain was coming down so hard that the roads in Tyler couldn't drain properly, so a lot of the streets had as much as 6-8 inches of standing water on them. With a curb weight of 5,392 lbs, I was able to push through the water with ease like a hippo on a stroll, while many of the other vehicles were limping along with flashers going. I was also able to raise the Rebel up (from its eco friendly highway aero package to the off road package) using the active-level four-corner air suspension. If Boone and Crockett rated trucks, they would likely score the Rebel best in class for ground clearance because the Rebel stands 1 inch taller than normal Ram 1500's, and then when switched into 'off-road mode,' it adds another 1 inch for a total of 10.3 inches of ground clearance. There was no amount of water that night that was going to slow me down. The balance, weight, and ground clearance allowed the Rebel to handle the adverse conditions with ease. By the time I left Tyler is was late. I was hoping the storm would blow over but it just kept coming.
Turning Heads
I woke up early Friday morning and thankfully the storms had moved on. It was reported that some parts of East Texas had received almost 10 inches of rain in a 15-hour time period. I had to head into Mineola to help a friend move a king-size mattress. As another friend and I headed into town, we could see that the winds had really done a job on some of the trees. There were a few areas that looked like a tornado might have touched down.
Once we got the mattress delivered, I needed to run some errands and grab some lunch in Mineola. It was interesting to see how many people would just stop what they were doing and look at the Rebel. I've had the pleasure of driving and writing for some pretty cool cars, so I was used to people stopping looking and sometimes asking questions about vehicles, but I have never had that reaction with a truck. It's not like they had not seen a truck before witnessed by the Wal-Mart parking lot where almost two-thirds of the vehicles are trucks. I'm not sure if the reaction was due to the stance of the truck, the profile, or the grill, but there was something to this truck because everywhere we went it turned heads.
Wrap Up
When I found out I was going to have the Ram Rebel for my deer hunt this year, I was pretty excited. I wanted to see how the Hemi in the 'tricked' out Ram package was going to perform. It almost got 21 mpg on the highway. It performed incredible in extreme storm conditions. It is so unique I used it to safely fix a deer feeder 14' in the air.
What I really liked about the truck is I wasn't afraid of hurting it or getting into something I couldn't get out of. You can take it out and not be afraid to use it. It is Texas tough from its spray in bed liner to powder coated bumpers and skid plates. And for that rare chance you might need it, it comes with a best-in-class powertrain warranty. To say this truck is a 'one trick Hemi pony' would be doing it a disservice. It's like a Swiss army knife of the truck world. If you are an outdoors guy and need a diverse truck for hunting, fishing, off-road camping or pulling a race trailer (there's a camera for trailer hookup), but also need a daily driver, you will want to get out and test drive the Ram Rebel. One of the guys I hunted with said he will seriously look at this truck when he is ready to buy next spring.
Happy hunting!
Awards
Truck Reviewed
Ram Rebel Crew Cab 4x4
Base Price: $44,720; Price of Test Vehicle: $52,375
Hemi 5.7 V8 385 HP, 410lb-ft Torque
8 Speed Automatic Transmission
Towing Capacity: Roughly 8,400 lbs
MPG: 15/21 (advertised) and 15/20.7 (mine)
For additional information, please visit:
MORE ON THE FLASH LIST
50 Things to Do
Bored? Well, there's definitely no need to be. Take your pick of these fun things to do.
Entertainment News
The latest breaking news and top stories in arts, dining, culture, movies, music, and sports.
Events Calendar
Not everything in town that you could do, but a list of events that you definitely should consider.
Date Night Ideas
From retro candy stores to luxury car rentals, let us help you impress on your next date night out.
Movies in Theaters
See previews of movies coming soon and trailers for films now playing at local theaters.
Go Gallivanting
Our sister website, The Art of Gallivanting, offers extraordinary adventures for ordinary people.
Leisure
Motor Vehicles
Car News
Ram Rebel