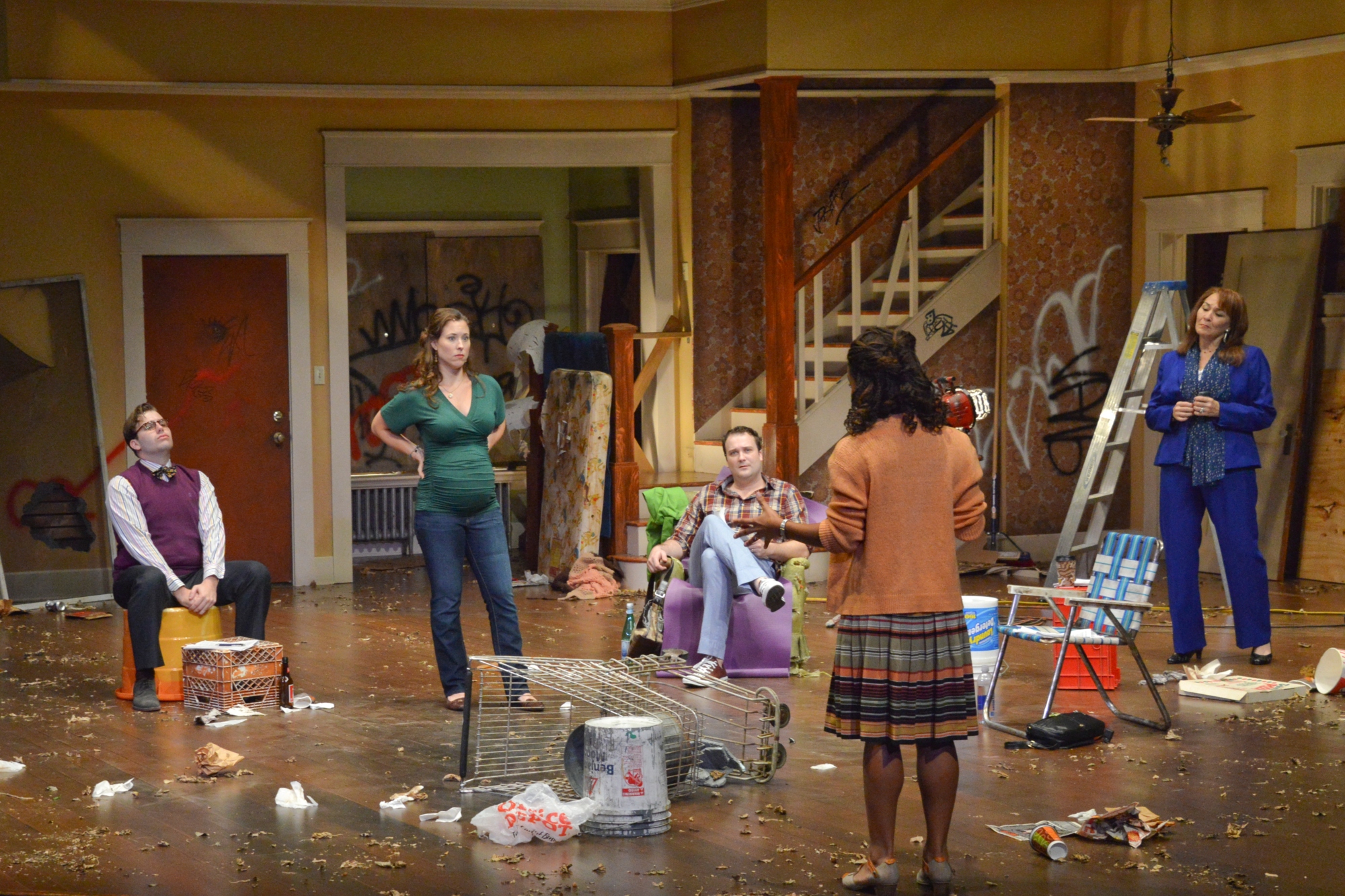 Posted October 12, 2013 | Photo by Karen Almond
Jim: "Maybe we should bow our heads for a second."
Russ: "Maybe I should punch you in the face."
A collection of Dallas Theater Center's heavy hitters are showcased in the recently-opened Clybourne Park at the Wyly Theatre. Winner of the 2011 Pulitzer Prize for Drama and the 2012 Tony Award for Best Play, Bruce Norris' sharp-witted look at cultural changes explores layers of racial tensions leaving a full gamut of intensely-wrought emotions littered across the living room floor like the leftover trash and debris scattered throughout the graffiti-riddled empty house.
Written in response to Lorraine Hansberry's 1959 American classic A Raisin in the Sun about an African-American family who purchases a home in an all-white neighborhood, Clybourne Park offers the flip side of that same story. After unsuccessfully offering a buyout to the Younger family in an effort to preserve the racial interests of Chicago's Clybourne Park district, central crossover character Karl Lindner (a slick-haired Steven Michael Walters) now attempts to convince grieving parents Russ and Bev (Chamblee Ferguson and Sally Nystuen Vahle) to reverse the sale of their home fearing a drop in area property values. But due to the community's condescending social missteps surrounding the return of Russ and Bev's son from war and his subsequent suicide, the alternately numb and explosive Russ has had enough of what can be considered emotional white-on-white crime. Humorous (and often jaw-drop inducing) reactions shoot off like fireworks when the couple is visited by the local minister Jim (SMU's Jacob Stewart), Karl Lindner and his deaf pregnant wife (Allison Pistorius who is very funny in this DTC debut role), and Albert (Hassan El-Amin) the husband of their housekeeper Francine (Tiffany Hobbs).
In Act 2 however, 50 years have elapsed, the neighborhood has become all-black, and is now gentrifying with a young white couple (Steven Michael Walters and Allison Pistorius, now playing Steve and Lindsey) seeking to purchase and renovate the property.Agents Tom and Kathy (Jacob Stewart and Sally Nystuen Vahle once more) facilitate a group meeting with Kevin and Lena (Hassan El-Amin and Tiffany Hobbs again) who express concerns about the reversing future of the neighborhood to which they now have strong cultural ties. Digging up a trunk from the backyard (along with memories from the past), Dan (Chamblee Ferguson) gives additional comic relief to brutally funny dialogue rife with suppressed (and unleashed) interracial sentiments.
Tiffany Hobbs proves to be a solid recent addition to DTC's Brierley Resident Acting Company which also includes the outstanding Sally Nystuen Vahle (as wonderfully elegant as ever) and Hassan El-Amin (who, without words, turns an awkward plot situation into one of the shows very amusing moments). Company member Steven Walters gives an especially intense and praiseworthy performance (one of his best, in our opinion) as his character walks a very thin line between reserved, cordial tact and frank, open honesty. And like a personification of the ever-changing Wyly Theatre itself, DTC's Chamblee Ferguson offers audiences yet another wonderfully surprising version of his incredibly multifaceted acting repertoire demonstrating both a heart-breaking depth of pain as well as his own unique uplifting brand of comedy.
Being performed in rotating rep, A Raisin in the Sun and Clybourne Park run through Sunday, October 27, 2013 at the Wyly Theatre.Each of the two plays will stand well enough on its own, but the double feature definitely becomes a more complete treat. A Raisin in the Sun is an intense, dramatic dialogue sprinkled with humor and is best suited for an evening of thought-provoking conversation (read our review); and the companion play Clybourne Park is conversely an amusing (yet equally intense) look at the reverse effect. With alternating performances and actors playing multiple roles, the pair offers a fully-encompassing opportunity for Dallas audiences to participate in "an in-your-face conversation about race, real estate, and the volatile values of each."
Feel free to take part in Dallas Theater Center's Come Early program, an informative 30-minute lecture that will be offered at no cost before every performance of every play at DTC. Beginning one hour before each show in the Wells Fargo Come Early Lounge, you can hear a member of the cast or artistic staff share the play's origin and context as well as insight into the creative process behind the production. You may also want to stay late afterward for the free, brief, post-show conversation with a cast member (sponsored by Dr Pepper Snapple Group) where you can interact with the artists and hear dialogue about various interpretations from other audience members.
With the new DTC Stage Pass, you can attend as many Dallas Theater Center performances as you'd like for just $25 per month. Just show up to the theater up to an hour and a half before show time and get the best available ticket for that performance.
Editorial Policy: The Flash List is dedicated to providing trustworthy editorial content by maintaining strict ethical standards, journalistic integrity, and credible professionalism regardless of potential compensation as working media. The Flash List discloses receiving tangible and/or intangible benefits for the purposes of providing media coverage for certain events, venues, products, and/or services.
MORE ON THE FLASH LIST
50 Things to Do
Bored? Well, there's definitely no need to be. Take your pick of these fun things to do.
Entertainment News
The latest breaking news and top stories in arts, dining, culture, movies, music, and sports.
Events Calendar
Not everything in town that you could do, but a list of events that you definitely should consider.
Date Night Ideas
From retro candy stores to luxury car rentals, let us help you impress on your next date night out.
Movies in Theaters
See previews of movies coming soon and trailers for films now playing at local theaters.
Go Gallivanting
Our sister website, The Art of Gallivanting, offers extraordinary adventures for ordinary people.