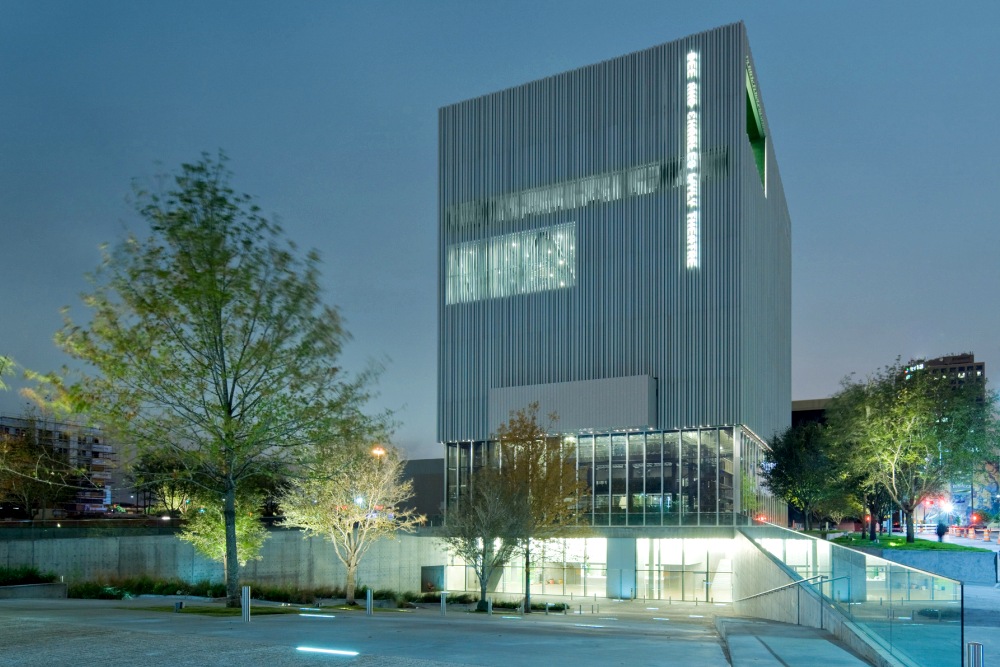 Posted September 21, 2013 | Photo by Iwan Baan
But every song's like gold teeth, Grey Goose, trippin' in the bathroom,
Blood stains, ball gowns, trashin' the hotel room.
We don't care, we're driving Cadillacs in our dreams.
But everybody's like Cristal, Maybach, diamonds on your time piece,
Jet planes, islands, tigers on a gold leash.
We don't care, we aren't caught up in your love affair.

Lyrics from "Royals" by Lorde
Sixteen-year-old New Zealand singer-songwriter Lorde (the daughter of a civil engineer and a stay-at-home mom) recently climbed to the top of Billboard's Alternative Songs chart with the release of her successful new tune "Royals" in which she describes living in a "torn-up town" with no "post code envy" and having a societal position far outside the elite upper class.Like the song "Royals," Lorraine Hansberry's 1959 classic play A Raisin in the Sun elaborates on that same age-old juxtaposition between the haves and the have nots. Set in a south-side Chicago ghetto, the story revolves around an African-American family whose dreams for a better life have been repeatedly, and therefore detrimentally, deferred.
Walter Lee Younger (Bowman Wright), his wife Ruth (Ptosha Storey), and their young son Travis (Justise Maon) live in a small, dilapidated old apartment along with Walter's sister Beneatha (Tiffany Hobbs) and their mother Lena (Liz Mikel).As the family awaits the arrival of a large sum of money in the form of an insurance check, conflict arises regarding the disbursement of the funds when each member begins to express his own individual hopes and life aspirations. When expectations are harshly and unpredictably dashed however, dreams morph into desperation, confidence is exchanged for vulnerability, and a renewed sense of personal integrity and collective clarity becomes necessary.
The Dallas Theater Center performance of this production that the New York Times stated as having "changed American theater forever," explores the unraveling and reweaving of a hard-working American family and analyzes the effects of a variety of factors including socioeconomic status, racial equality, familial pride, marital cohesiveness, human dignity, and emotional despair paired with tenacious resolve.
A Raisin in the Sun is an intense, dramatic dialogue sprinkled with humor and is best suited for an evening of thought-provoking conversation as opposed to light-hearted entertainment.Somewhat conversely though, the companion play Clybourne Park is an amusing look at the flip side. Written as a response, the Tony Award and Pulitzer Prize-winning Clybourne Park written by Bruce Norris is a glimpse into what happens after the Younger family finally achieves their dream of moving into a nicer home ... which just so happens to be in an all-white suburban neighborhood.50 years later, when that same neighborhood has become all-black, the roles and concepts become reversed. Being performed in rotating repertory, A Raisin in the Sun and Clybourne Park will offer alternating performances, actors playing multiple roles, and an opportunity for Dallas audiences to participate in "an in-your-face conversation about race, real estate, and the volatile values of each."
Feel free to take part in Dallas Theater Center's Come Early program, an informative 30-minute lecture that will be offered at no cost before every performance of every play at DTC. Beginning one hour before each show in the Wells Fargo Come Early Lounge, you can hear a member of the cast or artistic staff share the play's origin and context as well as insight into the creative process behind the production. You may also want to stay late afterward for the free, brief, post-show conversation with a cast member (sponsored by Dr Pepper Snapple Group) where you can interact with the artists and hear dialogue about various interpretations from other audience members.
With the new DTC Stage Pass, you can attend as many Dallas Theater Center performances as you'd like for just $25 per month. Just show up to the theater up to an hour and a half before show time and get the best available ticket for that performance.

Editorial Policy: The Flash List is dedicated to providing trustworthy editorial content by maintaining strict ethical standards, journalistic integrity, and credible professionalism regardless of potential compensation as working media. The Flash List discloses receiving tangible and/or intangible benefits for the purposes of providing media coverage for certain events, venues, products, and/or services.
MORE ON THE FLASH LIST
50 Things to Do
Bored? Well, there's definitely no need to be. Take your pick of these fun things to do.
Entertainment News
The latest breaking news and top stories in arts, dining, culture, movies, music, and sports.
Events Calendar
Not everything in town that you could do, but a list of events that you definitely should consider.
Date Night Ideas
From retro candy stores to luxury car rentals, let us help you impress on your next date night out.
Movies in Theaters
See previews of movies coming soon and trailers for films now playing at local theaters.
Go Gallivanting
Our sister website, The Art of Gallivanting, offers extraordinary adventures for ordinary people.