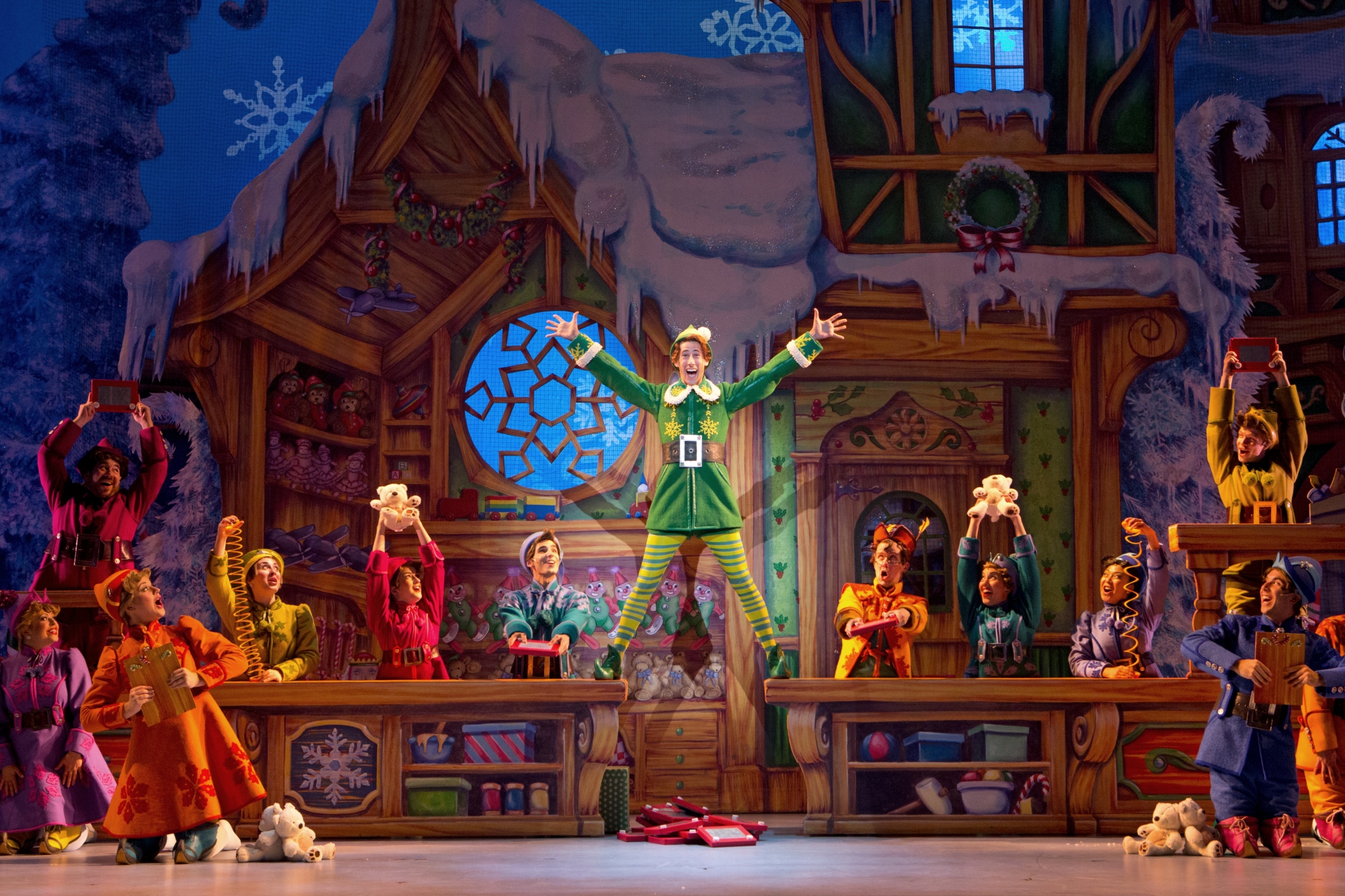 Posted December 9, 2015 | © Photo by Joan Marcus
Sweet but not over-sappy, Elf The Musical is as scrumptiously satisfying as maple-syrup-topped spaghetti for breakfast!
Continuing to unwrap Dallas Summer Musicals' 2015-2016 season, Elf tells the hilarious story of Buddy, an orphaned child who mistakenly crawls into Santa's bag and is subsequently raised at the North Pole. With actor Will Ferrell having made such a strong comedic impression in the 2003 hit motion picture of the same name, Daniel Patrick Smith (in the musical's title role) had some awfully big, green-curly-toed shoes to fill ... and on opening night, his strong comedic performance was enough to make theatergoers "happy right down to [the] spleen." Donned in a short "seasonally appropriate" fur-trimmed green uniform with two-toned stocking tights (deliciously reminiscent of retro Fruit Stripe Gum), the gregarious 6'4" Smith elicited frequent jolly laughs from the audience (especially during his short but hilarious rendition of "I Will Always Love You").
After amicably parting ways with the other "bizarrely happy" elves along with an exasperated, single-malt-cocoa-drinking Santa (a perfect representation delivered by actor Ken Clement), Buddy embarks on a journey to New York City in hopes of finding his birth father Walter (D. Scott Withers). But instead of spending his time making snow angels, eating Tollhouse cookie dough, and snuggling, the cheerfully-optimistic elf instead encounters an over-busy workaholic dad, a cynical lack of Christmas spirit, and an unexpectedly fake Santa who "sits on a throne of lies" at Macy's department store.
Glittering like a tree-top angel, however, Buddy's reluctant love interest Jovie (Maggie Anderson) plays an endearing straight-man Abbott to his delightfully wide-eyed Costello. Newly-acquired stepmom Emily (Gabrielle Mirabella) and little brother Michael (Harper Brady; alternately played by Nicky Torchia) are the glue that binds together the pieces of the slapstick puzzle, especially during their heart-warming duets "I'll Believe in You" and "There is a Santa Claus."
A backlit cityscape incorporating two-dimensional, obliquely-askew, sliding set pieces gives the production a pop-up book feel, and the frosty pale blue of the Candy Land-style toy-shop background festively showcases a rainbow of bold costumes in deeply-saturated bright colors. This well-written, well-performed show is rife with one-liners, word play, and double entendre; and watching a dancing chorus line of elves (ahem, actors on their knees) participating in fun jazzy-themed choreography makes for pure 'elfin magic.'
So avoid being a cotton-headed ninny-muggins and go see Elf the Musical presented by Dallas Summer Musicals and running at the Music hall at Fair Park through Sunday, December 20, 2015.
It's likely to make you feel all sparklejollytwinklejingley inside.
For more information, see performance details below, view additional general information about Dallas Summer Musicals, or visit the Dallas Summer Musicals website to get tickets for this or other upcoming shows.
The remainder of Dallas Summer Musicals' highly anticipated 2015-2016 season includes The Bridges of Madison County, February 2-14, 2016; DSM's production of Disney's The Little Mermaid, March 11-27, 2016; Wicked, April 20-May 22, 2016 as a season add-on; Ragtime, May 24-June 5, 2016; Bullets Over Broadway, June 14-26, 2016; and closing the season will be 42nd Street, June 28-July 10, 2016. Performing Arts Fort Worth's 2015-2016 Broadway at the Bass Season kicks off with the Fort Worth debut of The Book Of Mormon Dec. 1-6, 2015; followed by Motown The Musical January 13-17, 2016; Disney's The Little Mermaid March 29-April 3, 2016; The Wizard of Oz June 7-12, 2016; 42nd Street July 12-17, 2016; The Sound Of Music August 17-21, 2016; and, closing out the season, the spectacular new production of The Phantom Of The Opera Oct. 20-30, 2016.
Editorial Policy: The Flash List is dedicated to providing trustworthy editorial content by maintaining strict ethical standards, journalistic integrity, and credible professionalism regardless of potential compensation as working media. The Flash List discloses receiving tangible and/or intangible benefits for the purposes of providing media coverage for certain events, venues, products, and/or services.
MORE ON THE FLASH LIST
50 Things to Do
Bored? Well, there's definitely no need to be. Take your pick of these fun things to do.
Entertainment News
The latest breaking news and top stories in arts, dining, culture, movies, music, and sports.
Events Calendar
Not everything in town that you could do, but a list of events that you definitely should consider.
Date Night Ideas
From retro candy stores to luxury car rentals, let us help you impress on your next date night out.
Movies in Theaters
See previews of movies coming soon and trailers for films now playing at local theaters.
Go Gallivanting
Our sister website, The Art of Gallivanting, offers extraordinary adventures for ordinary people.