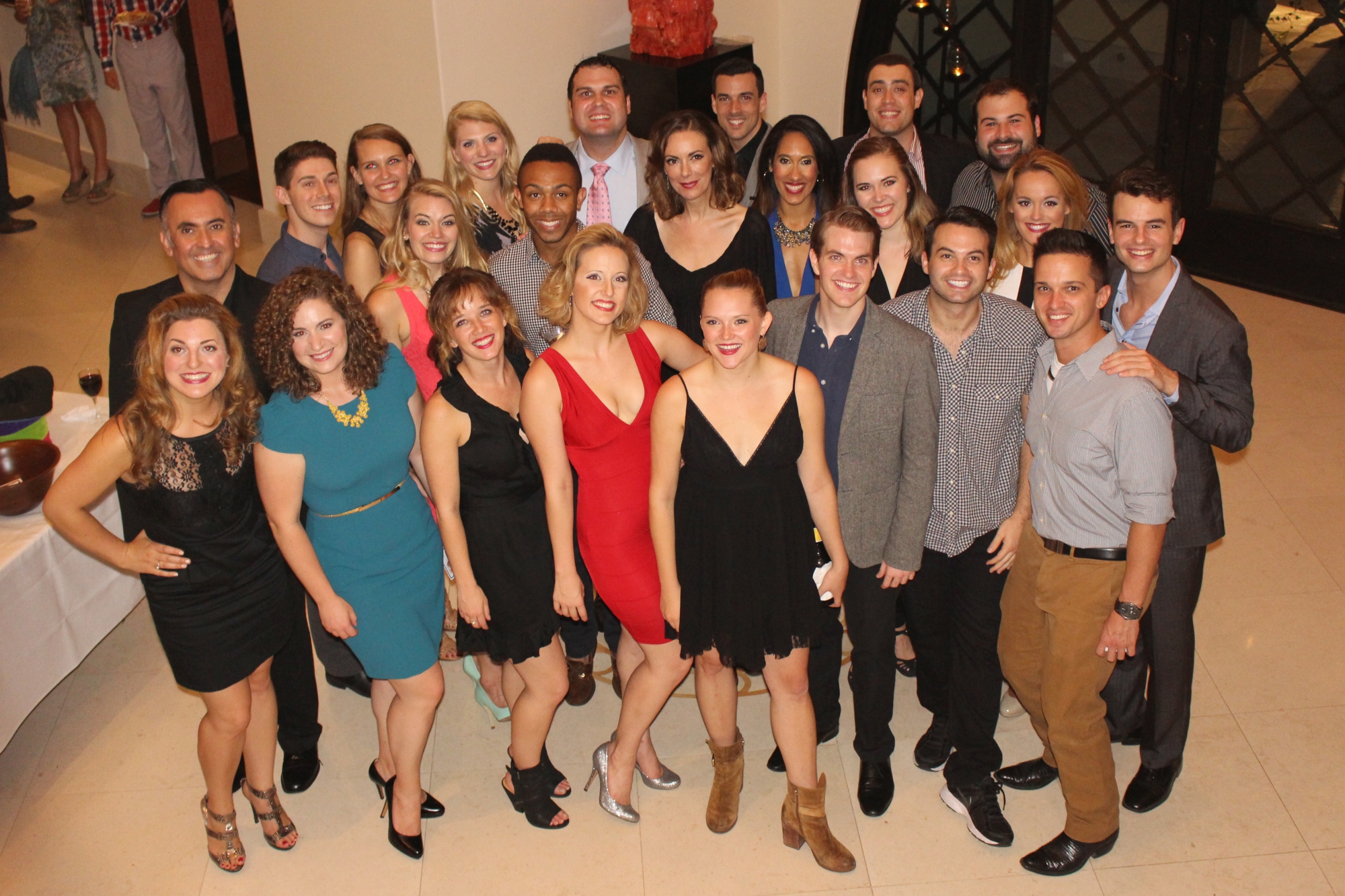 Posted Thursday, September 4, 2014 | © Photo by The Flash List
The Tony award-winning new musical Nice Work If You Can Get It is good, clean, old-fashioned comedy.
It juuuust so happens to be adequately enhanced with entertaining double entendre and amusing underlying innuendo ... somewhat similar to the Miller Lite reference that Sesame Street's Cookie Monster makes by gobbling up zero cookies and announcing that they "taste great and [are] less filling."
1920's-era wealthy playboy Jimmy Winter (a clean-cut and very well-cast Alex Enterline) has spent the evening over-celebrating with a throng of chorus girls on the night before he's to be married for the fourth time. Sloppy drunk, he staggers into (and is immediately smitten by) a feisty lil' bootlegger named Billie Bendix (played by songbird Mariah MacFarlane) who believes that "love is for suckers." Looking for a place to stash 400 cases of gin 'hooch,' Billie takes advantage of Jimmy's inebriated state by discovering the location of his ritzy unused Long Island beach mansion where she immediately takes refuge along with her partner-in-crime Cookie McGee (a hilariously mob-like Reed Campbell).
Jimmy, however, unexpectedly shows up at the house with his absurdly-narcissistic fiancee Eileen Evergreen (Rachael Scarr), a nasally Daddy's girl who is dubbed "the finest interpreter of modern dance in the world" (despite humorously awkward moves that might leave even Nigel Lythgoe searching for adequate words). So, in an effort to get out of a real jam, the home-invading crooks create false identities and don an array of servant's disguises in case the coppers come a-snoopin' ('cuz they ain't goin' back to the slammer, ya see).
And, from there, a string of slapstick shenanigans ensue.
The austere Prohibitionist Duchess Estonia Dulworth (Stephanie Harter Gilmore) who's determined to rid society of the evil "Demon Rum," swings from the chandelier Carol Burnett-style after unknowingly downing a lil' too much gin-spiked lemonade. The sultry, Marilyn Monroe-ish Jeannie Muldoon (Stephanie Gandolfo) discovers that her simple yet burly hunk-a-hunk-o'-burnin'-love Duke Mahoney (Aaron Fried) is not aaaactually royalty. And Senator Reverend Judge Max Evergreen (Benjamin Perez) spills out a string of witty political quips that elicited roars of laughter from the audience. In the end, Police Chief Berry (Thomas Schario) and Jimmy's mother Millicent Winter (Barbara Weetman) show up for a surprise twist ending that shuffles the whole deck of cards.
Packed with beloved Gershwin tunes (like "Let's Call the Whole Thing Off"), dazzling vintage-styled costumes, and loads of fancy footwork, this sweetly straightforward, well-paced, retro rom-com is consistently funny throughout and is an ideal madcap adventure for a couple's night out on the town.
And, who could ask for anything more?
If you liked DSM's White Christmas, you'll likely enjoy Nice Work If You Can Get It during this national tour kickoff which runs at Dallas Summer Musicals through Sunday, September 14, 2014 (with a length of approximately 2 hours and 30 minutes including one 15-minute intermission). Tickets range from $15.00 - $85.00, general parking is complimentary, and valet service is provided for $15.00. Performing Arts Fort Worth then presents the show at Bass Performance Hall from Tuesday, September 16, through Sunday, September 21, 2014. This event is recommended for ages 8 and up.
For more information, see performance details below.
Editorial Policy: The Flash List is dedicated to providing trustworthy editorial content by maintaining strict ethical standards, journalistic integrity, and credible professionalism regardless of potential compensation as working media. The Flash List discloses receiving tangible and/or intangible benefits for the purposes of providing media coverage for certain events, venues, products, and/or services.
MORE ON THE FLASH LIST
50 Things to Do
Bored? Well, there's definitely no need to be. Take your pick of these fun things to do.
Entertainment News
The latest breaking news and top stories in arts, dining, culture, movies, music, and sports.
Events Calendar
Not everything in town that you could do, but a list of events that you definitely should consider.
Date Night Ideas
From retro candy stores to luxury car rentals, let us help you impress on your next date night out.
Movies in Theaters
See previews of movies coming soon and trailers for films now playing at local theaters.
Go Gallivanting
Our sister website, The Art of Gallivanting, offers extraordinary adventures for ordinary people.