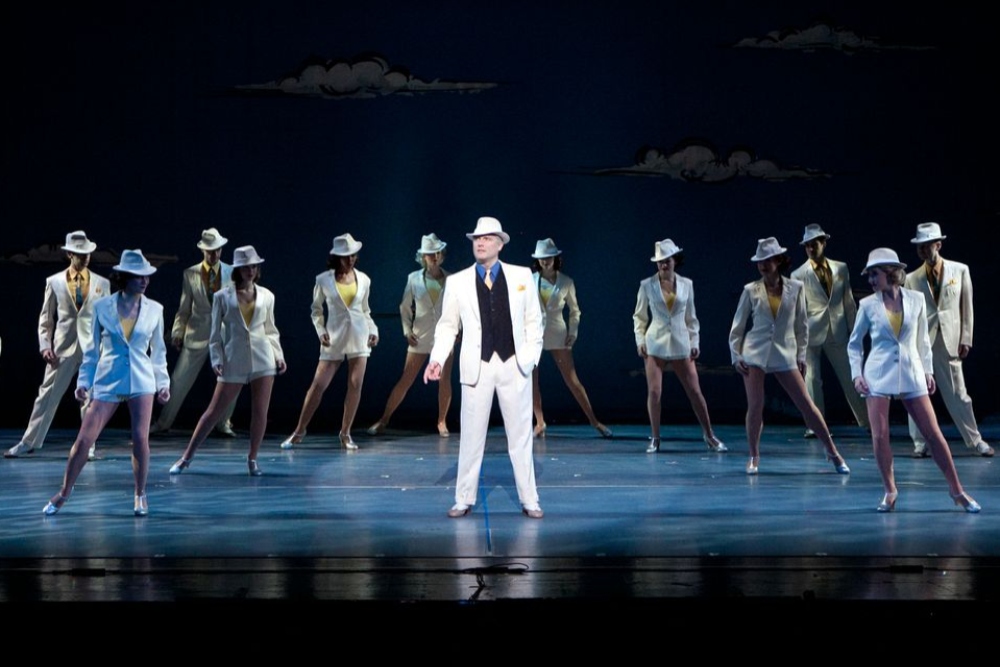 Posted December 18, 2013 | © Photo courtesy of Dallas Summer Musicals
It's been a crazy holiday season this year; and after the recent Black Friday ruckus near Fort Worth, surely we can all agree that it's time for some good, wholesome, family entertainment. "Why don't you sit by Grandpa?" was the first audience comment we overheard as we settled in for Irving Berlin's White Christmas, currently running at Dallas Summer Musicals. Bringing us back to a gentler, more peaceful time (when The Ed Sullivan Show was brought to you by the 1954 Lincoln Mercury and Oxydol detergent), this stage adaptation of the beloved film starring Bing Crosby tells the story of two ex-military/now-showbiz buddies in search of success and romance.
The show features the magnificently-voiced James Clow as the reserved Bob Wallace (the Bing Crosby role), David Elder as the skirt-chasing Phil Davis, along with Trista Moldovan and Meredith Patterson as singing sisters Betty and Judy Haynes respectively. On a misdirected trip originally scheduled for Miami, Florida (or in that 1950's kind of speech, hear "Flahrida"), the foursome finds themselves on a mitten-clad-caroler-crowded train car venturing to Vermont where they soon encounter Ruth Williamson as the sassy concierge Martha Watson, Joseph Costa as their intimidating former armed forces superior General Waverly (think Peter Boyle type of humor), and Shannon Harrington (alternately Grace Matwijec) as the general's stage-star-wannabe granddaughter Susan Waverly.
Due to an unseasonably high December heat wave, the inn-keeping general's Pine Tree Ski Lodge needs an 'angle' to attract visitors; so the guys endeavor to stage a Broadway extravaganza for Christmas Eve utilizing the help of slick-haired, bow-tied Tony Lawson as entertainment promoter Ralph Sheldrake, the hyper expressive Cory Bretsch as stage manager Mike Nulty, and the very-slow-moving Cliff Bemis as the as Jonathan Winters-ish stagehand Ezekial Foster.
Shoulder-swaying, finger-snapping, somewhat Grease-style dance choreography along with fresh costumes, decade-appropriate hairstyles, and structured sets bathed in cozy yellow light make this production old-fashioned in nature yet contemporarily entertaining. Full of laughter, joy, snowy surprises, and some of the greatest songs ever written including "Count Your Blessings Instead of Sheep," "Happy Holiday," "Sisters," "Blue Skies," "I Love a Piano," and the unforgettable title song, Irving Berlin's White Christmas is a festive holiday entertainment option for the entire family.
Because, after all, who can be concerned about shoving people out of the way for a clearance Blu-ray disc when there's a stage-wide line of tap dancers performing?
White Christmas runs at Dallas Summer Musicals through Sunday, December 29, 2013 (with a length of 2 hours and 30 minutes including one 15 minute intermission). For more information, visit the Dallas Summer Musicals website to get tickets now.
Editorial Policy: The Flash List is dedicated to providing trustworthy editorial content by maintaining strict ethical standards, journalistic integrity, and credible professionalism regardless of potential compensation as working media. The Flash List discloses receiving tangible and/or intangible benefits for the purposes of providing media coverage for certain events, venues, products, and/or services.
MORE ON THE FLASH LIST
50 Things to Do
Bored? Well, there's definitely no need to be. Take your pick of these fun things to do.
Entertainment News
The latest breaking news and top stories in arts, dining, culture, movies, music, and sports.
Events Calendar
Not everything in town that you could do, but a list of events that you definitely should consider.
Date Night Ideas
From retro candy stores to luxury car rentals, let us help you impress on your next date night out.
Movies in Theaters
See previews of movies coming soon and trailers for films now playing at local theaters.
Go Gallivanting
Our sister website, The Art of Gallivanting, offers extraordinary adventures for ordinary people.