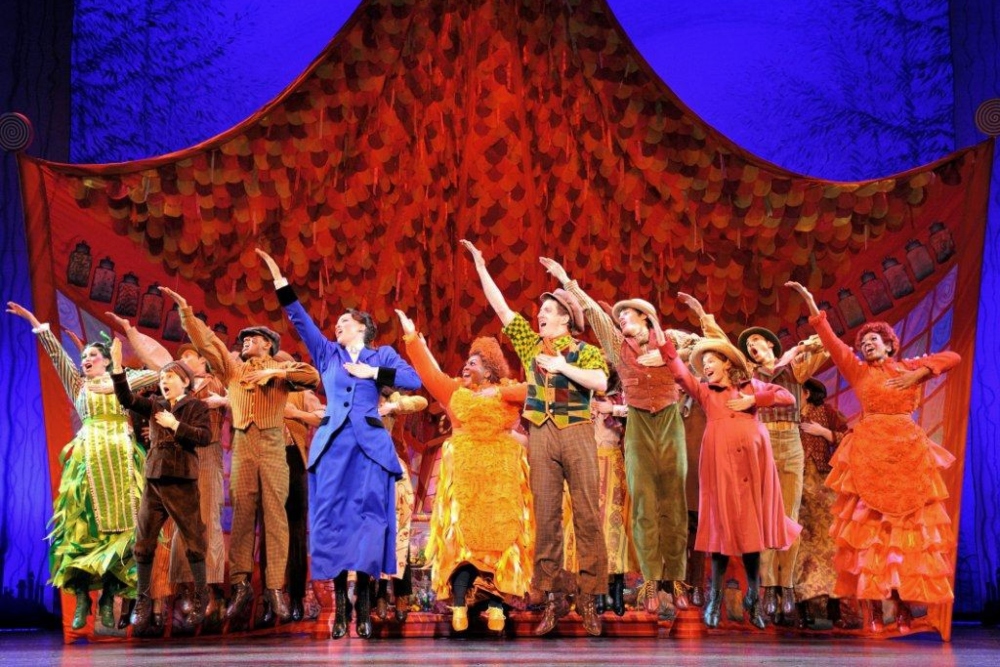 Posted March 21, 2013 | © Photo by Joan Marcus
"In every job that must be done, there is an element of fun."
Seeing Mary Poppins at Dallas Summer Musicals is a like attending a concert by one of your favorite music artists - you'll enjoy it "in the most delightful way" if you know the words to all the songs.For this reason, we'd like to provide you with this exclusive, audiovisual, sing-a-long version of our review of the show.
From the moment the lights dim, the live orchestra begins to elicit excitement as overture notes of "Chim Chim Cher-ee" filter through the air and the loveable chimney sweep Bert (Con O'Shea-Creal) introduces us to the sentimental but quite disorganized family living at "Cherry Tree Lane" comprised of emotionally-overburdened parents George and Winifred Banks (Chris Hoch and Kerry Conte), well-meaning but misbehaving children Jane and Michael (Madison Mullahey and Eli Tokash), and slapstick comedic house staff Mrs. Brill and Robertson Ay (Emily Cramer and Blake Segal).
Soon, however, the "Practically Perfect" Mary Poppins (Madeline Trumble) arrives with her bag of never-ending over-sized goodies with a mission to move everyone toward a better disposition ... since, in the words of wise ol' Bert, "No where is there a more 'appier crew than them wot sings 'Chim chim cher-ee Chim cher-oo!'"
The variety in set design for this production is fascinating. Like a giant pop-up bedtime storybook come to life, The Banks' unique rotating home moves forward and back, opening and closing like a huge origami dollhouse.Props (and people) fly in and out; toys and statues come to life; furniture glides on and off stage; and with the flip of a few panels, a drab beige park becomes a fluorescent day-glo floral wonderland.It is within the especially colorful sweet shop of Mrs. Corry (Tonya Thompson) that the Banks children take part in a word game and the cast spells out "Supercalifragilisticexpialidocious" accompanied by a series of hand motions and body poses that make the "Do-Re-Mi" look like linguistic child's play.
With a sum that ends up being greater than all the parts, Mary Poppins takes the Banks family as well as audiences on a "Jolly Holiday" where it turns out that "Anything Can Happen" if you let it. We get swept away in the "fables above the gables" during an energetic, Stomp-like, tap-dancing number when the cast of chimney sweeps "Step in Time."We won't reveal the wonderful surprise that takes place in this routine, but suffice it to say that this number and "Supercalifragilisticexpialidocious" alone make this show worth the ticket price!
Mary Poppins runs at Dallas Summer Musicals through March 30, 2013 with a length of 2 hours and 45 minutes including intermission.So get your tickets spit-spot; they start as low as $20.25, and any seat in the house will be a good one.This family-friendly show is ideal for kids and great for a fun girls' night out event.Regarding your 'new-to-musical-theater' manly man though ... mmm, you might instead consider waiting for Wicked which opens next month (read our previous review to see why Wicked is completely worth whatever ticket level you choose to purchase).For more information about Mary Poppins, see performance details or visit the Dallas Summer Musicals website.
Editorial Policy: The Flash List is dedicated to providing trustworthy editorial content by maintaining strict ethical standards, journalistic integrity, and credible professionalism regardless of potential compensation as working media. The Flash List discloses receiving tangible and/or intangible benefits for the purposes of providing media coverage for certain events, venues, products, and/or services.
MORE ON THE FLASH LIST
50 Things to Do
Bored? Well, there's definitely no need to be. Take your pick of these fun things to do.
Entertainment News
The latest breaking news and top stories in arts, dining, culture, movies, music, and sports.
Events Calendar
Not everything in town that you could do, but a list of events that you definitely should consider.
Date Night Ideas
From retro candy stores to luxury car rentals, let us help you impress on your next date night out.
Movies in Theaters
See previews of movies coming soon and trailers for films now playing at local theaters.
Go Gallivanting
Our sister website, The Art of Gallivanting, offers extraordinary adventures for ordinary people.