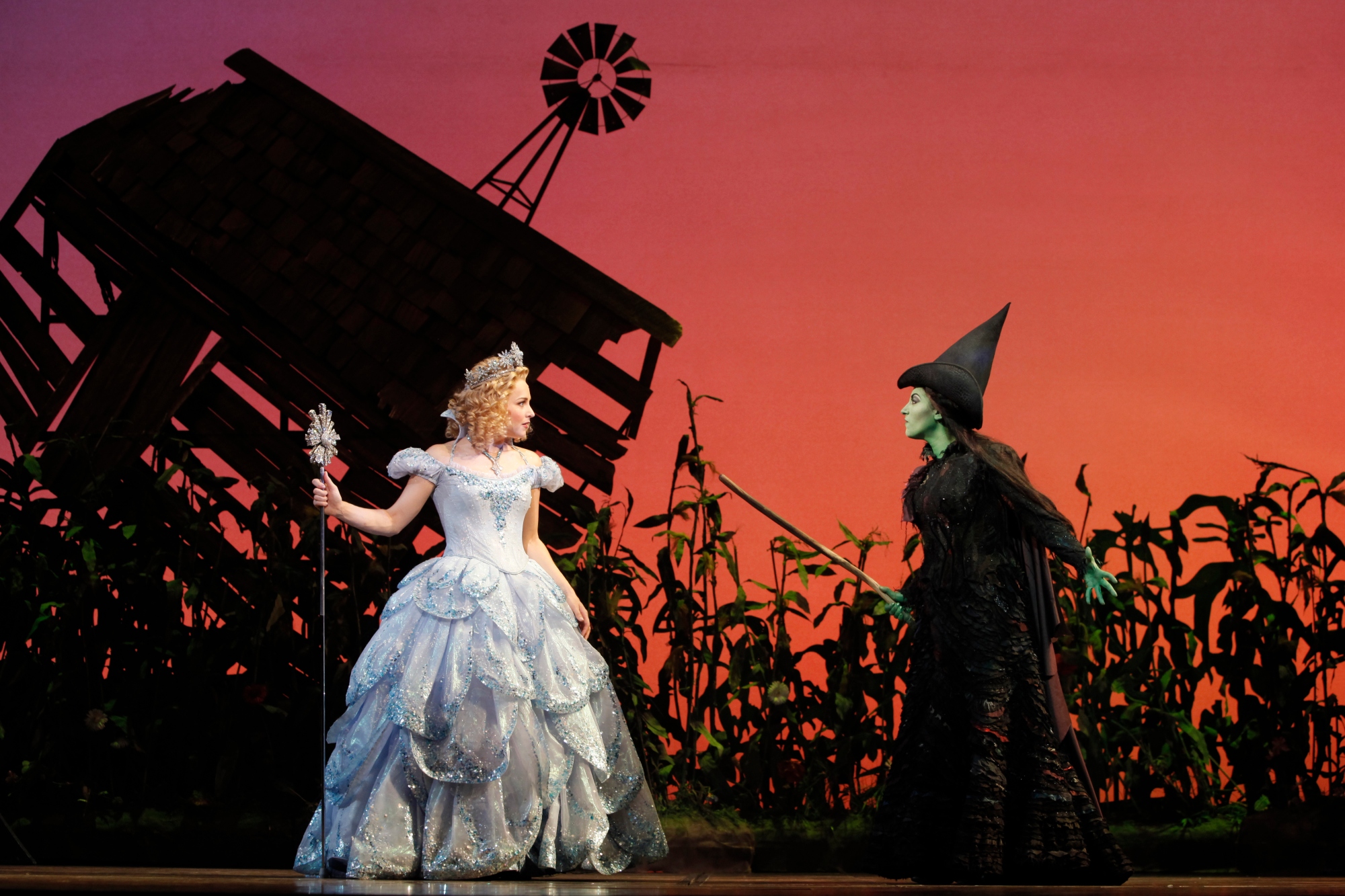 Posted May, 2010 | © Photo by Joan Marcus
What do Legally Blonde, Animal Farm, Star Wars Episode I, and Dr. Dolittle have in common?Themes that lead you straight down the yellow brick road to the Land of Oz and to Dallas Summer Musical's currently running production of Wicked, the previously untold story of Elphaba, the Wicked Witch of the West, and Glinda, the Good Witch of the North.
And the journey is wonderfully fantastical!
Plot
Though often considered to be a behind-the-scenes type of prequel to Frank Baum's The Wonderful Wizard of Oz, the story (adapted from the novel Wicked by Gregory Macguire) actually takes place before, during, and after Dorothy and Toto drop in.The show's complex but easily followed plot follows the relationship between the two Ozian witches who meet in college and become unlikely friends as they not only share a dorm room, a common love interest, and a knack for magic, but as they also experience social injustice, political corruption, and discrimination against Elphaba for the emerald green skin she was born with and against Doctor Dillamond, the university's only animal professor.
We won't spoil the plot intricacies and the surprise twist ending; but Wikipedia has a great complete synopsis if you're interested, although we recommend skipping the last paragraph under "Act II" if you want to wait for the show to find out how things turn out.
Performers
Donna Vivino (daughter of Jerry Vivino, a member of the Max Weinberg and The Tonight Show Band) plays Elphaba, the smart, hard working and compassionate, but awkward and misunderstood Laney Boggs of Oz.The ugly-duckling-turned-swanlike role showcases Vivino's extraordinary talent and spectacular vocal range.Her strong, emotion evoking voice was fierce and captivating in songs such as "The Wizard and I", "No Good Deed" and especially crowd-pleasing in her powerful rendition of "Defying Gravity" which she belted out while being dramatically hoisted into the air high above the stage.
Chandra Lee Schwartz plays Glinda, the perky, capricious, self-absorbed blonde who floats onto the stage from overhead amidst a spray of bubbles and hardly seems to have to lift a wand for her immense popularity.Schwartz's performance was wonderfully sweet as she eloquently delivered humorous quips and one-liners, and she was certainly in her blissfully charming element as she sang "Popular", one of the highlights of the show, as she with great exuberance attempts to teach Elphaba to embrace her softer, feminine side.
Other outstanding performances included those by Richard Kline (Larry from television's Three's Company) as The Wizard, Richard H. Blake (recently seen on Broadway as Legally Blonde's Warner) in the role of Fiyero who rolled onto the stage with the pomp and circumstance of a Disney prince and/or Dudley Do Right.Jayne Houdyshell (whose credits include television's Law & Order) plays Madame Morrible, a headmistress at Shiz University; and with her stark white-ish makeup, bright red lipstick, green boa, and kimono style dress, she looked like something fantastically straight from the Moulin Rouge or out of a ToulouseLautrec painting.And of course we'd be remiss if we didn't mention those freakishly delightful acrobatic 'flying' monkeys!
Costumes
The exquisite Ozian costumes were stars themselves in this production.Heavy, ornate, woven frocks as well as rich, silky, exotic pieces with sequins, feathers, ruffles, fringe, leather and fur had incredible stage presence on their own.Lavish designs, some with exaggerated elements of French and Asian fashion, were reminiscent of anything from Coco Chanel to Carmen Miranda (minus the fruit) to Eliza Doolittle to Willy Wonka, and some reminded us of our long past days working at Farrell's Ice Cream Parlor. It was all very, as they say in the Emerald City, "Ozmopolitan"!
Set Design
With elaborate props sliding on and off stage, a huge robotic Wizard face verbally commanding attention, a moving mechanical dragon with the wingspan of a Cessna 172 looming above the stage, scene enhancing LED and spot lighting, and around 200 pounds of dry ice fog in the air, sets gave us the sensation we were in a crazy fun house, steamy train station, misty forest, or stage sized clock tower.
Value
Opening to a packed house in Dallas, the award-winning musical has broken the house record in every single city in which it's played and is well worth the ticket price. Especially if you are the winner of the daily day-of-performance lottery where names are drawn for a chance to purchase $25.00 orchestra seats. The show, which ran almost three hours including intermission, is extremely entertaining for adults and is also family friendly without being sappy.
Dress
Dress at this production was a bit dressier than other DSM shows.We saw a few people in jeans, but most men had on dress pants or business khakis, while a good number of women wore summer dresses.
World of Wicked at The Shops at Willow Bend
Wicked cast members will give a live performance and sign autographs on June 5, 2010 at The Shops at Willow Bend.And from now until June 13, 2010, you can step inside a 20-foot bubble featuring set props, costumes, and photo opportunities at the "Behind the Emerald Curtain" exhibit in the Grand Court.
For more information, see the Dallas Summer Musicals website or check out the Wicked related specials and giveaways at The Shops at Willow Bend.
Editorial Policy: The Flash List is dedicated to providing trustworthy editorial content by maintaining strict ethical standards, journalistic integrity, and credible professionalism regardless of potential compensation as working media. The Flash List discloses receiving tangible and/or intangible benefits for the purposes of providing media coverage for certain events, venues, products, and/or services.
MORE ON THE FLASH LIST
50 Things to Do
Bored? Well, there's definitely no need to be. Take your pick of these fun things to do.
Entertainment News
The latest breaking news and top stories in arts, dining, culture, movies, music, and sports.
Events Calendar
Not everything in town that you could do, but a list of events that you definitely should consider.
Date Night Ideas
From retro candy stores to luxury car rentals, let us help you impress on your next date night out.
Movies in Theaters
See previews of movies coming soon and trailers for films now playing at local theaters.
Go Gallivanting
Our sister website, The Art of Gallivanting, offers extraordinary adventures for ordinary people.