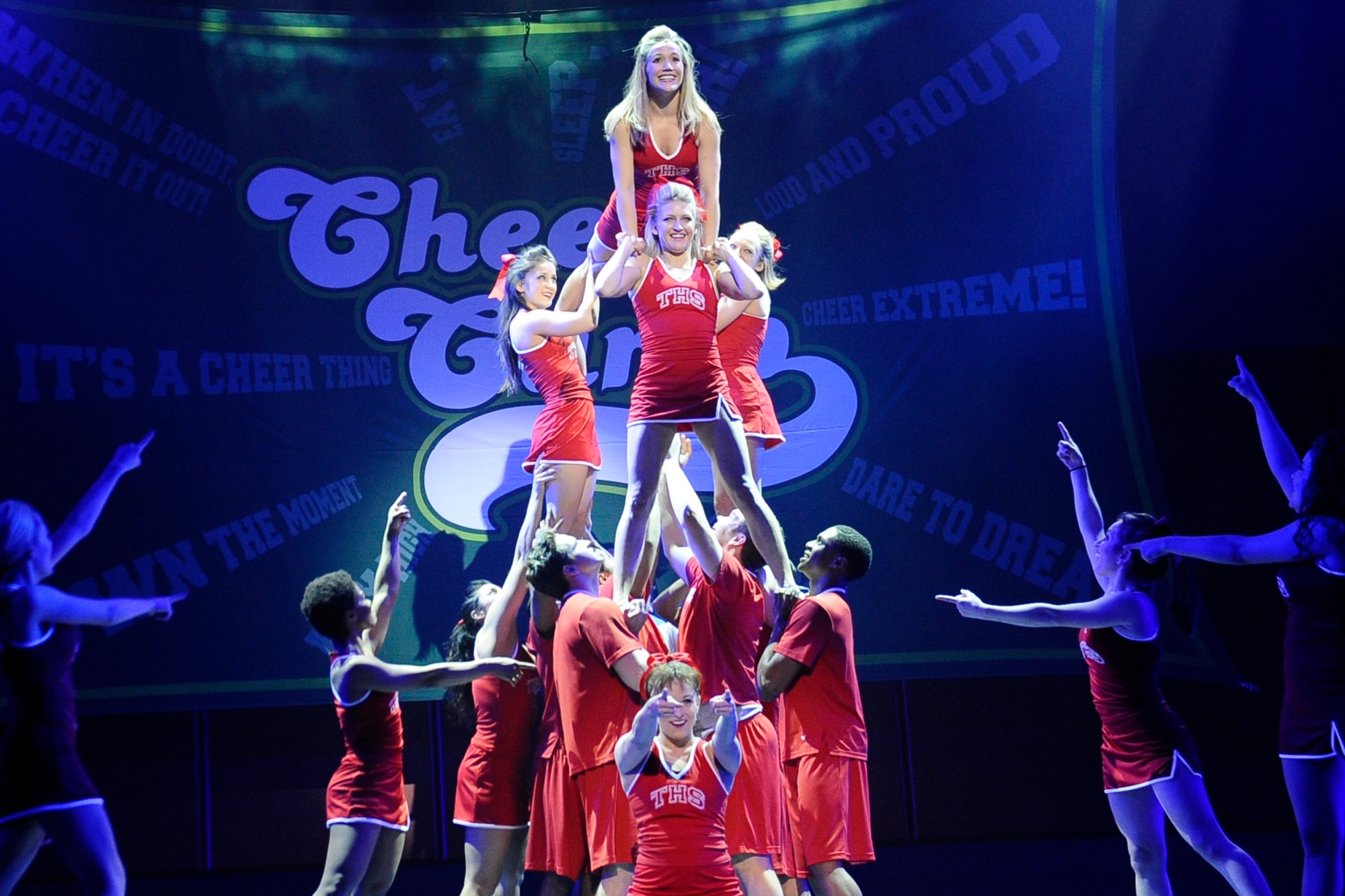 Posted February 15, 2012 | © Photo courtesy of Dallas Summer Musicals
Ready? Okay!
Gimme a "un"
Gimme a "be"
Gimme a "lieve-a-ble"!
Jaw-dropping gymnastics, hiiiiigh flying cheerleading stunts, energetic hip-hop choreography, catchy musical tunes, and over 1100 'rock concert' type lighting cues built into the show file made Bring It On: The Musical the second of two theater productions in a week that exceeded our already high expectations. Led by Tony Award winning director / choreographer Andy Blankenbuehler and featuring some of the nation's most skilled cheerleaders (whose combined achievements include over 25 national and 50 team titles in gymnastics and choreography), this new comedy about the sometimes ruthless world of competitive cheerleading is packed with young talent.
Taylor Louderman (a 20 year-old newcomer from the University of Michigan) performs the lead role of head cheerleader Campbell with the chops of a veteran.Campbell's world at the wealthy Truman High is safe, predictable, and progressing along just according to plan ... until, through a series of unfortunate coincidences (or are they?), she gets redistricted and is forced to leave her squad behind in the hands of her seemingly adorable sophomore protege, Eva (Elle McLemore of Disney's "Suite Life on Deck").
Finding herself now lost and out of place at the inner city Jackson High where students take off their gold chains before passing through the metal detector, Campbell encounters the school's queen bee Danielle (Adrienne Warren, previously seen in the National Tour of Dreamgirls and whose EP's out on iTunes) who allows Campbell to join their dance crew only after an initiation act of hazing in which Campbell proves her devotion by getting jiggy in front of everyone dressed as leprechaun mascot, "Lucky the Clover" which strangely attracts the attention of love interest Randall (Jason Gotay of Broadway's Rising Stars and Rent).
Also transferred in the redistricting is the uncool, plus-sized Bridget, who is no longer relegated to Truman High's parrot mascot uniform, but is now celebrated for her bootyliciousness an' e'rythang like that.Going way beyond the 'nerdy' role that is often merely tolerated, Ryann Redmond plays Bridget in a way that makes us adore her, want to befriend her, and makes us proud of her in the end.'Cuz besides getting all gangsta to protect her girl Campbell, she also dances and raps.
Similar in feel to Legally Blonde and Fame with a little Welcome Back, Kotter thrown in, this show delivers awe-inspiring physical feats to drive home a feel good emotional message about learning to enjoy the trip of life no matter who you are or what the cost.The fantastic cast is rounded out by Ariana DeBose (Hairspray, "So You Think You Can Dance") as sassy crew member Nautica, Gregory Haney (Memphis) as the at-ti-tude sporting, cross-dressing La Ciegna, Neil Haskell ("So You Think You Can Dance") as sappy boyfriend Steven, Kate Rockwell (Legally Blonde) as sexy senior cheerleader Skylar who is "grievously plastic" and takes great pride in being a ... well, let's just say 'mean girl'), Janet Krupin as sidekick Kylar, and Nick Womack as unlikely romantic Twig.
Bring It On: The Musical runs at the Musical Hall at Fair Park in Dallas, Texas through February 26, 2012 with ticket prices between $15.00 - $75.00.
We hope this recap has served to sufficiently pep you up enough to:
Go see it.
Go see it.
Go, go, go see it!
Editorial Policy: The Flash List is dedicated to providing trustworthy editorial content by maintaining strict ethical standards, journalistic integrity, and credible professionalism regardless of potential compensation as working media. The Flash List discloses receiving tangible and/or intangible benefits for the purposes of providing media coverage for certain events, venues, products, and/or services.
MORE ON THE FLASH LIST
50 Things to Do
Bored? Well, there's definitely no need to be. Take your pick of these fun things to do.
Entertainment News
The latest breaking news and top stories in arts, dining, culture, movies, music, and sports.
Events Calendar
Not everything in town that you could do, but a list of events that you definitely should consider.
Date Night Ideas
From retro candy stores to luxury car rentals, let us help you impress on your next date night out.
Movies in Theaters
See previews of movies coming soon and trailers for films now playing at local theaters.
Go Gallivanting
Our sister website, The Art of Gallivanting, offers extraordinary adventures for ordinary people.