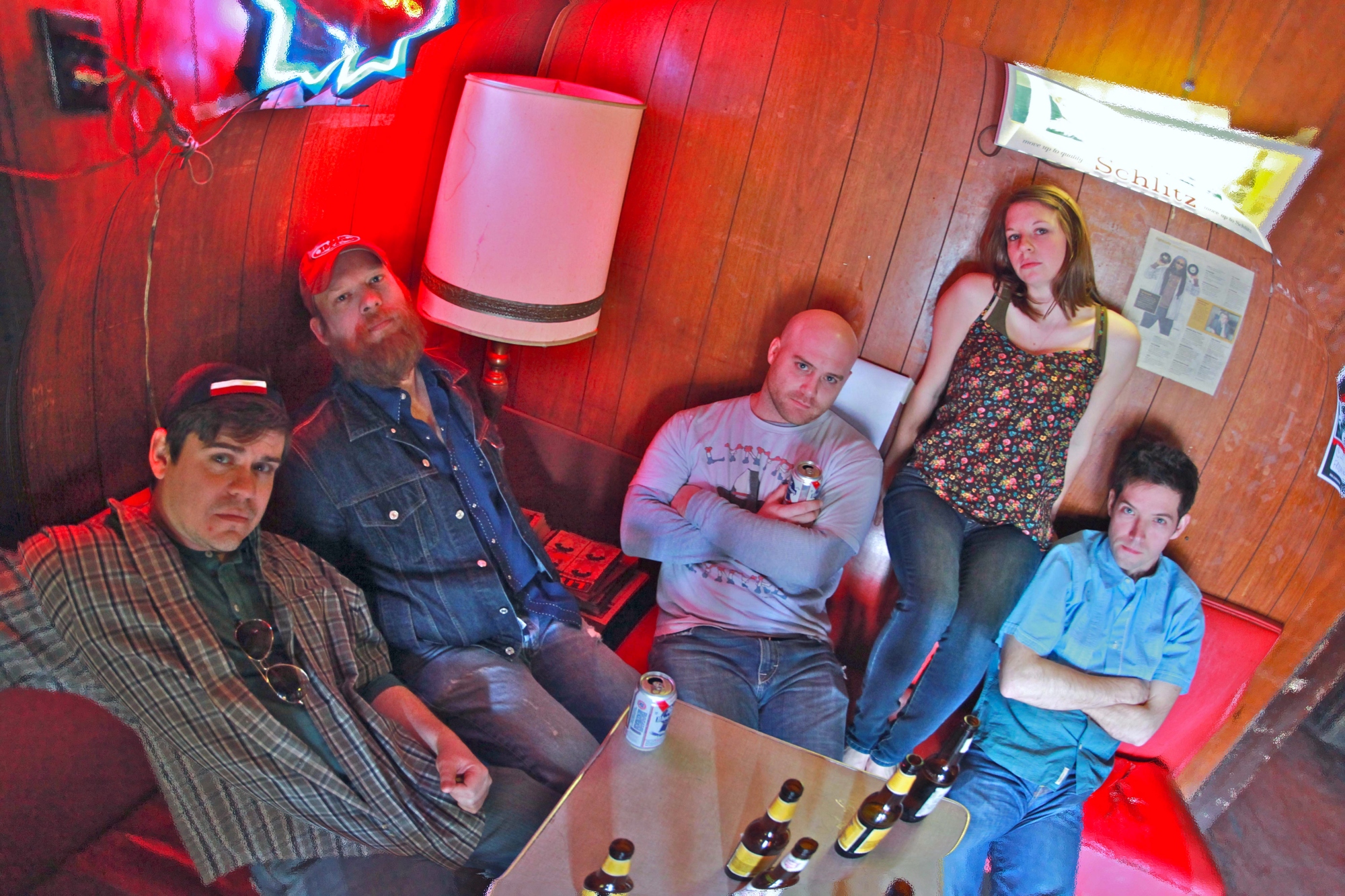 Posted February 10, 2012 | © Photo courtesy of Second Thought Theatre
"Logic has left the porch" ... ah, pluck it.
Duck is an ABBA-loving, Willie-Nelson-quoting, every-word-in-the-book-swearing, emu farm worker who is slamming back beers at 10:00 AM despite the fact that he's extremely sensitive about his big-bellied figure.
Bill, on the other hand, is a 141-IQ-achieving, crossword-puzzle-solving, fauxhawk-sporting, half-booty-baring, community college graduate who, although he inadvertently wins at arm wrestling, is surrounded by the uproar of others' confusion over his sexual orientation.
They're waiting around on Fred, their camo-wearing, peyote-eating, Jim-Beam-drinking, cacti-befriending, shotgun-toting, Lord's-Day-observing best friend who's been gone all night visiting the fiery gate but living to tell about it.
Very smartly written and hilaaaariously funny, this fresh comedy by Steven Walters (Dallas Theater Center Acting Company member and co-artistic director of Second Thought Theatre whose television credits include Friday Night Lights, Chase, Prison Break, and more) is not just your typical redneck joke.Oh, don't get us wrong; Duck (Clay Yocum) definitely emanates that 'Larry the Cable Guy' vibe, and his interactions with Bill (Chris LaBove) ring reminiscent of past episodes of Yes Dear.To boot, Fred (Mike Schraeder) handles his feelings toward April (Jenny Ledel) by swinging back and forth like the hinges on the dusty, continually slamming screen door. But Pluck the Day is much more than that.Walters successfully interjects comedy relief into the most intense dramatic moments without distracting one bit from the deep emotional pain afflicting these West Texas residents as they struggle (sometimes physically) with each other through bouts of loyalty, pity, betrayal, and self introspection.
With close-up seating and actors who are already on stage as you walk in, it's quite easy to become so enveloped in this inevitably relatable storyline that you forget your own troubles (and how loud you're laughing).
So come on in and "pop a squat" to find out:
Who is the pearl-snap-wearing, 'twang-twang' guitarist lounging in the corner?
What current female news commentator is considered both smart and hot?
When will April make up her mind about ... you know ... the thing?
Where will that tell-tale penguin show up?
How will they hash out the controversial incident that took place behind Winn-Dixie?
Pluck the Day runs at Second Thought Theatre through February 26, 2012, and with ticket prices between $15.00 and $22.50 (and an industry/pay-what-you-can night on Monday, February 13), this hour and a half show is a steal! We highly recommend it, especially for all your "friends in low places" who don't typically visit the 'thea-tah'.
Editorial Policy: The Flash List is dedicated to providing trustworthy editorial content by maintaining strict ethical standards, journalistic integrity, and credible professionalism regardless of potential compensation as working media. The Flash List discloses receiving tangible and/or intangible benefits for the purposes of providing media coverage for certain events, venues, products, and/or services.
MORE ON THE FLASH LIST
50 Things to Do
Bored? Well, there's definitely no need to be. Take your pick of these fun things to do.
Entertainment News
The latest breaking news and top stories in arts, dining, culture, movies, music, and sports.
Events Calendar
Not everything in town that you could do, but a list of events that you definitely should consider.
Date Night Ideas
From retro candy stores to luxury car rentals, let us help you impress on your next date night out.
Movies in Theaters
See previews of movies coming soon and trailers for films now playing at local theaters.
Go Gallivanting
Our sister website, The Art of Gallivanting, offers extraordinary adventures for ordinary people.