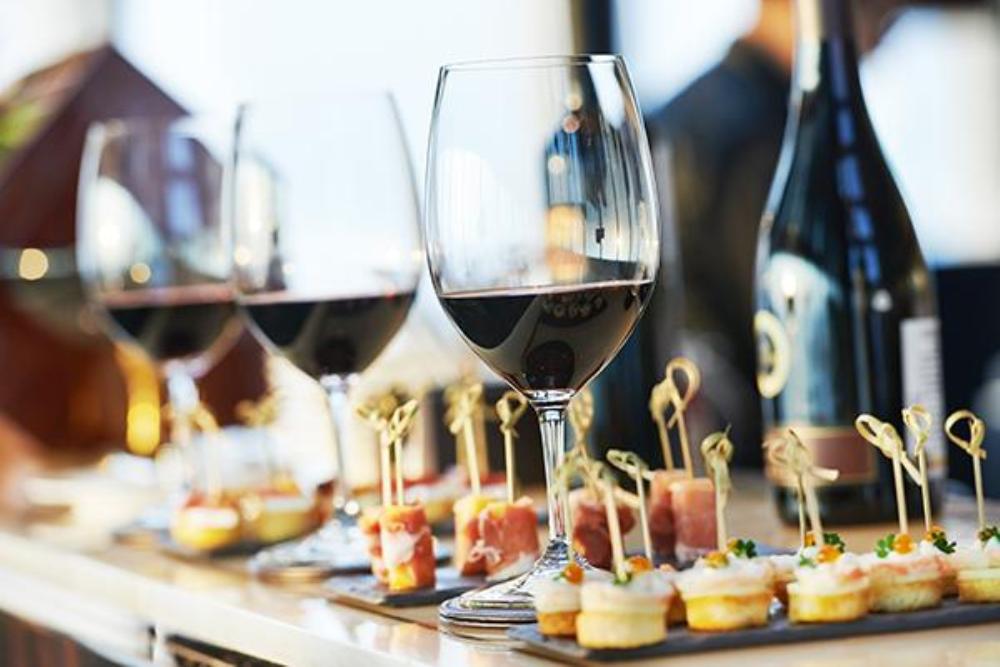 © Photo courtesy of Dallas Arboretum
Source: Dallas Arboretum | 2/6/18 | Dallas
The Dallas Arboretum and Botanical Garden hosts its second international-themed food and wine festival on March 22 to celebrate cuisine and libations from many cultures, set against the backdrop of its spring festival Dallas Blooms. Themed A World of Flowers, Dallas Blooms features more than 500,000 spring blooming bulbs and is one of the 15 Breathtaking Botanical Gardens to Visit This Season, according to Architectural Digest. Entrance for those with VIP tickets is at 6 p.m., and general admission entrance is at 7 p.m. Tickets are available to purchase online for both categories at http://www.dallasarboretum.org/foodwinefest.
Mark Wolf, Dallas Arboretum board chairman, said, This festival was developed in tandem with A Tasteful Place, the newest garden at the Arboretum that opened in October. We look forward to another spectacular festival at one of the most beautiful places in Dallas.
This premier, spring social event will feature savory bites made by award-winning chefs from many fine restaurants around the Metroplex, with guests sampling fine wines and craft beers. For true foodies who want to spend as much time as possible at the event, the VIP experience allows guests private entrance, specialty cocktails in A Tasteful Place, early access to the event, and a VIP lounge in which to relax amidst the action. The VIP experience begins just in time for guests to view the breathtaking downtown Dallas skyline at sunset in A Tasteful Place.
The cuisine will focus on four regions in areas throughout the Arboretum:
Pan Asian
South American
American Bistro
Mediterranean
Chef Janice Provost of Parigi, the Arboretum's Food and Wine's festival chair said, The chefs of Dallas are beyond excited about participating in the Dallas Arboretum's Food and Wine Festival, and incredibly enthusiastic about the opening of the newest food garden, A Tasteful Place. It's amazing to partner with an organization that shares our passion of educating the public about growing and eating fresh, locally-grown food.
Abraham Salum, Salum Restaurant
Anastacia Quinones, Oddfellows
Andrea Shackelford, Harvest Seasonal Kitchen
Chad Houser, Cafe Momentum
Christopher Patrick, Abacus
Daniel Pittman, LUCK at Trinity Groves
Daniele Puleo, CiboDivino Marketplace
David Gauthier, Smokey Rose
David Smith, Second Floor Kitchen
Dunia Borga, La Duni Baking Studio
Eric Dryer, Fearings Restaurant
Eric Freidline, Sevy's Grill
Henry Gentry, Henry's Homeade Icecream
Jacob Williamson, Five Sixty
James Johnson, Pappas Bros Steakhouse
James Pettus, The Meat Shop
Janice Provost, Parigi
Jeffery Hobbs, Slow Bone
John Doumas, Pop Star Handcrafted Popsicles
John Tesar, Knife
Jonathan Pauley, Water Grill Dallas
Josh Harmon, Junction Craft + Kitchen
Junior Borges, CBD Provisions
Katherine Clapner, Dude Sweet Chocolate
Larry Williams, Sallio
Mark Wootton, Garden Cafe
Meaders Ozarow, Empire Baking Company
Nick Harrison, STIRR
Nikky Phinyawatana, Asian Mint
Omar Flores, Whistle Britches
Paul Lambert, Mozzarella Company
Robert Lyford, Patina Green Inc.
Samantha Rush, Rush Patisserie
Scott Nakachi, Paul Martin's
Sharon Van Meter, 3015 at Trinity Groves
Sonny Pache Michael Scott, Ocean Prime
Stephen Pyles, Flora Street Cafe
Tida Pichakron, Haute Sweets Patisserie
Tony Street, Y.O. Ranch Steakhouse
Additional sponsors include SVM Productions, Southern Glazer's Wine & Spirits, Dallas Southwest Osteopathic Physicians, Inc., FreshPoint, Jaguar Land Rover Dallas, Rosewood Ranches Wagyu Beef, and Pollo Campero.
Tickets are $140 each (general) and $195 each (VIP) and may be purchased online at http://www.dallasarboretum.org/foodwinefest.
See additional information below or visit:
Dallas Arboretum | Food & Wine Festival
MORE ON THE FLASH LIST
50 Things to Do
Bored? Well, there's definitely no need to be. Take your pick of these fun things to do.
Entertainment News
The latest breaking news and top stories in arts, dining, culture, movies, music, and sports.
Events Calendar
Not everything in town that you could do, but a list of events that you definitely should consider.
Date Night Ideas
From retro candy stores to luxury car rentals, let us help you impress on your next date night out.
Movies in Theaters
See previews of movies coming soon and trailers for films now playing at local theaters.
Go Gallivanting
Our sister website, The Art of Gallivanting, offers extraordinary adventures for ordinary people.