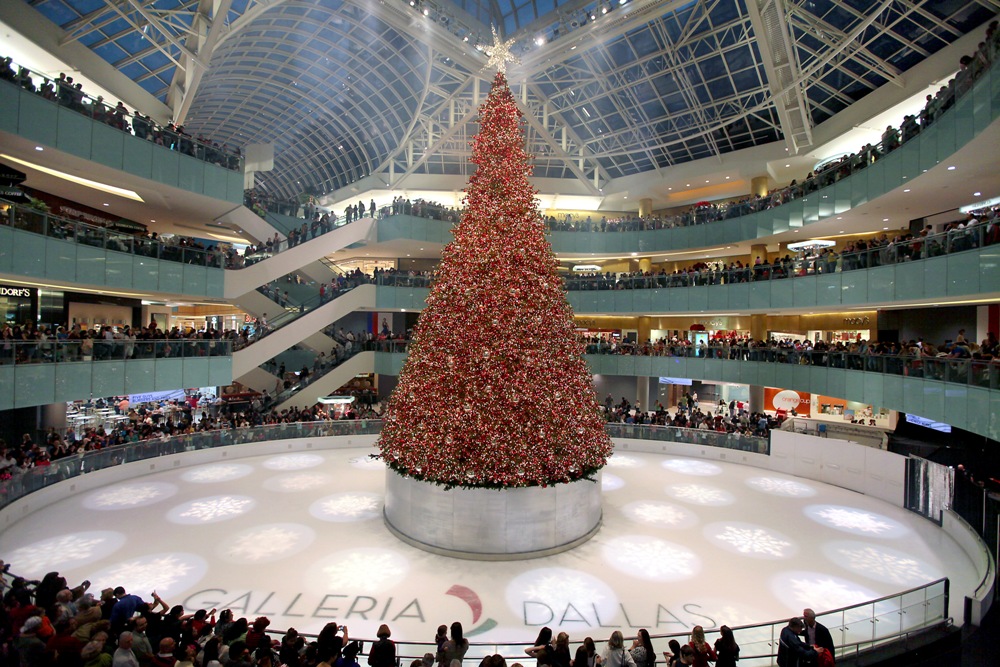 © Photo courtesy of Galleria Dallas
Source: Galleria Dallas | 11/1/16 | Dallas
Galleria Dallas has been considered one of the top holiday destination spots for shoppers across North Texas and around the world for more than three decades. From the iconic 95-foot indoor Christmas tree to Missile Toes, the ice skating Santa who shoots fireworks from his skates, the holiday celebration is much like the shopping center (and Texas) -- big and bold. The holiday season at Galleria Dallas kicks off in early November with the decorating of America's tallest indoor Christmas tree which features nearly a half million lights, 10,000 ornaments and a 100-pound, 10-foot tall LED star. The festivities continue throughout the season with live entertainment and other numerous holiday events, Nov. 25 – Jan. 1.
Many shoppers prepare to take on the abundance of sales and promotions that are offered both on Thanksgiving Day and Black Friday, November 25. The holiday festivities will kick off at noon on Black Friday with the impressive Macy's Grand Tree Lighting Celebration featuring the 2012 U.S. National Champions Caydee Denney and John Coughlin and a spectacular firework finale as the tree is lit. The ceremony will be hosted each Saturday through December 17th at 6 pm and will feature other local and national skating luminaries including Johnny Weir.
The shopping center will be bedazzled in holiday décor top to bottom throughout each level. Even the parking directors don festive Santa suits to usher drivers to one of the 10,000 covered parking locations. For those guests wishing to stay and make a weekend out of it, the adjoined Westin Galleria Dallas Hotel is conveniently located and accessible to Galleria Dallas and offers great shopping packages to make the most out of a holiday weekend. Guests have access to holiday shopping and dining at more than 200 retailers including several exclusive, specialty boutiques and stores such as flagship Belk, Zara, Club Monaco, Bailey Banks & Biddle, Le Creuset, BoxLunch, Wrangler, American Girl® and more. Enjoy all the season has to offer, including Galleria's extended holiday hours, while checking off the gift-giving list! Please see the full schedule and more information on holiday events at GalleriaDallas.com.
HOLIDAY AT GALLERIA DALLAS SCHEDULE OF EVENTS
GALLERIA DALLAS CHRISTMAS TREE RAISING
All Levels, Center Court
The holiday begins with the traditional decorating and raising of the country's tallest indoor Christmas tree with a crew of 50 working round-the-clock to set up Dallas' most iconic holiday tree in grand fashion.
Nov. 6 – Nov. 9


SALVATION ARMY ANGEL TREE
Level 3, near Belk
Adopt an angel through the Salvation Army Angel Tree this holiday season and help others in need.
Nov. 4 – Dec. 8
VISIT SANTA CLAUS IN HIS VILLAGE
Level 2, near Belk
A must for every holiday season, straight from the North Pole, Santa invites all children to his Village to hear gift requests and take photos.
Nov. 18 – Dec. 24 (Visit galleriadallas.com for Santa's daily arrival & departure times)
MACY'S GRAND TREE LIGHTING CELEBRATION
All Levels, Center Court

Complimentary

Every show features Missile Toes, Galleria's ice-skating, back-flipping, pyrotechnic Santa Claus, live performances by Olympic and National Champion-ranked skaters and local children who introduce the lighting of the country's tallest indoor tree.

Friday, Nov. 25 at noon: Caydee Denney & John Coughlin
Saturday, Nov. 26 at 6 p.m.: Caydee Denney & John Coughlin
(2012 U.S. National Champions and 2012 Four Continents Silver medalists)

Saturday, Dec. 3 at 6 p.m.: Johnny Weir
(Three time US National Champion (2004-2006), 2006 Olympian, 2008 World Bronze Medalist)

Saturday, Dec. 10 at 6 p.m.: Ricky Dornbush
(2011 U.S. Silver Medalist, 2014 Lombardia Trophy Champion, 2010 ISU Junior Grand Prix Final Champion)

Saturday, Dec. 17 at 6 p.m.: Ryan Bradley
(2011 U.S. Champion, 2007 U.S. Silver medalist and three-time U.S. Collegiate Champion)
ILLUMINATION CELEBRATION
All Levels, Center Court
The nation's tallest indoor Christmas tree illuminates in grand fashion choreographed to traditional sounds of the season.
Nov. 25 – Dec. 24 daily at noon, 2 p.m., 4 p.m., 6 p.m. and 8 p.m. (no 8 p.m. shows on Sundays)
Complimentary
SLAPPY'S HOLIDAY CIRCUS
Level 1, near Nordstrom and Belk
Presented by Slappy's Playhouse, experience a classic European Circus with puppets, magic, clowns, contortionists, trapeze artists and jugglers in a fast-paced show that's fun for the entire family.
Friday, Nov. 25, 1 p.m. & 3 p.m.
Saturdays, Nov. 26, Dec. 3, 10, 17 & 24 at 1 p.m. & 3 p.m.
Complimentary
OPERATION KINDNESS HOLIDAY PET ADOPTION
Level 1, near Banana Republic
Operation Kindness will be hosting dog and cat pet adoptions.
Nov. 25 – Dec. 24; Monday – Saturday: 10 a.m. – 7 p.m., Sunday: noon – 6 p.m.
Adoption fees: $135 for cats and $185 for dogs
SHOWTIME SATURDAYS
Level 3, near the Children's Play Place
Each week Slappy's Circus performs a different routine that's entertainment for the whole family. Visit galleriadallas.com for the weekly performance details. Face painters and balloon artists will be onsite November 5, December 3 and December 24.
Saturdays at 11:30 a.m.
Complimentary
CHANUKAH MENORAH LIGHTING
Level 1, Near the Guest Reception Center
Celebrate Chanukah with our large-scale Menorah as we light a candle every evening.
December 24 - December 31 (*note, Galleria Dallas will be closed on December 25)
SANTA CARES
Level 2, near Belk
Children with special needs and their families are invited to a private photo session with Santa in an environment set up to support sensory, physical and other developmental needs.
December 4, 8:30 a.m. – 10:30 a.m.
BREAKFAST WITH SANTA AT AMERICAN GIRL®
Celebrate the season with your special girl! Start the merriment with a delicious continental breakfast with Santa at American Girl®.
November 27 & December 11 at 9:00 a.m.
"I AM THANKFUL FOR…." EXHIBIT
Enjoy artwork done by children and young adults that expresses their thankfulness depicting what each person is thankful for.
Level 1, Center Court
Nov. 15 – Dec. 18
HOLIDAY MUSIC
Plano Civic Chorus
Level 1, Center Court
Nov. 25, 11:30 a.m.
Brookhaven Handbell Ensemble
Level 1, Center Court
Dec. 10, 4:30 p.m.
School Choir Performances
Dec. 2, 3, 9 & 10
(Visit galleriadallas.com for performance details)
Sounding Brass
Level 1, traveling throughout the center
Nov. 25 & 26, Dec. 3, 4, 10, 11, 17 – 24, 1 p.m. – 3 p.m.
Uptown Carolers
All Levels, traveling throughout the center
Dec. 21 – 23, 5 p.m. – 7 p.m.
Dec. 24, 12 p.m. – 2 p.m.
See additional information below or visit:
MORE ON THE FLASH LIST
50 Things to Do
Bored? Well, there's definitely no need to be. Take your pick of these fun things to do.
Entertainment News
The latest breaking news and top stories in arts, dining, culture, movies, music, and sports.
Events Calendar
Not everything in town that you could do, but a list of events that you definitely should consider.
Date Night Ideas
From retro candy stores to luxury car rentals, let us help you impress on your next date night out.
Movies in Theaters
See previews of movies coming soon and trailers for films now playing at local theaters.
Go Gallivanting
Our sister website, The Art of Gallivanting, offers extraordinary adventures for ordinary people.