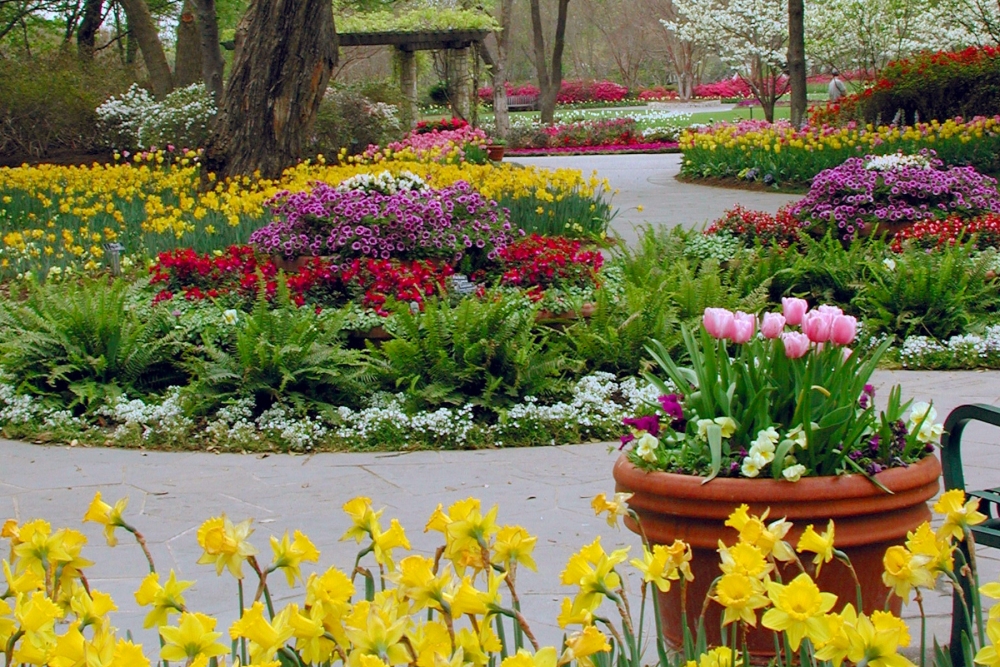 © Photo courtesy of Dallas Arboretum
Source: Dallas Arboretum | 11/15/16 | Dallas
Dallas Arboretum and Botanical Garden welcomes distinguished British author and historian, Adrian Tinniswood, OBE, to discuss his latest novel, The Long Weekend: Life in the English Country House, 1918-1939, on November 19. The lecture, which is free with paid garden admission, is from 10 a.m. to 10:30 a.m. at Rosine Hall followed by a book signing. Books will be available for purchase. Mr. Tinniswood is on a cross-country book tour sponsored by the English Speaking Union.

Drawing on thousands of memoirs, unpublished letters and diaries, and the eye-witness testimonies of belted earls and bibulous butlers, historian Mr. Tinniswood brings the stately homes of England to life as never before, opening the door onto a world half-remembered, glamorous, shameful at times, and forever wrapped in myth.
Based on his latest book, The Long Weekend, Mr. Tinniswood's lecture will explore the sheer variety of country house life: from King George V poring over his stamp collection at Sandringham to fascist leader Sir Oswald Mosley collecting mistresses at ancestral homes across the nation, from Edward VIII entertaining Wallis Simpson at Fort Belvedere to the Duke of Marlborough at Blenheim, whose wife became obsessed with her pet spaniels. Mr. Tinniswood reveals what it was really like to live and work in some of the most beautiful houses the world has ever seen during the last great golden age of the English country home.
Mary Brinegar, president and CEO, said, "We look forward to hearing Mr. Tinniswood about this remarkable topic because there's such interest in it. Our guests are fascinated with historic homes and country living as demonstrated by how many visit the Arboretum's DeGolyer House, a magnificent estate listed on the National Register of Historic Places and once used for a country home."
Mr. Tinniswood is a distinguished British social historian, writer and lecturer, whose passion for architecture and history began in earnest when he took up the task of researching and writing the history of Sudbury Hall in Derbyshire, a historic house owned by Britain's National Trust. This project began a long association with the Trust where he has served as editor, author and educational consultant. He is also a popular historian and has written twelve books including, The Polite Tourist, His Invention So Fertile: The Life of Christopher Wren, By Permission of Heaven: The Story of the Great Fire of London, The Verneys: A True Story of Love, War and Madness in 17th-Century England (shortlisted for the BBC Samuel Johnson Prize for Non-Fiction), Pirates of Barbary, The Rainborowes and most recently, The Long Weekend (Basic Books, May 2016). Mr. Tinniswood lectures extensively in both the United Kingdom and America. He studied English and Philosophy at the University of Southampton, and received his M.A. in Philosophy from Leicester University. He and his wife, Helen, live in a restored cottage near Bath. For his services to Great Britain's heritage, Mr. Tinniswood was made a member of the Order of the British Empire.
See additional information below or visit:
Dallas Arboretum and Botanical Garden
MORE ON THE FLASH LIST
50 Things to Do
Bored? Well, there's definitely no need to be. Take your pick of these fun things to do.
Entertainment News
The latest breaking news and top stories in arts, dining, culture, movies, music, and sports.
Events Calendar
Not everything in town that you could do, but a list of events that you definitely should consider.
Date Night Ideas
From retro candy stores to luxury car rentals, let us help you impress on your next date night out.
Movies in Theaters
See previews of movies coming soon and trailers for films now playing at local theaters.
Go Gallivanting
Our sister website, The Art of Gallivanting, offers extraordinary adventures for ordinary people.