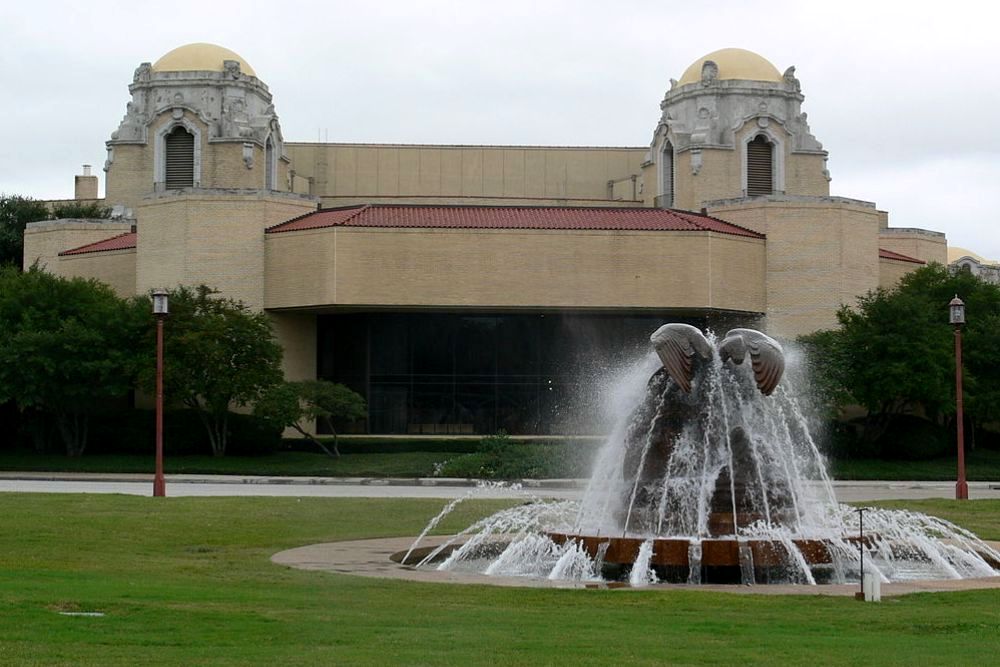 © Photo by Andreas Praefcke
Source: Preservation Dallas | 3/24/16 | Dallas
Recent wanton destruction and threat of demolition of historic Dallas buildings has inspired a renewed, cross-sector focus on preserving the city's most hallowed places. To continue and broaden the dialogue, Preservation Dallas announces a month-long celebration tying in with the 43rd anniversary of National Preservation Month in May. In partnership with several groups, a slate of free and ticketed public events, exhibits, talks, and tours will punctuate the month by spotlighting historic places that matter in Dallas. National, state and local experts will share insights on preserving cultural heritage and why preservation matters in hopes of getting North Texans talking about how a city's history lays the foundation for its future growth.
A city's essence derives from its history and its buildings. It is what attracts people to it, and gives them a foundation on which to build. It is the reason for our steady preservation drumbeat, says David Preziosi, executive director of Preservation Dallas. During National Preservation Month, we hope everyone will take time to notice and celebrate the unique historic places that make Dallas special, give it character, and distinguish it from other cities across the nation. There will be events large and small for the community to attend and the dialogue can continue online as every day preservationists share photos of historic places that matter most to them on social media.
A summary of select events is below. For the most current list of events and details, visit www.preservationdallas.org/events/presmonth. Participate in the citywide conversation about Dallas' history on Facebook and on Twitter and Instagram @preservedallas.
May 1, 1-3 p.m., Free - Fair Park Art + Architecture Scavenger Hunt (3939 Grand Ave, Dallas, TX 75210) – Discover the exciting art and architecture of historic Fair Park through a Scavenger Hunt for children and adult teams of up to six. Participants who go on the hunt will be entered into drawings for prizes to be given out at the event. Parking is free in the lot closest to the Hall of State between Washington and Admiral Nimitz Streets. Washington Street is accessed at Gate 3 off of Parry Avenue.
May 2-31, Mon-Fri, 9 a.m. – 5 p.m., Free - Architectural Styles of Dallas Exhibit at Dallas City Hall, first floor lobby (1500 Marilla St., Dallas, TX 75201) – Experience an engaging exhibit which highlights 27 unique architectural styles found in Dallas. The hallmarks of each style are explained through text and photographs of local examples that showcase the styles bring the exhibit to life.
May 3, 6-8:30 p.m., $50 for members, $85 for non-members - Preservation Achievement Awards, Lee Park at Arlington Hall (3333 Turtle Creek Blvd, Dallas, TX 75219) – Join Preservation Dallas in celebrating the outstanding preservation work in Dallas of property owners, architects, developers, builders and civic leaders during the 17th annual Preservation Achievement Awards at historic Arlington Hall. Non-refundable advance reservations are required. For more information and to buy tickets, go to http://www.preservationdallas.org/events/preservation-achievement-awards.
May 5-Jun 12, Sundays 10 a.m.- 2 p.m. and Monday – Saturday by appointment, free - Historic Dallas Photo Exhibit at St. Matthews Cathedral Arts (5100 Ross Ave., Dallas, TX 75201) – Photographic exhibition of Carolyn Brown's spring photography adult class who are capturing historic sites around Dallas. Carolyn Brown is a well-respected photographer who has worked around the world shooting the architecture and world around us, including stints in Mexico, Egypt, and the Caddo Lake region. Her books include Dallas: Portrait of a City, Houston: Simply Spectacular, and Upper Egypt. There will be a ticketed opening night reception on May 5 from 6 to 8 p.m. More information at: http://cathedralartsdallas.org/historic-dallas-through-photography-artist-reception.
May 7-8, Saturday 10 a.m. - 6 p.m. and Sunday 12 p.m. - 6 p.m., $20 in advance and $25 the weekend of the event - Swiss Avenue Historic District Mother's Day Home Tour presented by Swiss Avenue Historic District (Ticket pick up at Savage Park at Swiss and Munger, Dallas, TX 75214) – Swiss Avenue is one of Dallas' most important historic areas and features some of the best examples of historic architecture in the city. As Dallas' first historic district it paved the way for future preservation efforts in Dallas. Experience the district during the annual Mother's Day tour with exquisite homes open for visitors to experience the unique architecture and deep history of Old East Dallas. For more information and to buy tickets or reserve seats at the Mother's Day Brunch, go to www.sahd.org/hometour.
May 15, 2-3 p.m. Free - Fifty Years of Preservation: A Panel Discussion at Dallas Heritage Village (1515 S. Harwood St., Dallas, TX 75215) – In 1966, Dallas Heritage Village was founded to preserve Millermore. That same year, the National Historic Preservation Act was signed into law. What was happening in historic preservation to lead to these two events? And where are we today as we continue to fight to preserve the past? Dallas Heritage Village and Preservation Dallas are bringing together Evelyn Montgomery, Curator of Dallas Heritage Village; Evan Thompson, Executive Director of Preservation Texas; and Beth Wiedower, National Trust for Historic Preservation for a conversation highlighting 50 years of historic preservation at the local, state and national levels.
May 15, 5-8 p.m., Tickets $135 – An Evening in Seville at Paigebrooke Farm in Westlake (1 Paigebrooke, Westlake, TX 76262) – Hosts Kelly and Scott Bradley invite guests to tour their historic home, built in 1938 for Ted Dealey, former publisher of The Dallas Morning News, by famed architect Charles Steven Dilbeck. Enjoy tapas, paella, sangria and craft beers, as well as a brief concert by international artist and classical guitarist Christopher McGuire. This event benefits the Allegro Classic Guitar Society. For more information and to purchase tickets, go to www.guitarsociety.com or call (817) 498-0363.
May 19, 6-8 p.m., Free - Preserving the Cultural Heritage of Dallas (2719 Routh St, Dallas, TX 75201) – Preservation Dallas and The Dallas Institute of Humanities and Culture bring together a panel of representatives from Black Dallas Remembered, Dallas Mexican American Heritage League, and the Dallas Jewish Historical Society to explore their challenges and success stories in preserving their cultural heritage in a time when they no longer live in tight-knit communities in localized areas of the city. A reception begins at 6 p.m. with the panel discussion starting at 6:30 p.m.
May 21, 10 a.m.-2 p.m., $35 for members, $50 for non-members Preservation Dallas Spring Architectural Tour – This year the annual spring tour will feature Preservation Dallas award winning projects around the city for people to enjoy and learn from the outstanding preservation efforts of their owners. For more information, go to http://www.preservationdallas.org/events/architectural-tours.
ABOUT PRESERVATION DALLAS
Preservation Dallas is dedicated to the preservation and revitalization of the city's historic buildings, neighborhoods, and places. As a nonprofit membership organization, Preservation Dallas champions initiatives to protect the history and culture of neighborhoods and historic buildings throughout the community, enhancing the quality of life and the economic development of our great city.
See additional information below or visit:
MORE ON THE FLASH LIST
50 Things to Do
Bored? Well, there's definitely no need to be. Take your pick of these fun things to do.
Entertainment News
The latest breaking news and top stories in arts, dining, culture, movies, music, and sports.
Events Calendar
Not everything in town that you could do, but a list of events that you definitely should consider.
Date Night Ideas
From retro candy stores to luxury car rentals, let us help you impress on your next date night out.
Movies in Theaters
See previews of movies coming soon and trailers for films now playing at local theaters.
Go Gallivanting
Our sister website, The Art of Gallivanting, offers extraordinary adventures for ordinary people.