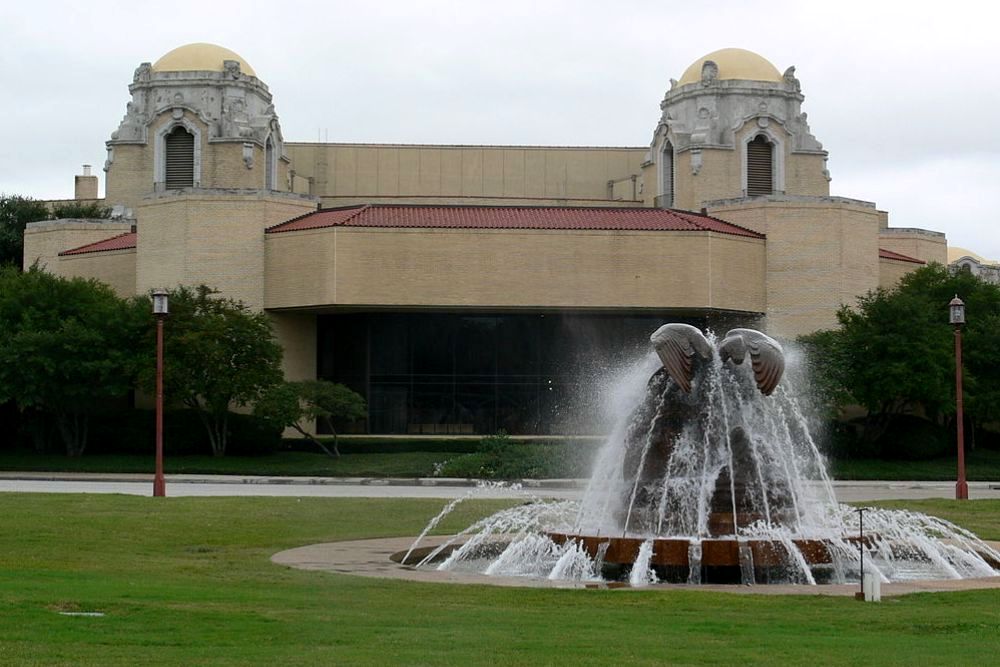 © Photo by Andreas Praefcke
Source: Dallas Summer Musicals | 3/1/16 | Dallas
Dallas Summer Musicals, Inc. (DSM) announces its new investment in creating public access to the performing arts, the DSM Community Performance, has sold out! Engaging families and children from 38 nonprofit organizations and 5 DISD Elementary Schools from the Madison and Lincoln feeder patterns, this special show will provide over 3,400 seats to community organizations free of charge. This very special event is made possible with financial support from sponsors and the enthusiasm and interest of schools, neighborhoods, and other nonprofits as partners, volunteers, and advocates which have come on board to make this truly an event dedicated to community outreach, filling the Music Hall at Fair Park.
This event demonstrates Dallas Summer Musicals' ongoing commitment to the Dallas community and our leadership role as a cornerstone nonprofit performing arts organization for the City of Dallas and its citizens in Fair Park, said Michael A. Jenkins, President and Managing Director, DSM. We are thrilled at the immediate response from community partners and grateful for the support from sponsors earmarked for this special event, including the Moody Foundation, the Hillcrest Foundation and Frost Bank, along with DSM season sponsors Texas Instruments, WFAA, American Airlines and The Dallas Morning News. Their involvement as corporate and community advocates has been crucial in making this Community Performance a reality.
Slated for Friday, March 11, 2016 the DSM Community Performance will take place during DSM's 76th season presentation of Disney's THE LITTLE MERMAID, a proven family favorite, creating memorable experiences for children and parents to see a major touring Broadway production – many for the first time. Based on the animated film, this special show features a revamped script, new songs, and an entirely fresh interpretation of the film. Tickets for all other performances are for sale and open to the public during the show's run through Sunday, March 27th. Details are below.
Each year, DSM seeks opportunities to enhance its organizational mission of presenting extraordinary Broadway shows by giving back to organizations, families, and students in the Dallas and greater North Texas community through community ticket donations, initiatives like Seats for Kids and the newly-developed Seats for Vets, and through scholarship funds for both the DSM Academy of the Performing Arts and the High School Musical Theatre Awards, Jenkins continued. The DSM Community Performance represents our latest community investment concept, designed to demonstrate that what's good for the Dallas community is good for Dallas Summer Musicals.
DSM is pleased to welcome students and families from five Dallas ISD elementary schools from the Madison and Lincoln feeder patterns. Participating in and attending quality arts events enrich the lives of our students in many ways, said Dr. Danna Rothlisberger, Executive Director-Visual and Performing Arts. Studies show that students who engage in arts activities develop skills that help promote academic and life success. For certain, our young people who attend live performances gain a rich experience that provides much for classroom and family conversations long after the event. Therefore, we are so grateful that the Dallas ISD elementary students in the Fair Park neighborhood have this opportunity to benefit from the district's new partnership with the Dallas Summer Musicals.
Ted Munselle, Chairman of the Board at DSM, agreed, saying, This is a win-win-win for DSM, for Dallas, and for Fair Park and an intentional effort to expand on our community outreach. During the last presentation of Disney's THE LION KING, for example, DSM organized a Buy a Seat, Give a Seat promotion for one of the performances, which enabled DSM subscribers, patrons and community partner organizations to purchase over 1,700 seats for underserved and low-income families to attend the performance. This community investment was a great success and that success is one inspiration for the DSM Community Performance.
Sponsors of the DSM Community Performance as of February 25 include: The Moody Foundation ($100,000), The Hillcrest Foundation ($50,000) and Frost Bank ($5,000), with additional annual education and community outreach program support from The Hirsch Family Foundation ($25,000), The Hoglund Foundation ($25,000), the Scovell Fund of The Dallas Foundation ($25,000). In-Kind partners include: Big Thought, Creativity Sponsor; Chick-Fil-A, food sponsor; DART, transportation sponsor; and Mother Ruckers, cookie sponsor. DSM is also grateful to season sponsors Texas Instruments, American Airlines, WFAA, and the Dallas Morning News for ongoing support in its 76th year.
Dallas Summer Musicals' highly anticipated 2015-2016 Season presented by Texas Instruments continues with DSM's production of Disney's THE LITTLE MERMAID, March 12-27, 2016; WICKED, April 20 – May 22, 2016; RAGTIME, May 24 – June 5, 2016; BULLETS OVER BROADWAY, June 14-26, 2016; and closing the season will be 42ND STREET, June 28 – July 10, 2016. Dallas Summer Musicals Management Group, Inc. will also present the Broadway hit musical MILLION DOLLAR QUARTET, February 27 & 28, 2016 for a limited engagement.
The public can make charitable gifts to support the DSM Community Performance and future performance by visiting https://dallassummermusicals.giv.sh/9c74 or contacting James Jenner, Director of Development, at (214) 413-3961 or jjenner 'at' dallassummermusicals.org.
MORE ON THE FLASH LIST
50 Things to Do
Bored? Well, there's definitely no need to be. Take your pick of these fun things to do.
Entertainment News
The latest breaking news and top stories in arts, dining, culture, movies, music, and sports.
Events Calendar
Not everything in town that you could do, but a list of events that you definitely should consider.
Date Night Ideas
From retro candy stores to luxury car rentals, let us help you impress on your next date night out.
Movies in Theaters
See previews of movies coming soon and trailers for films now playing at local theaters.
Go Gallivanting
Our sister website, The Art of Gallivanting, offers extraordinary adventures for ordinary people.