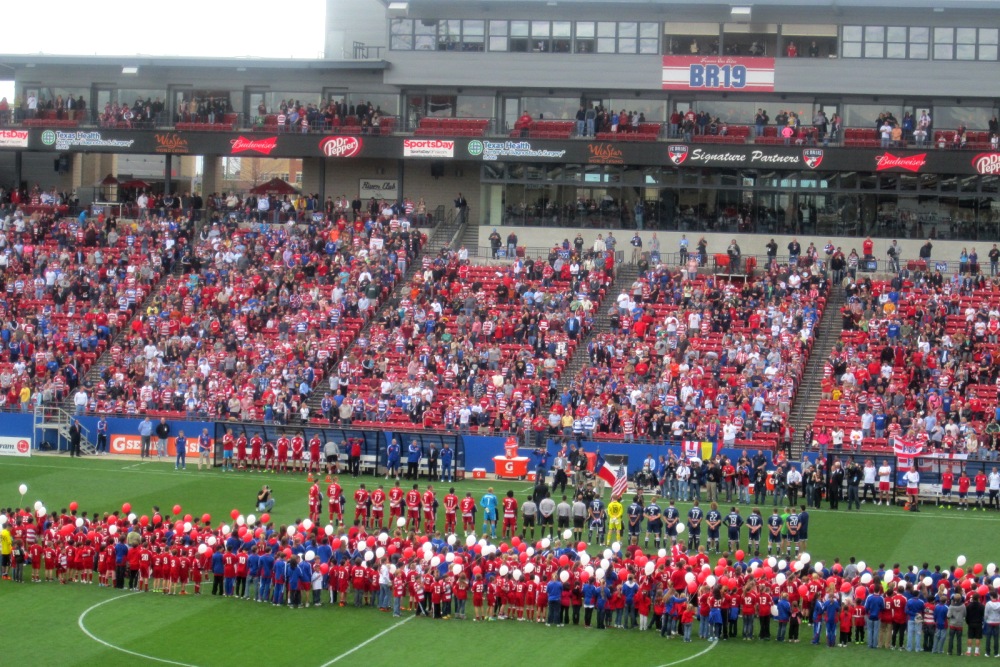 Posted 12/29/15 | © Photo courtesy of FC Dallas
Professional soccer matches in the U.S. have been described as festive destinations where you are completely entertained from the moment you arrive and park your vehicle until you climb back into your vehicle and leave the parking lot. These are not just soccer matches, but exhilarating events that leave you wanting more.Once inside the stadium, you can quickly feel the same excitement and electricity that you do at a collegiate sporting event.
Frisco, Texas, is home to the professional soccer team FC Dallas.They have been a part of the DFW sports scene for the better part of 17 years as they were one of the original 10 charter member teams of the professional soccer league (MLS).It all started April 14, 1996 in the Cotton Bowl under the then team name the Dallas Burn.
Background
The Dallas Burn (FC Dallas) might not be here if not for the persistence of one of Dallas' great sports icons Lamar Hunt. Prior to his involvement with soccer, Mr. Hunt started the American Football League (AFL) and brought the Dallas Texans football team to Dallas (which later moved to Kansas City and was renamed the Chiefs). He also offhandedly named the final game of the season between the upstart AFL and the well established NFL the "Super Bowl;" and as they say, the rest is history.As with his vision for professional American football, Mr. Hunt saw a similar reality for professional soccer (futbol), and became one of the original investors in 1996 which helped start Major League Soccer (MLS) in America. In 2002, Mr. Hunt and a group of investors bought the Dallas Burn; and when the team moved in 2006 from the Cotton Bowl to their new stadium in Frisco (built exclusively for soccer), they rebranded the team as FC Dallas (which, for those wondering, stands for "Futbol Club" Dallas). The design of this 145-acre multipurpose sports and entertainment facility (a combination of world-class stadium and sports park) makes it one of the most unique soccer facilities in the world and a festive destination for fans of all ages.
Know Before You Go
Directions
Toyota Stadium is a very easy venue to navigate.Located in the Metroplex just off the North Dallas Tollway, directions from anywhere in the DFW Metroplex can be found online.
Parking
Parking is FREE for any of the FC Dallas matches, and that leaves a little extra cash in your pocket to spend on team shirts or more hotdogs and nachos!
Tailgating
Because of the location and design of Toyota stadium in Frisco, tailgating can mean a couple of different things.
Traditional tailgating: Because parking is ample (and did we mention free) for FC Dallas matches, you can pull into your favorite parking spot, pop open the hatch or trunk, hang your FC Dallas flag or banner, and start beating your drum letting all your friends know where you are and that you are ready to get your game face on. The parking lots open 2 1/2 hours prior to the start of each match. Be sure however to review the official list of tailgating conduct.
Nontraditional tailgating: If you are new to the sport and/or you are not interested in getting your soccer 'hooligan' on, then you might like to try the nontraditional tailgate. A number of restaurants adjacent to the FC Dallas Stadium provide opportunities to casually enjoy a wide variety of foods and experiences.You'll want to think about arriving in your parking spot a little before 5:00 before heading over to your restaurant of choice because eateries begin to fill quickly at about the 5:20 to 5:30 time frame. The twenty minute difference in time can be the difference between walking in and finding a table right away or waiting 30 to 45 minutes for a table to become available. When it comes to selecting a restaurant, you might consider choosing one that is into the whole soccer culture and which might be showing other soccer matches on their big screen TV's ... or possibly a little 80's Euro music playing in the background.
Pre-Match
March to the Match
An hour before each match, an honorary March Leader starts the March to the Match which travels from The Londoner restaurant to Toyota Stadium. The procession walks to the North Entrance of the stadium where the March Leader places an FC Dallas scarf on the statue of FC Dallas founder Lamar Hunt as a way of honoring what he has done for soccer in Dallas. A different honoree leads the March before every FC Dallas home match.
Concessions
Inside the stadium, there are food and drink options at 82 points of sale within 12 permanent stadium concession stands as well as various mobile concession kiosks within the concourse and seating areas.
Match Time
Soccer is a sport that offers its fans a nice variety of choices regarding viewing, cheering, and participating (which is good, because unlike all other sports, game action only stops for intermission). You can sit and watch from the comfort of your seat ... or you can stand and cheer and yell every tackle and shot if you choose ... or you can paint your face, wave your banner or flag, beat your drum, and try to get the other team's goalie's attention.Yep, you're allowed to do that; in fact, FC Dallas has set up a special seating section just for those who would like to make it their life mission to agitate the other team's goalie (see beer garden information below).
If you have enjoyed your time, you might consider joining one of the numerous soccer fan clubs made up of "supporters" that attend every home match (in collegiate ranks these would be considered booster clubs). The supporter clubs are what separate soccer fans from all other pro sports fans.
Information can be found here for FC Dallas supporters such as The Inferno, Dallas Football Elite, Red Shamrock, and Dallas Beer Guardians.
General Seating
Because Toyota Stadium is a soccer-specific stadium, you can see from this map that there is not a bad seat in the house. Deciding where to sit at a FC Dallas match simply depends on whether you'd like to view the match from the side or at the ends. The stadium was built exclusively for soccer, so you will feel all the excitement and electricity of the fans and supporters, which creates an environment similar to watching a Texas OU game at the Cotton Bowl.
There are only a few things you need to decide before you go. Is it an afternoon match or an evening match?(The sun will not be much of a factor for the afternoon matches as it will be high in the sky; but during evening matches, you might want to consider purchasing seats on the west entrance side below the luxury suites in order to avoid looking into the sun before it goes down behind the stadium suites on the west side.) Do you prefer to sit on the sides and watch the game left right back and forth or do you prefer to sit at the end of the field and watch the game unfold as you can see players make sneak attacks?After you decide how you want to view a game then you can decide what price point fits your budget.It is that easy.
Want to find out what the stadium view will be from your seat? Use this mapping tool to select a seat location, click it, and get a preview of the view from that seat.
Specialty Seating
Beer Garden
A section unlike anything you will see at any sporting event in Dallas, the Beer Garden is occupied by the Dallas Beer Guardians, a organization of supporters who generally stand all game long chanting, cheering, jumping, and waving banners.With a mission to intimidate the opponent and their goalie (when it is his turn to stand at the North end in the shadow of the Beer Garden), they "don't just watch the game, they change the game."
Luxury Suites
Great for corporate events, groups of friends, birthday celebrations, or special occasions, you can purchase single game luxury suite packages or an annual lease package for every event held at the Toyota Stadium including all FC Dallas home games, international soccer friendlies, concerts, special events, high school football games and more. Suite amenities include: indoor/outdoor suite with 12 permanent stadium seats outside and eight seats inside (20 tickets total), 4 VIP Platinum Parking passes, access to the River Club on event day and an option to rent the club for private functions, sofa, club chairs, side chairs, coffee table, side tables, bar stools and a credenza, a 42" NEC flat-screen television with cable/satellite service, full-service catering, wet bar and refrigerator, climate and media controls, voice and data lines with NEC phones, and storage.
Club 96
Brand new for the 2013 season, the Club 96 seating area is exclusively for FC Dallas fans 21 years of age and older. It's like a sports bar, but at the game (in the northwest corner of the stadium so you are able to see the action as it unfolds).Season ticket pricing in this area includes reserved seating, a meal provided for each game, a drink voucher for one complimentary drink of choice, full service bar, numerous televisions throughout for instant replays of the on-the-field action, shade covering, and ceiling fans for those sometimes warm Texas nights.
Plaza Terraces
For large group outings, three Plaza Terraces are available with the scalable capacity to accommodate 50 to 250 people each. Perfect for entertaining clients, rewarding employees, or hosting your organization for an FC Dallas game, the Plaza Terraces offer an exclusive and private area with a unique view of the field of play and a one-hour all-you-can-eat food and beverage option included in the price of your ticket (additional time can be added at additional cost).
More Information
For more information about FC Dallas, or to purchase tickets to an upcoming match, visit their website at:
MORE ON THE FLASH LIST
50 Things to Do
Bored? Well, there's definitely no need to be. Take your pick of these fun things to do.
Entertainment News
The latest breaking news and top stories in arts, dining, culture, movies, music, and sports.
Events Calendar
Not everything in town that you could do, but a list of events that you definitely should consider.
Date Night Ideas
From retro candy stores to luxury car rentals, let us help you impress on your next date night out.
Movies in Theaters
See previews of movies coming soon and trailers for films now playing at local theaters.
Go Gallivanting
Our sister website, The Art of Gallivanting, offers extraordinary adventures for ordinary people.