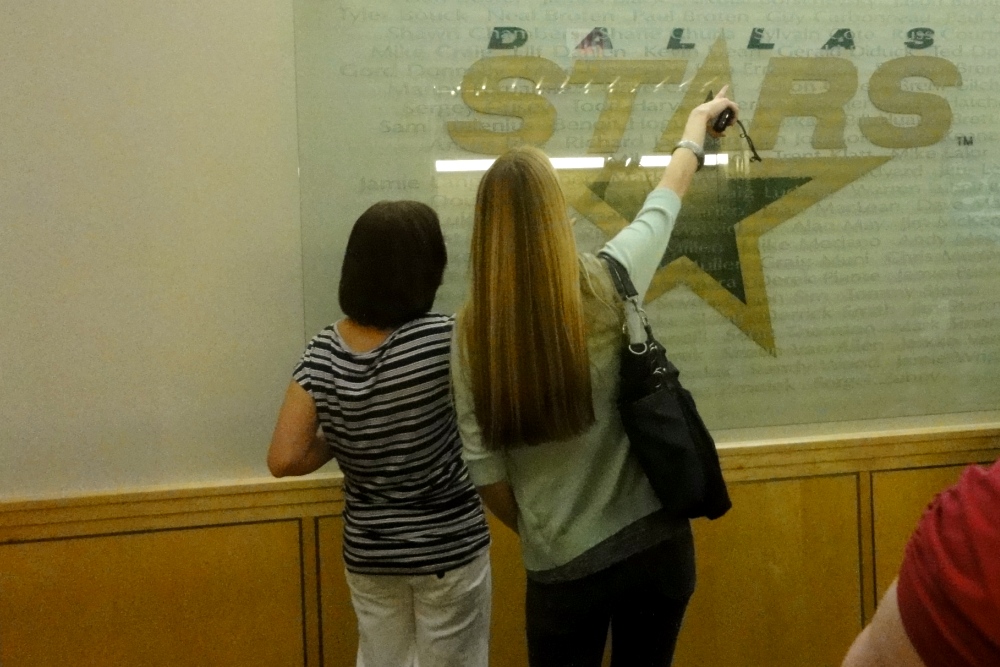 Posted February 24, 2012 | © Photo by The Flash List
At the Dallas Stars Hockey & Heels event on Thursday night, what did we learn?
#1) Ladies love hockey.
#2) Ladies love hockey players.
#3) Ladies love hockey players shirtless.
Around 500 women gathered in the stands of the American Airlines center as retired Dallas Star Brent Severyn (a defenseman and member of the 1999 Stanley Cup winning team) taught hockey strategies from the ice.As hostesses passed glasses of chardonnay and pinot noir, and uniformed hockey players provided on-ice demonstrations, Brent discussed proper executing techniques, defense zone coverage, the intricacies of bench management, and more.And if Brent's charming Canadian accent didn't get the crowd wound up enough, then the slow-motion video examples (complete with explanations by hunky hockey players) certainly did.
So by the time the highly entertaining Q&A session rolled around (and women with various levels of hockey knowledge asked questions like "What is a hat trick?", "Why do people get kicked out of the face-off circle?", and "Who serves when a goaltender gets a penalty?"), what some women really wanted to know was:
What's up with the rule that when players fight they can't take their shirts off !?!
After being introduced to event sponsors and athletes like Bob Bassen, Gerald Diduck, Richard Matvichuk, and the faux-hawked Dan Blackburn, the ladies hit the ice where they met players, took photos galore, nibbled on hors d'oeuvres, shopped super cute Stars merchandise, and even grabbed up a stick themselves for a few attempts to put the 'biscuit in the basket.'
Just off the ice and through the lighted star, ladies perused the locker room area where they caught a glimpse of the workout facilities, trophy case, equipment displays, lounge area, and the 'wet locker', attesting to the fact that this well organized Dallas Stars event was informative, enjoyable, and "six shades of sexy!"
MORE ON THE FLASH LIST
50 Things to Do
Bored? Well, there's definitely no need to be. Take your pick of these fun things to do.
Entertainment News
The latest breaking news and top stories in arts, dining, culture, movies, music, and sports.
Events Calendar
Not everything in town that you could do, but a list of events that you definitely should consider.
Date Night Ideas
From retro candy stores to luxury car rentals, let us help you impress on your next date night out.
Movies in Theaters
See previews of movies coming soon and trailers for films now playing at local theaters.
Go Gallivanting
Our sister website, The Art of Gallivanting, offers extraordinary adventures for ordinary people.