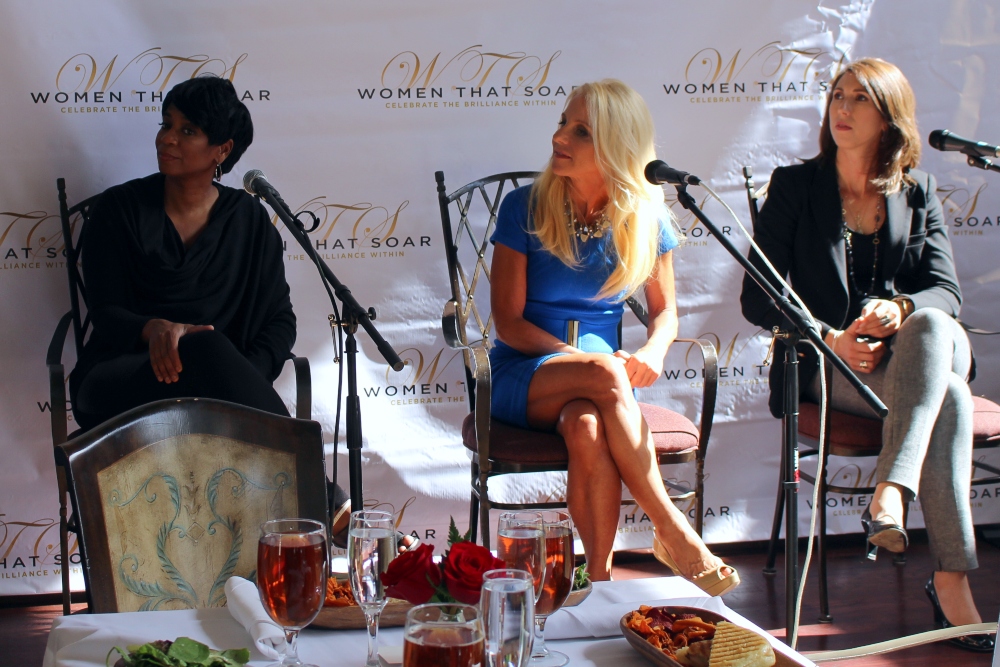 Celebrating the brilliance within, Women That Soar founder Gina Grant hosted an intimate Women in Media Luncheon at Chocolate Secrets to discuss ways that women can work together to collaborate not only in the local workplace, but also in media, politics, and the global community.
Guest speakers on the panel forum included Katy Murphy Davis, former Sr. Producer of the Oprah Winfrey Show and creator of Oprah's Angel Network, along with Angela Molloy, VP of Development for WEtv. These successful women shared their personal stories of building a career in the media, offered sound advice about breaking into the entertainment industry, and even conveyed amusing stories about celebrity romps and hair extensions gone wrong.
After making a significant move to the Midwest just before landing a position with the Oprah show, Davis spoke about overcoming her naysayers who made off-handedly derogatory remarks in a flippant attempt to negate her potential. "For me," she said, "it's about following your gut feeling, and following your passion, and just sort of knowing that sometimes we know something in our heart and other people are maybe not always supportive of that or a little bit discouraging and pessimistic. If you're feeling this passion in your heart, just keep going because there will always be people who can give you a million reasons why you shouldn't do this or you shouldn't do that. If there's something in your heart and soul, it's in there for a reason. It's in there to sort of guide you in that direction."
Progressively moving from the local level to national level, Angela Molloy's career first began with a college internship in television which subsequently grew into a position with TLC (back when Trading Spaces was so popular) and then eventually beyond. Although she was brought up by a single mom and therefore feels an innate sense of confidence as a woman, Malloy puts a particular emphasis on clarity in her work. Quoting her Anjelica Houston-lookalike British mentor, she used an amusing accent to recount the best advice she ever received from a woman which was, "Ang, I'm not always going to be right, but I'm always going to be clear."
When asked about her biggest mistake or learning opportunity along the way, Katy Murphy Davis said, "One of the biggest things I've learned is to be a more efficient manager and leader. Just because you're a good television producer, which is a great thing to be, it's different than being a good manager and leader when you're impacting so many people. I've learned that over the years. I really feel like the management style of instilling fear around people in a creative business is something that is detrimental to creativity a lot of times and it's paralyzing to creativity I think, especially in an environment where I worked and where everybody was an overachiever and everybody was working really hard and doing amazing work every single day. People, myself included, I don't need someone to pressure me, it's paralyzing in fact. I have a lot of drive for excellence and really high standards, and it's hard for people who are working with you and working for you a lot of times, so learning how to manage that and temper that was always a challenge.
In the same discussion regarding missteps in professional development, Angela Molloy added two points. "One's entitlement. It's something I cannot take in people now and I know I used to be that way myself. You really have your check your ego completely at the door and really go with the flow. The second I would say is getting bogged down in the drama or minutia of the company. That really takes a lot of time, a lot of energy, and also it's not the best of professionalism. Those are definitely two lessons I've learned the hard way over the years."
With the luncheon wrapping up with advice on how to build a solid brand, Katy Murphy Davis summed up the process by stating, "I think it's about being authentic, number one. I think when you're authentic, you're being a connection. I also think it's about having a really clear vision about who you are and what you want to be and knowing what your core values and beliefs are and building from that. And then having a clear vision statement it forces you to think about that vision statement and everything falls into that. It's not about trying to be the next somebody; it's about being the best you that you can be."
For more information about Women That Soar, visit online at:
MORE ON THE FLASH LIST
50 Things to Do
Bored? Well, there's definitely no need to be. Take your pick of these fun things to do.
Entertainment News
The latest breaking news and top stories in arts, dining, culture, movies, music, and sports.
Events Calendar
Not everything in town that you could do, but a list of events that you definitely should consider.
Date Night Ideas
From retro candy stores to luxury car rentals, let us help you impress on your next date night out.
Movies in Theaters
See previews of movies coming soon and trailers for films now playing at local theaters.
Go Gallivanting
Our sister website, The Art of Gallivanting, offers extraordinary adventures for ordinary people.