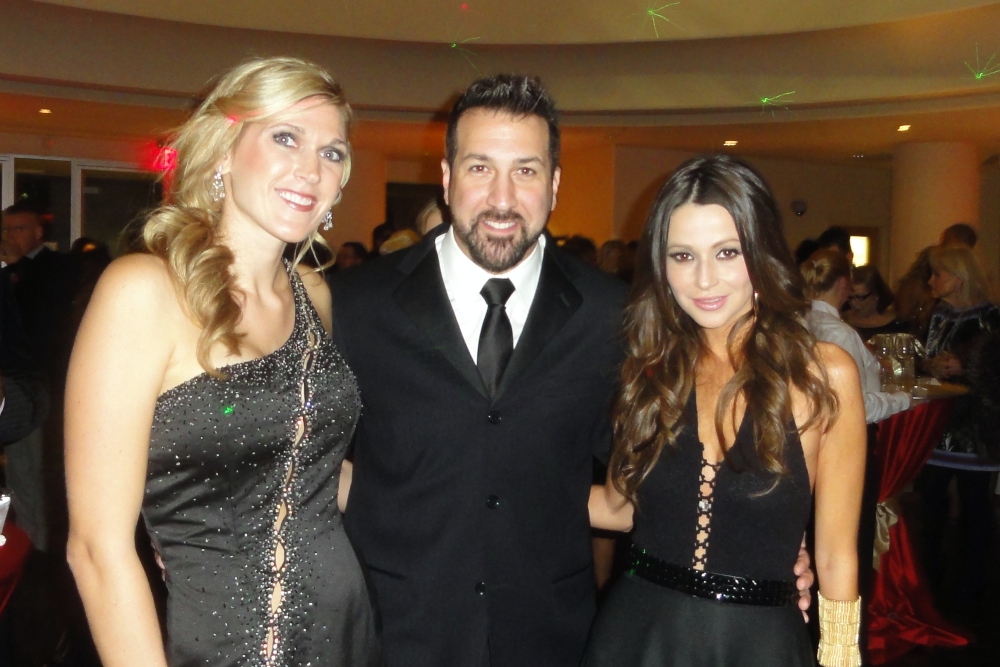 Posted November 10, 2012 | © Photo of Emcee Joey Fatone by The Flash List
From the estates of Highland Park to the villages of Ghana, ladies from very diverse communities were brought together under one roof on Saturday night to celebrate the accomplishments of those who have overcome personal and professional trials on their journeys to success. This first televised women's award show in Dallas was presented by Women That Soar, a Dallas-based media and content development company founded by Gina Grant which provides personal, professional, and lifestyle content as a platform designed to empower and inspire women to live brilliant lives.
Emceed by former 'N Sync star Joey Fatone and radio personality DeDe McGuire, the 5th Annual Women That Soar Awards showcased the stories of a dozen dynamic women who have successfully established themselves in business and life.A portion of the evening's proceeds benefit the Memnosyne Foundation, an organization launched by Joshua Raymond Frenk and Mary Ann Thompson-Frenk dedicated to preserving and promoting the cultural heritage of indigenous peoples around the world, as well as Women Called Moses, a local charity founded by Debra Nixon-Bowles which provides assistance to women who are victims of violence and abuse.
Throughout the evening, listeners were encouraged to believe in themselves, to pursue the dreams about which they are passionate, and to help reveal the riches in others.Featured performers for the night included professional dancers from Arthur Murray Dance Studios in Dallas and Plano, Hilary Roberts singing "Believe," Lady Diamond Kertrina Durway singing Alicia Keys' "Girl on Fire" and Chaka Khan's "I'm Every Woman," Mina Chang singing "Superwoman" and "Man in the Mirror," and psalmist Lady Brenda Ellis singing a powerful rendition of "Statue of Liberty" for which she received an enthusiastic standing ovation.
Awards in twelve distinct fields of human endeavor were conferred by community members such as model LeeAnne Locken, 'football wife' Dawn Neufeld, BFF Universe CEO Sam Brown, author Dr. Sheron Patterson, former Dallas Mayor Laura Miller, life coach Carla Ferrer, BDO accounting firm partner Joe Russo, magazine publisher Terri Provencal, Soap Hope founder Salah Boukadoum, Northwood University Texas Provost Kevin Fegan, State Senator Royce West, along with the daughter of late Baseball Hall of Famer Jackie Robinson Sharon Robinson, and more.
The 2012 Women That Soar honorees included:
Cathy Vieth
Philanthropy Award
A partner in running the day-to-day operations of Lifetime Roofing of America, a firm believer in 'paying it forward,' and an avid supporter of charities such as The Crystal Charity Ball, Orphan Angel International Foundation, Night of SuperStars, and many more.
Maggie Sova
Leadership Award
CEO of Bova Diamonds and author of the book Spirit of the Eagle who frequently donates unique custom designed jewelry pieces to organizations such as Attitudes & Attire, Kidney Texas, Children's Medical Center, and Women That Soar, etc.
Dr. Beatrice Wiafe-Addai
International Medicine
A surgeon at Peace and Love Hospital in Ghana, the president of Breast Care International, and a world leader in the field of breast cancer treatment currently fighting to save lives by raising awareness and ensuring quality medical care village to village.
Sheriff Lupe Valdez
Civic Award
This first female sheriff in Dallas County and the first Hispanic female sheriff in the United States works to protect the lives and property of American citizens at home and abroad through homeland security, antiterrorism investigations, and criminal law enforcement.
Katrina McGhee
Entrepreneur Award
A consultant for organizations dedicated to addressing the compelling issues of our time who specializes in marketing and social entrepreneurship through her venture Katrina McGhee Enterprises by brokering mutually beneficial partnerships between consumers and corporate citizens.
Dina Dwyer-Owens
National Business Award
Chairwoman and CEO of The Dwyer Group who launched the Live R.I.C.H. campaign to promote the themes of Respect, Integrity, Customer focus, and Having fun in the process to a growing company.
Dornith Doherty
Arts Award
Internationally exhibited photographer, Professor of Photography at the University of North Texas and a 2012 John Simon Guggenheim Memorial Fellow whose work explores the complex relationship between the natural environment and human agency.
Mina Chang
Humanitarian Award
President of the United States branch of Linking the World, an international humanitarian aid organization working in over 40 countries providing disaster response, feeding programs, mobile medical aid, educational initiatives, music and creative arts programs.
Yvonne Crum
Volunteer Award
Retired airline worker, member of the Flight Attendant Hall of Fame, creator of the Fresh Faces of Fashion program benefiting the Suicide & Crisis Center, and community volunteer who works diligently to assist and promote organizations such as Dallas Summer Musicals, Dallas Children's Theater, Women's Council of the Dallas Arboretum, Nexus Recovery Center, Northwood University, and many more.
Debbie Dudley-Branson
Business Award
A respected and accomplished Dallas attorney with work concentrated behind the scenes at The Law Offices of Frank L. Branson who holds a passionate belief that individual lawyers have an obligation to be community leaders, public servants, and forces for positive social change.
Wendy Lewis
Sports Award
Senior Vice President of Diversity and Strategic Alliances for Major League Baseball who implements MLB's Diversity Economic Impact Engagement initiative and established the team that developed MLB's uniquely strategic talent pipeline, The Executive Development Program.
Joanne King Herring
Legacy Award
15-year host of The Joanne King Show, author of Diplomacy & Diamonds, a global political activist who was portrayed by Julia Roberts in the movie Charlie Wilson's War, and president of Marshall Plan Charities group determined to bring American troops home by building a model village in Northern Afghanistan to prove that an entire village of 10,000 people can be structured for the cost of keeping one soldier in the field for a year thereby allowing the people of Afghanistan to become contributing citizens in the global marketplace and ultimately helping to bring American soldiers home.
For more information about these women and the enriching Women That Soar program, visit the website below or view this televised celebration when it airs on TXA 21 on Sunday, December 9, 2012 from 7:00 to 9:00 PM and again on CBS 11 on Sunday, December 16, 2012.
MORE ON THE FLASH LIST
50 Things to Do
Bored? Well, there's definitely no need to be. Take your pick of these fun things to do.
Entertainment News
The latest breaking news and top stories in arts, dining, culture, movies, music, and sports.
Events Calendar
Not everything in town that you could do, but a list of events that you definitely should consider.
Date Night Ideas
From retro candy stores to luxury car rentals, let us help you impress on your next date night out.
Movies in Theaters
See previews of movies coming soon and trailers for films now playing at local theaters.
Go Gallivanting
Our sister website, The Art of Gallivanting, offers extraordinary adventures for ordinary people.