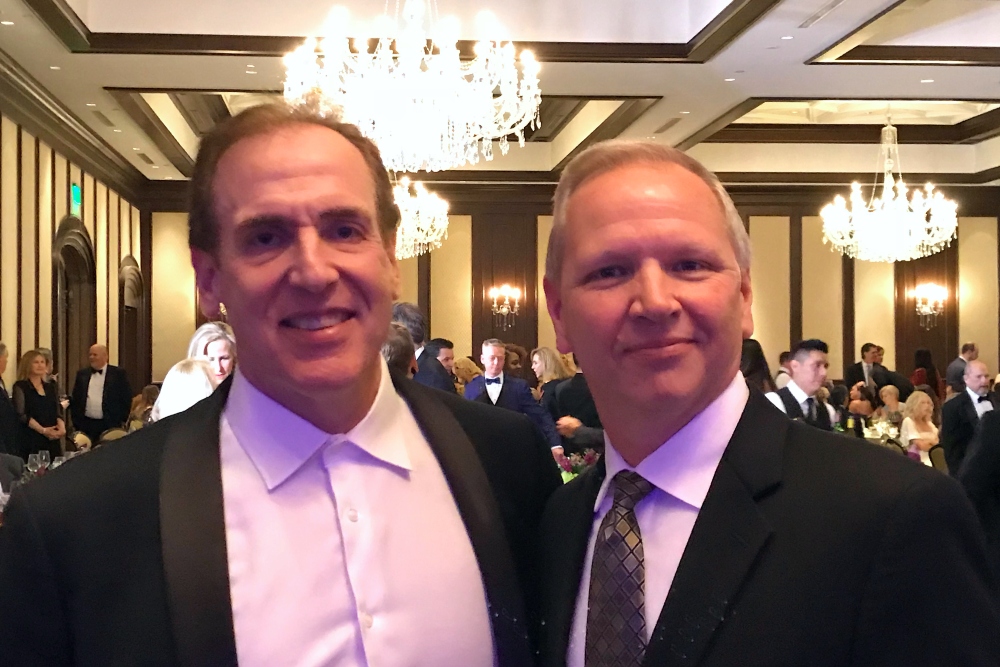 © Photo by Sherri Tilley | 3/23/18 | Brian Cuban and Scott Tilley support suicide prevention efforts at Fashion Stars for a Cause Gala.
Whether you call it peer pressure, societal expectations, bad karma, or the devil himself, practically everyone on the planet has experienced some type antagonistic force operating against them. Even the Bible says, The thief cometh not, but for to steal, and to kill, and to destroy.
Working diligently, however, to regain precious lives from the hands of a cruel enemy, the Suicide & Crisis Center of North Texas hosted its annual Fashion Stars for a Cause Gala at the Dallas Country Club on Friday, March 23, 2018 to raise awareness about the perils of severe depression. Located in Dallas and answering calls for DFW and two national crisis lines, the center offers services such as crisis debriefing, training for professionals in high-intensity environments, a speakers' bureau, and a support group for friends and family members left behind after a suicide.
One of the most attention-worthy social events of the year, the important evening showcased an introduction by suicide survivor Terry Bentley Hill, warm welcome by Suicide & Crisis Center Executive Director Margie Wright, and upbeat fashion show featuring more than a dozen women personally passionate about assisting the local community. A seated dinner was followed by a raffle drawing by event founder Yvonne Crum during which Tori Guta Serpa of the Brit Rose Foundation was the lucky winner of dinner by Royal Chef Darren McGrady plus $5,000 worth of fine jewelry from J. Pacetti and a custom gown from Binzario Couture.
The spotlight speaker for the evening was Brian Cuban, author of Shattered Image and The Addicted Lawyer. With a great deal of humor and dignity, Brian shared his heart-wrenching story of shame, insecurity, addiction, and rock-bottom hopelessness which he eventually overcame with the help of friends and loved ones who thankfully refused to mind their own business.
In today's stressful world where chaos may lurk around any corner, it has become increasingly necessary for us hold tight to one another (individually and as a collective whole) to prevent ourselves from falling into the unfathomable depths of despair. And in a society where depression, bullying (both at school and online), and disconnected families have become all too common, one's ability to find an easily-accessible solution of hope is absolutely critical.
Therefore, it is of utmost importance for each of us to remember these days that we hold extremely great intrinsic value, we are highly esteemed, and that Jesus Himself said, I am come that they might have life, and that they might have it more abundantly.
For more information on how you can participate or contribute to the efforts of the Suicide & Crisis Center of North Texas, call 214-824-7023 (24-hour hotline: 214-828-1000), write to info 'at' sccenter.org, or visit:
MORE ON THE FLASH LIST
50 Things to Do
Bored? Well, there's definitely no need to be. Take your pick of these fun things to do.
Entertainment News
The latest breaking news and top stories in arts, dining, culture, movies, music, and sports.
Events Calendar
Not everything in town that you could do, but a list of events that you definitely should consider.
Date Night Ideas
From retro candy stores to luxury car rentals, let us help you impress on your next date night out.
Movies in Theaters
See previews of movies coming soon and trailers for films now playing at local theaters.
Go Gallivanting
Our sister website, The Art of Gallivanting, offers extraordinary adventures for ordinary people.