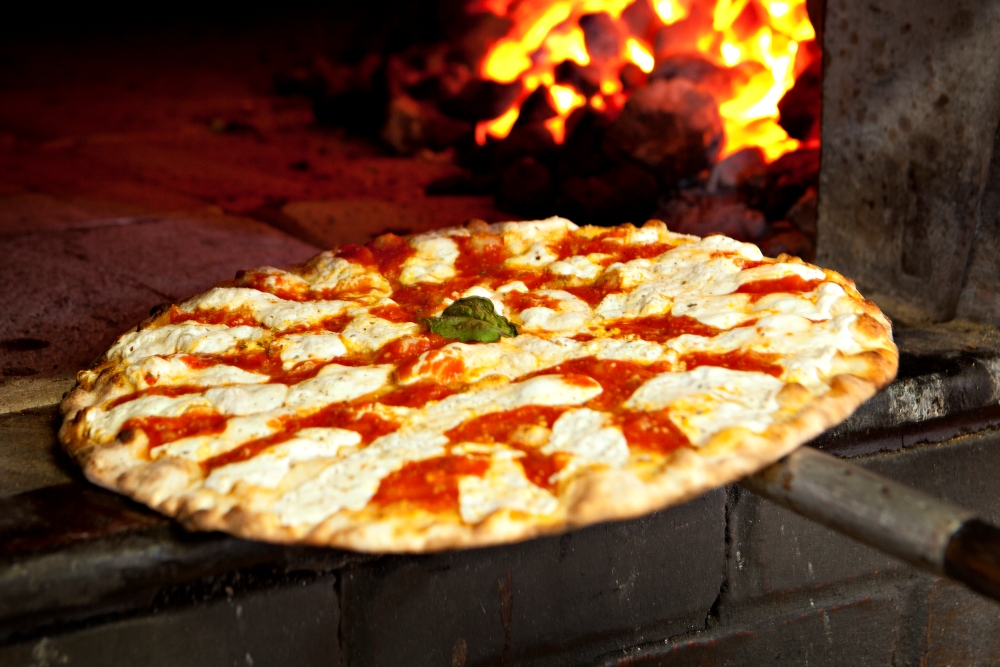 © Photo courtesy of Grimaldi's
Grimaldi's Coal Brick-Oven Pizzeria
In the 2000 film Gladiator, the general Maximus describes his emperor's wishes: "Marcus Aurelius had a dream that was Rome, Proximo.This is not it. This is not it!"
Likewise, in our search for an upscale and romantic pizzeria, we have more than once found ourselves sitting at an establishment thinking, "This is not it."
Then we found Grimaldi's.
With over 100 years of coal fired brick-oven pizza-making traditions and an original location that sits just under the Brooklyn Bridge in New York, Grimaldi's is considered an institution.We like it for its warm, sophisticated atmosphere which includes red and white checked tablecloths, large wine glasses ideal for swirling (as well as beautiful pendant light fixtures crafted from wine bottles), huge windows at the bar that open up to the outdoor patio, and ... while Grimaldi's is technically a family-friendly restaurant, we've never been disturbed by any rambunctious children when we've happened to have been there.
You can order your unique, smoky flavored, thin, crisp crust pizza topped with a choice of pepperoni, meatballs, grilled chicken, oven roasted sweet red peppers, fresh basil, sun dried tomatoes, kalamata olives, artichoke hearts, and more.A custom water composition system installed to pump 'New York water' ensures that the dough tastes as authentically New York as possible, and fresh ingredients including handmade mozzarella and 'secret recipe' sauce makes Grimaldi's the most award-winning pizzeria in the United States.
Pair your meal with a fresh salad (a small is large enough for two) and a bottle of Pellegrino, a beer, or maybe a Francis Coppola Shiraz; and top it all off with their famous cannoli, a slice of butterscotch toffee cheesecake, or some tiramisu.
If you're in the mood for fantastic pizza at a chic adult venue, Grimaldi's is definitely it.
For additional information, visit:
8060 Parklane #105 | Dallas, TX 75231
214-987-1173
3636 McKinney Ave. | Dallas, TX 75201
214-559-4611
Watters Creek at Montgomery Farms
836 Market St. | Allen, TX 75013
214-383-9703
1401 William D. Tate Ave. #100
Grapevine, TX 76051 | 817-488-4547
MORE ON THE FLASH LIST
50 Things to Do
Bored? Well, there's definitely no need to be. Take your pick of these fun things to do.
Entertainment News
The latest breaking news and top stories in arts, dining, culture, movies, music, and sports.
Events Calendar
Not everything in town that you could do, but a list of events that you definitely should consider.
Date Night Ideas
From retro candy stores to luxury car rentals, let us help you impress on your next date night out.
Movies in Theaters
See previews of movies coming soon and trailers for films now playing at local theaters.
Go Gallivanting
Our sister website, The Art of Gallivanting, offers extraordinary adventures for ordinary people.