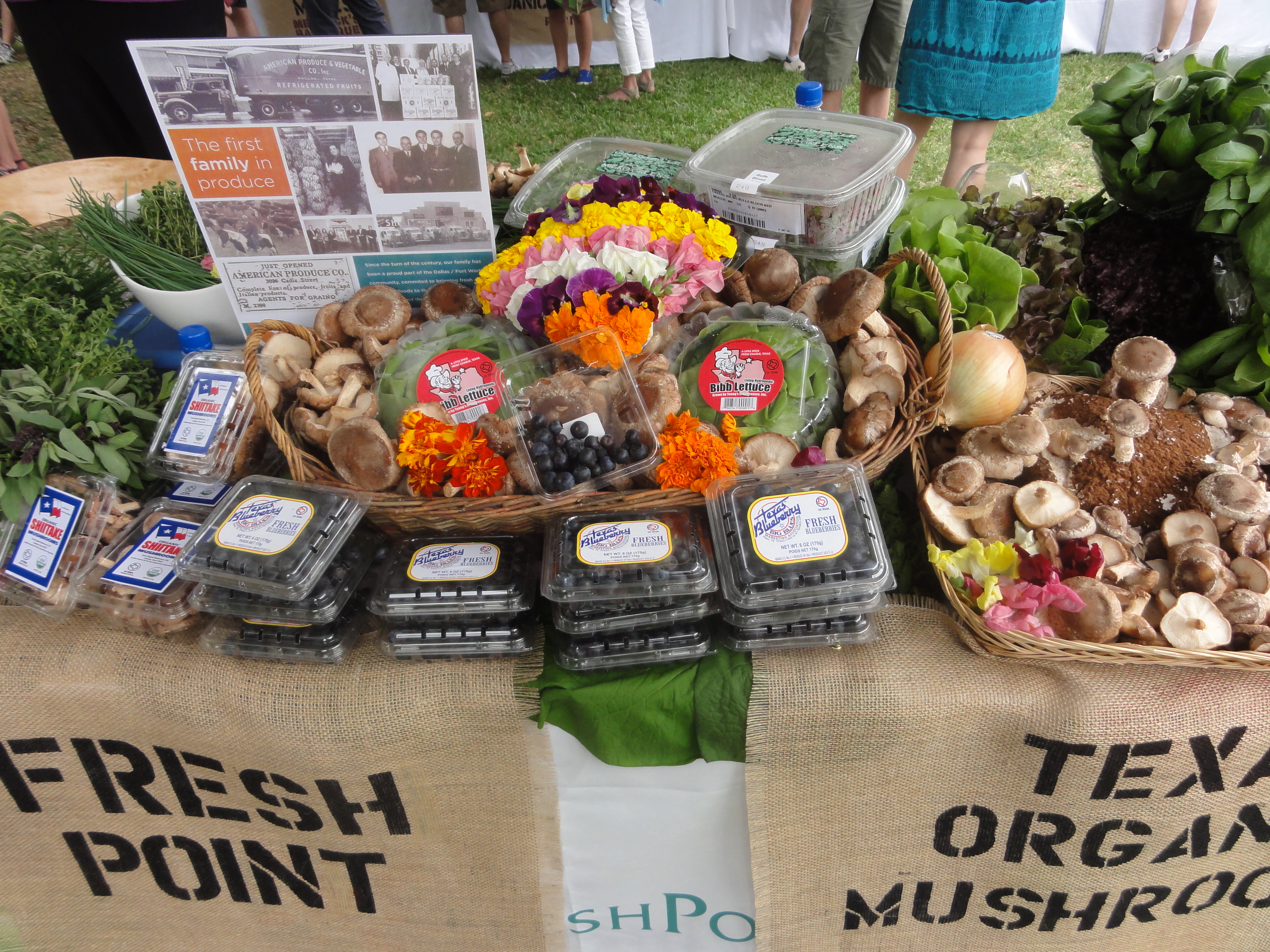 Posted May 7, 2012 | © Photo by The Flash List
We weren't even two minutes through the front entrance of Lee Park on Sunday before we overheard someone say, "This is a killer event!"
Oh*Brownie founder Iris McCallister and Christina LaBarba of FreshPoint Dallas had organized the ultra impressive outdoor food and wine celebration for the purpose of raising awareness of the locavore movement in Texas. Iris, along with her husband Chef Matt McCallister, created Chefs for Farmers, a grassroots organization promoting "all things local"; and this well-organized but no-fuss event was hosted in order to bring together and support local farmers, area chefs, local and national product suppliers, as well as award-winning wine and spirits vendors.
The McCallisters' desire to "bring the farm-to-table movement into focus in Dallas through chef driven events [benefiting] various local charities" seemed to materialize flawlessly as delicious creations were served up by some of the top culinary talent in the city such as Stephan Pyles (Stephan Pyles, Samar, Sustenio), Dean Fearing (Fearing's), Kent Rathbun (Abacus, Jasper's, Rathbun's Blue Plate Kitchen, KB's WoodFire Grill), Andr Natera (Pyramid), Tre Wilcox (Marquee Grill), Brian Luscher (The Grape), Randall Copeland (Restaurant Ava), Tiffany Derry (Private Social), and many more.
Guests lounged at dining tables in the park sampling various wines and nibbling on dishes from artisanal goat cheeses, spicy meatball trios, succulent rib eye, tender quail, and mouthwatering salmon to fresh cobbler, chocolate pudding, jalapeno blackberry cheesecake, sweet beet meringue 'kisses', and more.Tracks were spun by local DJs, and live music was performed by Chef Dean Fearing and the Lost Coyote while mixologists such as The Chesterfield's Eddie "Lucky" Campbell and representatives from Deep Eddy Vodka, Samuel Adams, and Patron poured up chilled libations to a thirsty crowd.
A portion of the proceeds from "Mixin' It Up" will benefit Charity:Water (bringing clean drinking water to communities worldwide) and Meals on Wheels (delivering nutritious meals to older adults and other homebound persons). Many guests who brought their own wine glasses donated them to CafMomentum (a Dallas-based restaurant and culinary training facility focused on the rehabilitation of adjudicated teens), a concept developed by Chad Houser and Janice Provost of Parigi.Winning the Chefs Contest by receiving the most votes for best dish of the day, Abraham Salum along with Anastacia Quinones and Al Havens (Salum, Komali) walked away with $2,500 (courtesy of Artizone local online grocer) which will be split with the charity of their choice, the SPCA.
Just as described, the sold-out event was "killer" indeed; and to reiterate one of the day's recurring themes, we'd just like to toast:
Zicke, zacke, zicke, zacke, hoi, hoi, hoi,
Zicke, zacke, zicke, zacke, hoi, hoi, hoi,
Eins, zwei, drei, Prost!
Editorial Policy: The Flash List is dedicated to providing trustworthy editorial content by maintaining strict ethical standards, journalistic integrity, and credible professionalism regardless of potential compensation as working media. The Flash List discloses receiving tangible and/or intangible benefits for the purposes of providing media coverage for certain events, venues, products, and/or services.
MORE ON THE FLASH LIST
50 Things to Do
Bored? Well, there's definitely no need to be. Take your pick of these fun things to do.
Entertainment News
The latest breaking news and top stories in arts, dining, culture, movies, music, and sports.
Events Calendar
Not everything in town that you could do, but a list of events that you definitely should consider.
Date Night Ideas
From retro candy stores to luxury car rentals, let us help you impress on your next date night out.
Movies in Theaters
See previews of movies coming soon and trailers for films now playing at local theaters.
Go Gallivanting
Our sister website, The Art of Gallivanting, offers extraordinary adventures for ordinary people.