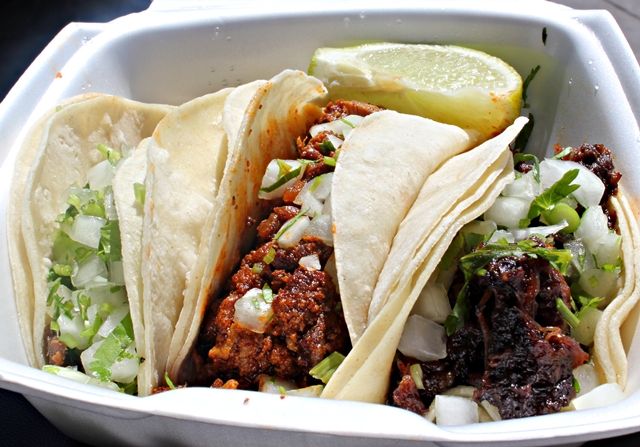 FUEL CITY TACOS
Fuel City Tacos (Super Tacaso)
© The Flash List | 10/19/11

Fuel City Tacos
801 South Riverfront Blvd. | Dallas, TX 75207 | 214-426-0011
1920 East Denman Ave. | SE corner Hwy. 59/69 intersection | Lufkin, TX 75901

Open 24/7/365
Cash only
Remember when you were on your way to … [insert some family vacation spot here] … and you stopped for gas and snacks at that crazy, quirky, side-of-the-road place that you didn't soon forget?  Well, Fuel City is like that.  With like a dozen and a half gas pumps, artificial palm trees, and a welcome longhorn sculpture out front to match the real longhorns out back, Fuel City is a lively little oasis just south of downtown Dallas.
The inside looks like most convenience stores - only bigger.  With four large refrigerator coolers packed solely with bags of ice, and a row of refrigerated beer cases that spans almost the entire back wall of the store, finding a cold beverage should not be a problem.  Need even more refreshing, though?  Take a dip in the nicely landscaped 5' swimming pool that sits on the east side of the building. Although it was cloudy and a little cool the day we were there, visitors were beckoned with a nearby sign that read, "Chicas Chicas Chicas."  Eh, we didn't see any chicas in the pool that day, but maybe things will be different when the weather is warmer.
And about those "Best Taco" awards … Fuel City serves not only their famous Picadillo, but also Pastor, Chicken Fajita, Beef Fajita, and Barbacoa; and while we haven't tried all the tacos in Texas, we certainly thought that these tacos were delicious and can see how they'd be really good at 2:30 or 3:00 AM when you need a little post-party refueling.
"Not just a gas station and convenience store with a state-of-the-art car wash, Fuel City features award-winning tacos, elotes (cup of corn), 5 of Texas' largest Longhorns, a swimming pool, oil derrick, windmill, drive-thru beer barn, karaoke and native Texas trees and cactus."  FC