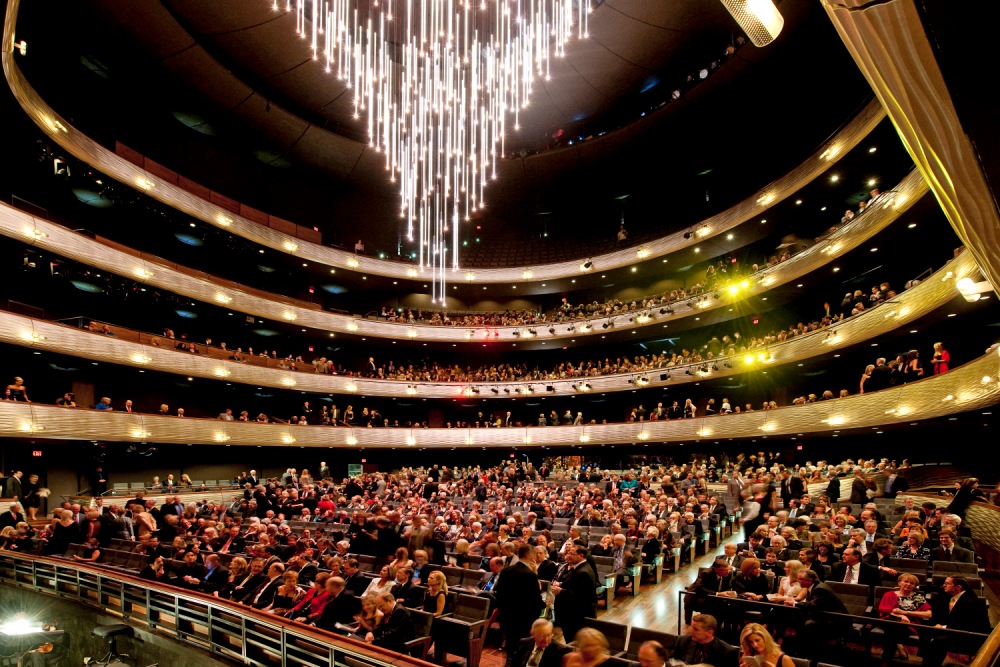 © Photo by Nigel Young, Foster Partners
The Winspear Opera House is not just for opera. The venue's schedule is packed year round as it hosts performance companies such as the Texas Ballet Theater, TITAS performing arts group, Broadway companies on national tours, and more, including of course, The Dallas Opera.
Seating considerations vary greatly from event to event, though we generally find the chairs themselves to be pleasantly comfortable all over the theater (even after a three hour show). Tips from volunteer ushers at the Winspear, along with a good deal of personal experience, have resulted in this collection of information regarding our thoughts on seating options.
Basic Layout
1st Floor: Orchestra
2nd Floor: Box Circle
3rd Floor: Mezzanine
4th Floor: Dress Circle
5th Floor: Grand Tier
Click designated links for larger, wider, detailed view of seating in the audience chamber.
Supertitle Consideration
Before we begin to elaborate on our thoughts about seating, let us make one note about attending opera performances at the Winspear. Many operas are sung in foreign languages, so supertitles (like subtitles) are projected onto a screen located just above the stage during opera performances. Supertitles are even offered for English operas since some singing may become difficult to understand. Although only a portion of Winspear productions are opera, all of the following seating considerations will take supertitle viewing into account.
Orchestra Floor (1st floor near the stage)
Front row seating is very close to the stage, although reasonable, and can be great for a Broadway-style show or for feeling like you're part of the action; but in our opinion, prime seats for opera begin a few rows back with ideal seating at about the tenth (row J) and back. This is because very up-close seating for opera can result in the need to move your eyes (and possibly neck) up and down significantly from the stage floor to the supertitles above which might become slightly uncomfortable after an extended period of time. Really good seating options can be found all the way through the very last row of the main orchestra floor; and of course, the closer to the center of the row the better. That is, unless you like a little extra leg room, in which case you may prefer to choose a seat near the aisle where you can pop your foot out a little bit once everyone is seated and the performance gets started. The rows in the center of the orchestra floor are about 25 or so seats wide, so you will definitely need to determine whether you want to be the one squeezing past other people or having them sort of climbing over you.
Tip: Seats on row E in both the Orchestra Right and Orchestra Left sections are near auditorium entrance points and therefore have two empty rows worth of extra space in front of them. Sitting here is a bit like being on the wide aisle near an airplane's emergency exit.
Detailed Seating Chart of Orchestra
Orchestra Terrace (1st floor at the sides and back)
The Right and Left Terraces consist of two rows of elevated seating along the sides of the main floor with chairs angled toward the stage. These seats have nice viewing and generally have a little lower ticket price. The Orchestra Terrace at the back of the main floor offers six rows of elevated seating and good viewing as well as ease of supertitle viewing due to distance and angle, although we recommend bringing your binoculars or opera glasses in order to see stage details. At certain events, the seats in the center of this area may field camera space or a production equipment board, but neither seemed to us like much of an obstruction or distraction.
Tip: Seats on the outside edge of the first row of the back section (Orchestra Terrace Left or Right, Row T, Seats 7 and 8) give you a wide, unobstructed view straight up the aisle to the stage, although the seats all across the first row of the Orchestra Terrace are really great for shorter folks since you are elevated and no one is seated directly in front of you.
Detailed Seating Chart of Orchestra Terrace
Box Circle
The sound and view from this very limited number of premium seats is absolutely fantastic; and so of course, they have the highest price tags. But for the extra expense though, you have more privacy and a little extra luxury.
Tip: Buying tickets for seats on this level affords you the opportunity to schmooze with the creme de la creme of operagoers.
Detailed Seating Chart of the Box Circle
Mezzanine
The Mezzanine houses the projection booth at the back; but is still a very intimate level, although there are several considerations to be made.
First of all, the balconies of the Winspear stack one on top of another pretty dramatically; so the ceiling above you on any balcony is obviously the floor of the balcony above. They jut out pretty far overhead, although you're still able to easily look straight out to the stage from every seat with no problem at all. However, in order to see the opera supertitles which are projected just above the stage, you have to look up a bit. If you are seated on the back couple of rows, the view of the supertitles may be blocked because the ceiling (floor of the balcony above) is in the way. Therefore, if you are seeing an opera and want to see the supertitles fully, absolutely only purchase tickets on rows A, B, or C. On rows D and E, you can see the supertitles if you sit in seats near the center of the section, but the view begins to become obstructed as you move out along the sides of the center section.
Secondly, choosing seats on the side rows (rows AA, BB, YY, and ZZ) gets you closer to the stage action, but the view becomes a bit strained in that you might have to lean up in your chair a bit to see past the balcony rail. Even though the rail is low. Very low. If you have a fear of heights or get disoriented easily, you might not want to choose seats on rows near the edge of the balconies. The rails are maybe not even 2 feet tall, and the Winspear is a tall, tall, opera house.
Tip: You might want to arrive a little early if you will be sitting in the middle of the Mezzanine center section on either rows A or B. There are 58 consecutive seats in each of those rows, so you might otherwise find yourself having to squeeze past quite a few other patrons to get to your seat.
Detailed Seating Chart of Mezzanine
Dress Circle
While still offering many good seating choices, the Dress Circle is considerably higher, and seems quite a bit 'farther up' and less intimate than the Mezzanine level. Even though the back seats are less than 120 feet from the stage, you really begin to start looking 'down' as opposed to 'across' the auditorium toward the stage. Rows A, B, and C offer supertitle viewing; while supertitles are obstructed from Row E. Again, Rows A and B at the back center consist of 58 consecutive chairs; so if you will be seated near the center, you might want arrive at the theater early to avoid having to squeeze past other patrons to get to your seat.
Finding a really great place to sit along the sides of the Dress Circle can be tricky. In seats near the stage on the second rows on the sides (Rows BB and ZZ), up to half of the stage can become obstructed just due to the balcony rail/front, general row layout, the possibility of large speakers occassionally hanging nearby, and the downward angle of viewing toward the stage.
Seating on the first row is better of course (Rows AA and YY). But again, keep in mind that balconies are high and rails are low; and from those seats, you may have to lean forward a bit to see over the balcony rail. So your best bet in that case is to get a seat farther away from the stage near the dividing aisle (like seats 1, 2, 3, 4, etc.) so that you can lean up without worrying about your head being in the way and blocking the complete sightline of the person beside/behind you.
Tip: In our opinion, sitting one level higher up at the back of the auditorium in the center of the Grand Tier (or of course on any lower level) is preferable to the problematic seating on the Dress Circle level.
Detailed Seating Chart of Dress Circle
Grand Tier
The seating on this level is really surprisingly rather decent; and with ticket prices that are generally very low compared to the rest of the house, this area is a cost-effective way to see a great show (or two for the price you might have otherwise paid for one) and is definitely great for newcomers who may want to check out an opera or ballet for the first time without investing too much money into tickets for an unfamiliar art form.
Seats in the middle of the center section are nice; and while even the very last row is still only about 120 feet from the stage, a pair of binoculars or opera glasses (which are perfectly appropriate to bring along for any level) would greatly enhance your viewing experience.
You will probably want to sit on rows A or B for opera though; as the supertitles begin to get obstructed if you are seated on row D, and you will not be able to see them at all from row E. Also, this level has eight rows that each contain more than 50 consecutive seats; so again, arrive early if you're in the center.
There is one row of seating on each side of the Grand Tier, and the same front row issues are encountered here that are faced on the first rows of the Dress Circle level side sections. Since sightlines from seats nearer the stage consist of such steep downward angles toward the stage, it is possible that you may have to lean up to see. So seats farther away from the stage near the aisle (seats 1, 2, 3, 4, etc.) are better so that you can lean up freely if necessary without blocking the view of your neighbor beside/behind you.
Tip: Although the Grand Tier is very high and quite steep, you can see down into the orchestra pit which we think is a bonus.
Detailed Seating Chart of Dress Circle
The Winspear Opera House is beautifully designed, elegantly charming, and home to many wonderful performing arts productions, so we hope you have a wonderful visit there - no matter which seat you end up choosing.
See additional information below or visit:
RELATED STORIES
Winspear Opera House
ARTS | VENUE
The Winspear, home to The Dallas Opera and Texas Ballet Theater, invites you to come admire its opulence and grandeur.
Winspear Tips to Know Before You Go
ARTS | TIPS
Find out more about the Winspear theater chamber, parking, transportation options, dress, etiquette, dining, tickets, dos and don'ts, etc.
Classical Music Terms for Symphony Orchestra
ARTS | TIPS
Need to know the difference between a symphony and the orchestra? An ensemble and a concerto? Fanfare and a requiem?
Understand, Select, and Attend an Opera
ARTS | TIPS
Opera is an exhilarating showcase of ornate costuming, elaborate scenery, dramatic singing actors, and racy plots about life, sex, and political intrigue.
MORE ON THE FLASH LIST
50 Things to Do
Bored? Well, there's definitely no need to be. Take your pick of these fun things to do.
Entertainment News
The latest breaking news and top stories in arts, dining, culture, movies, music, and sports.
Events Calendar
Not everything in town that you could do, but a list of events that you definitely should consider.
Date Night Ideas
From retro candy stores to luxury car rentals, let us help you impress on your next date night out.
Movies in Theaters
See previews of movies coming soon and trailers for films now playing at local theaters.
Go Gallivanting
Our sister website, The Art of Gallivanting, offers extraordinary adventures for ordinary people.