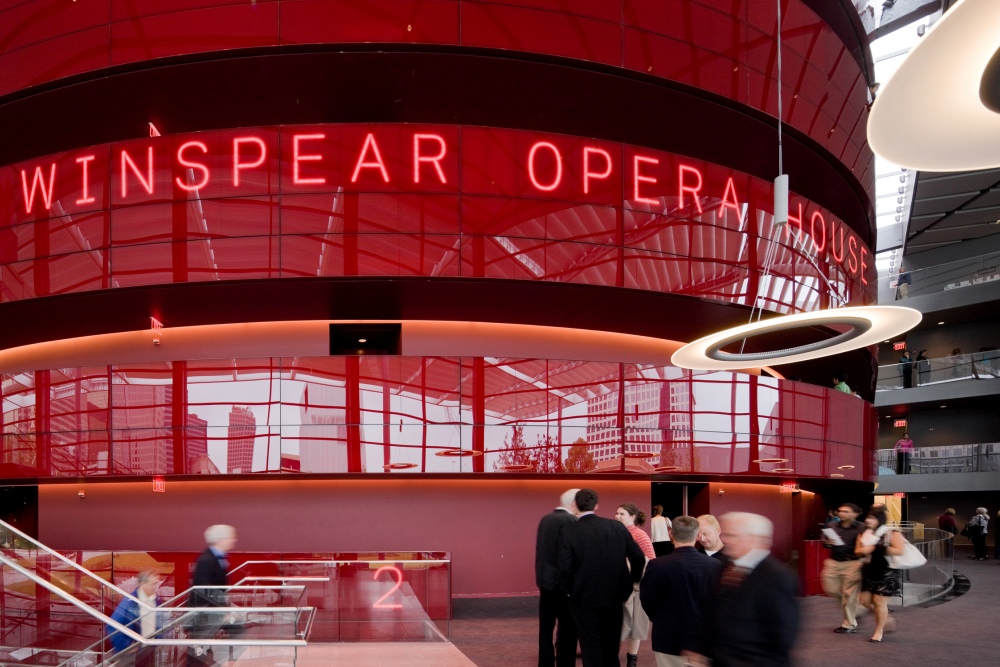 © Photo by Iwan Baan
Just walking along Flora Street in downtown Dallas creates an anticipation that quickly begins to evoke excitement. No longer just a glimmer of hope in the minds of visionaries from decades past, the Arts District is now a cluster of Dallas gems, with the glowing crimson Winspear Opera House as its ruby.
Hosting an eclectic lineup of America's most sought-after musicians, actors, dancers, and performers, the Winspear not only invites you to come admire its opulence and grandeur, but this very unpretentious venue is hospitable enough to pull up a chair for you and offer you a glass of iced tea. (It is Texas, after all.) Designed to be glamorous and yet comfortable, the building is accessible to patrons of all types whether they come tuxedo-clad for opening night of the opera or in blue jeans for a Sunday afternoon musical theater performance.
About
Home to The Dallas Opera and Texas Ballet Theater, the Winspear was designed by Foster + Partners under Pritzker Prize-winning architect Lord Norman Foster with a stage large enough to park a 140-seat Boeing 737. The building's 2,200 seat performance hall is a 21st century interpretation of a classic horseshoe configuration which was built to accommodate not only opera and ballet but performing arts groups and Broadway tours as well.
Four levels of balconies are dramatically stacked to create an intimate environment where the audience is as close to the action as possible. Rippled balcony fronts gilded in actual 12-karat gold are only 90 or so feet from the stage (about the distance between bases on a baseball field); and the highest, farthest seat is only about 30' beyond that. The reflective textures of the balconies along with the hardwood walnut floors help improve the hall's acoustics while reflectors over the stage move sound out toward the audience chamber.
One of the Winspear's most stunning features is its starlight chandelier. Simulating stars, and looking something like an elegant display of light sabers, the impressive fixture is created with 315 10' acrylic tubes capped with brilliant LED lights which illuminate the auditorium with a warm glow. Don't worry about it ever obstructing your view though; at curtain time, each rod retracts into the ceiling leaving just small points on light on the ceiling in the pattern of a constellation.
Seating
For a lengthy description of seating considerations and options within the Margaret McDermott Performance Hall audience chamber of the Winspear Opera House, please see our separate article Seating at the Winspear Opera House.
Parking
Ample parking (albeit paid parking) is available within a very reasonable walking distance from the Winspear. The absolute best place to park is in the Lexus Red parking lot, located under the Winspear with an entrance on Jack Evans Street which is just to the east of the opera house south of the Woodall Rodgers access road and north of Flora Street. This multilevel underground parking garage frequently offers valet service, is covered and a little more climate controlled, and houses an elevator and escalators that drop you off right at the front door entrance. If you are dressed formally, or if there is a chance of bad weather, this is definitely the place to be. The large Lexus Silver parking garage is located across the street just east of the Wyly Theatre with an entrance on Jack Evans Street north of Ross Avenue and south of Flora Street. There is also a parking garage and a parking lot at One Arts Plaza.
DART
You may feel inclined to take DART's Red or Blue line to the Pearl Street Station (at Bryan Street) and then walk north straight up Pearl Street to Flora Street. The station is located a few blocks from the Winspear, but is within reasonable walking distance.
Dress
Dress covers the gamut all the way from ball gowns to blue jeans. For opera, tuxes and long dresses are quite common on opening night of the season each year; but they're certainly not required, and business attire is considered the norm. Dress pants or a nice skirt would be perfectly suitable, though patrons do tend to dress more casually for mid-week performances and Sunday matinees. For other less formal performances, you should dress feel free to dress up or dress comfortably according to the spirit of the production that you are going to see. It may get a little cool in the theater though; so if you get chilled easily, you may want to take a wrap or wear something with long sleeves.
Arriving
The Winspear lobby opens one hour prior to curtain, and the performance hall opens half an hour prior to curtain, so be prompt and in your seat well before the performance is scheduled to begin. Give yourself enough time to navigate traffic, park the car, check your coat, and find your seat. You will want to have plenty of time to get settled in, read over your program notes, and do a little people-watching before the house lights dim. Arriving early allows you to stroll the lobby, get a drink, attend any pre-concert lectures, check out the warm up action in the orchestra pit, and go to the restroom.
Late Seating
In consideration of other audience members, latecomers are typically not seated until there is a pause in singing or a scene change which means that they may have to wait until intermission and watch the performance on the closed-circuit television monitors in the lobby.
Coat Check
Coat check is available on the first floor of the Winspear. As you walk into the lobby from the front door, veer right and head down the concourse. Coat check is then on the left adjacent to the cafe seating.
Restrooms
Restrooms are located on every level of the building at the far ends of all concourses. At intermission time during crowded performances, you will definitely want to get to the restroom quickly since, like many large venues, lines can get long fast.
Dos & Don'ts
Do bring binoculars or opera glasses, especially if you're on an upper balcony.
Do turn off your cell phone, pager, and/or watch alarm.
Do refrain from talking disruptively during performances.
Do unwrap cough drops or small pieces of candy ahead of time.
Do experience the music, but ...
Don't tap fingers or feet on someone else's chair.
Don't take photos during the performance.
Dining
An abundance of dining options can be found in and near the Winspear including The Winspear Opera House restaurant (reservations suggested) and the Winspear Opera House Cafe (reservations not necessary) as well as light snacks at every bar. You can even preorder and prepay for refreshments which allows you to bypass any long lines at intermission thus giving you more time to relax and socialize. No food however is allowed into the audience chamber, only water in plastic reseal-able containers.
Wi-Fi
Complimentary public Wi-Fi is available throughout Sammon Park, Annette Strauss Square, Winspear Opera House, and Wyly Theatre.
Tickets
Nonrefundable tickets can be purchased directly from the Winspear or through remote ticketing locations.
See additional information below or visit:
RELATED STORIES
Winspear Opera House
ARTS | VENUE
The Winspear, home to The Dallas Opera and Texas Ballet Theater, invites you to come admire its opulence and grandeur.
Where to Sit at the Winspear Opera House
ARTS | TIPS
Tips from volunteer ushers at the Winspear, along with a good deal of personal experience, have resulted in this collection of our thoughts on seating options.
Classical Music Terms for Symphony Orchestra
ARTS | TIPS
Need to know the difference between a symphony and the orchestra? An ensemble and a concerto? Fanfare and a requiem?
Understand, Select, and Attend an Opera
ARTS | TIPS
Opera is an exhilarating showcase of ornate costuming, elaborate scenery, dramatic singing actors, and racy plots about life, sex, and political intrigue.
MORE ON THE FLASH LIST
50 Things to Do
Bored? Well, there's definitely no need to be. Take your pick of these fun things to do.
Entertainment News
The latest breaking news and top stories in arts, dining, culture, movies, music, and sports.
Events Calendar
Not everything in town that you could do, but a list of events that you definitely should consider.
Date Night Ideas
From retro candy stores to luxury car rentals, let us help you impress on your next date night out.
Movies in Theaters
See previews of movies coming soon and trailers for films now playing at local theaters.
Go Gallivanting
Our sister website, The Art of Gallivanting, offers extraordinary adventures for ordinary people.