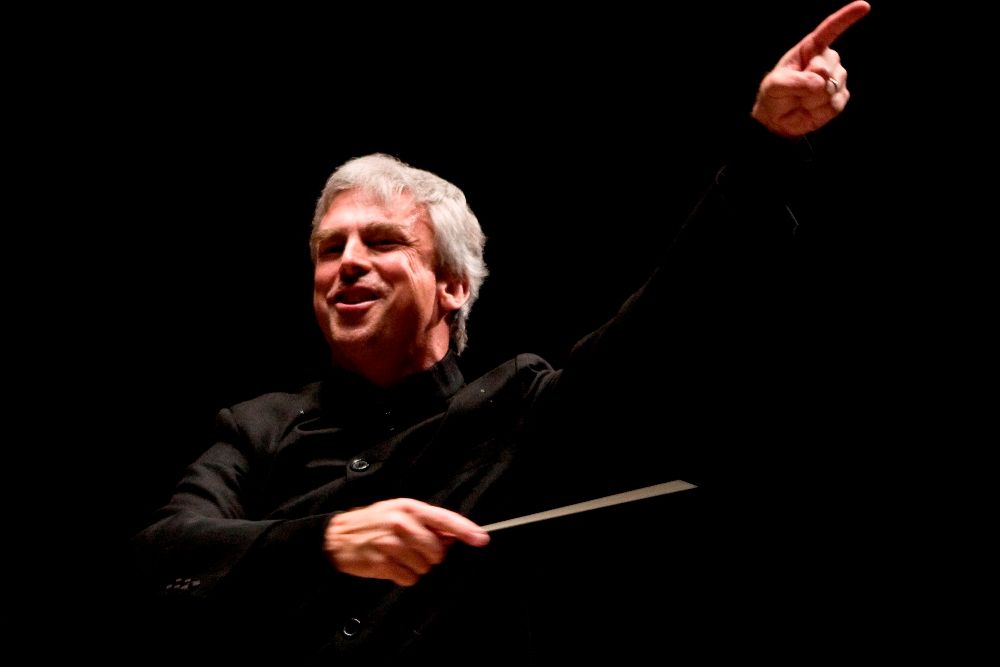 Dallas Winds
2301 Flora St.
Dallas
,
Texas
75201
214-692-0203
Just take a little taste - you're probably gonna like it. Trust us.
Conductor Jerry Junkin seems to dance around the Meyerson stage with music as his partner. And what a lovely pair they make. He is physically expressive, commanding, inspiring, and passionate. And the music - produced by the extremely talented musicians of the Dallas Winds - naturally follows his lead.
Laid Back Style
DWS is the leading professional civilian wind band in the US, and performs an eclectic mix of styles ranging from classical to pop. Their concerts are billed as a let-your-hair-down, relax-and-have-some-fun kind of series, and we agree. Maestro Junkin relates to the audience as if we're all sitting around in his basement for a late night jam session. He's personable, funny, and informative, walking the audience through each piece music and the understanding of what's what.
DWS History
Dallas Winds was founded in 1985 by Kim Campbell, a trombonist, when he walked into the office of SMU Music Professor Howard Dunn and said, I would like to start a reading band of the finest wind and percussion players in the city, and I want you to conduct it. Professor Dunn smiled and replied, I've been waiting for you all my life!
Although Howard Dunn passed away in 1991, Kim continues as Executive Director; and Jerry Junkin, Director of Bands at the University of Texas at Austin, was named Artistic Director and Conductor. The Dallas Winds has entertained more than a million people both at home and on tour, including a command performance for Queen Elizabeth II. The band has also released over a dozen recordings, two of which were nominated for Grammy Awards.
Attending a Concert
You could have a great time at any one of the Dallas Wind's shows just by walking in, sitting down, listening to the music, and humming all the way home. However, if you want to enjoy an even richer, deeper experience, there are plenty of opportunities to do so. You can:
Familiarize Yourself with the Music
Arrive early to give yourself some time to look over the program. In it, you'll find pages chock-full of information about the origins of the various pieces being featured as well as bios of musical contributors such as the conductor, composer, any soloists, etc. Sometimes it can be beneficial to understand what a writer was trying to accomplish before you listen to his work; and sometimes (like in, say, sports), the more you know about a topic, the better you can appreciate and enjoy it.
Attend the Pre-Concert Lecture
Before each concert, a Windnotes lecture is presented (at no extra cost). Concertgoers can gain musical background information, hear interesting stories, and get an entertaining behind-the-scenes run-down of what they are about to hear.
Experience the Fanfare
After the lecture and before each concert, stick around in the lobby for a world-premiere fanfare written just for the Dallas Winds. This is not a little quartet quietly playing in the corner; rather, it's an impressive show-before-the-show that you'll definitely want to experience. The crowd gathers in the Meyerson lobby (near and on the staircases) and faces up and toward the front windows. Several members of the wind symphony (specifically brass musicians) can be seen and heard as they sit on the upper level above the crowd and perform a short, exciting, upbeat piece as a show starter before the main concert.
Enjoy The Show!
Prepare to stand as the Star Spangled Banner begins each concert, and then settle in for an evening of entertainment by wonderfully skilled musicians. Like we mentioned, it's great to know the background of the music in order to grasp the intent of the writer; but if you don't, that's all right. Just sit back and enjoy the music or make up your own story. The sound of the music can evoke plenty of creative scenarios in your imagination - maybe you're cycling along the coast of a small Italian town with the sea breeze gently blowing through your hair; or maybe you're sashaying into Rick's Cafe in Casablanca, picking a stiff drink, and getting ready to go throw some money down at the roulette table.
Conversely, suppose you have a specific sound that you'd like to hear the Dallas Winds play - then you may donate a piece of music from the extensive wish list that can be found on the DWS website. Choices include marches, folk tunes, symphonies, pops, waltzes, music from movie soundtracks, and even Freddy Mercury's Bohemian Rhapsody.
You may also purchase DWS CD recordings at the Meyerson or online, and enjoy their music long after the show.
Dress
Dress is a little more casual than at other symphony performances. Men could wear a black suit if they wanted to (certainly those on stage do), but it's not really necessary and most people don't. Most men wear blazers, dress pants, or even nice jeans. Women tend to wear church type dresses, skirts with jackets, dress pants, or nice jeans.
When NOT to Clap
The concert hall can get very quiet during certain phases of soft music. Therefore, be sure to turn off your cell phone, unwrap any cough drops beforehand, and know that the sounds of rifling through your purse or even whispering can seem louder than usual.
and ... DON'T CLAP BETWEEN MOVEMENTS!!
Some pieces of music have 'sections' known as 'movements'. It is proper to only clap at the end of each piece, rather than after each section (even though the band takes a noticeable pause to readjust). For instance, you may see something like this in your program:
Southern Harmony for Wind Ensemble (1998) by Donald Grantham
I. The Midnight Cry
II. Wondrous Love
III. Exhilaration
IV. The Soldier's Return
Only clap at the end of The Soldier's Return, which marks the end of Southern Harmony. Don't clap after each movement. However, feel free to lavish your applause on an appreciative, hardworking orchestra at the end of the concert.
See additional information below or visit:
RELATED STORIES
Classical Music Terms for Symphony Orchestra
ARTS | TIPS
Need to know the difference between a symphony and the orchestra? An ensemble and a concerto? Fanfare and a requiem?
View, Appreciate, and Discuss Fine Art
ARTS | TIPS
Next time you stroll through a museum, whether or not you figure out what the artist was thinking, here are some questions to get yourself thinking.
Understand, Select, and Attend an Opera
ARTS | TIPS
Opera is an exhilarating showcase of ornate costuming, elaborate scenery, dramatic singing actors, and racy plots about life, sex, and political intrigue.
MORE ON THE FLASH LIST
50 Things to Do
Bored? Well, there's definitely no need to be. Take your pick of these fun things to do.
Entertainment News
The latest breaking news and top stories in arts, dining, culture, movies, music, and sports.
Events Calendar
Not everything in town that you could do, but a list of events that you definitely should consider.
Date Night Ideas
From retro candy stores to luxury car rentals, let us help you impress on your next date night out.
Movies in Theaters
See previews of movies coming soon and trailers for films now playing at local theaters.
Go Gallivanting
Our sister website, The Art of Gallivanting, offers extraordinary adventures for ordinary people.