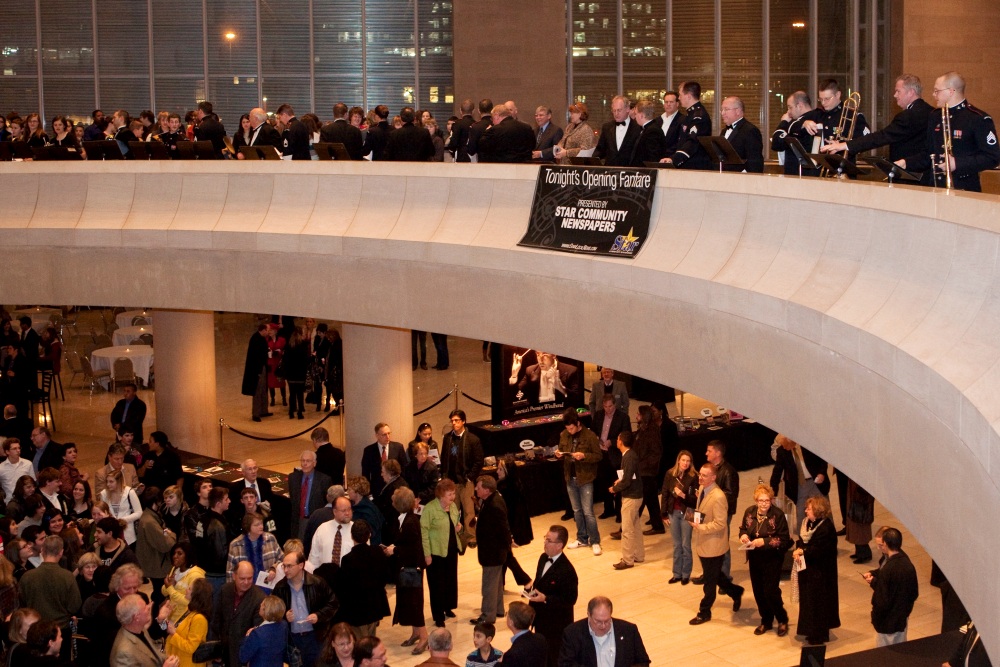 Posted November 17, 2010 | © Photo courtesy of Dallas Winds
"In a way, you have to know what the rules are so that you can then break the rules. In other words, know what the limitations are so that you can push those limitations."
Frank Ticheli on knowing the capabilities of the
instruments that inspire creative music composition.
The world-renowned Dallas Wind Symphony, led by Maestro Jerry Junkin, celebrated the music of Dallas own award-winning composer Frank Ticheli on Tuesday night at the Meyerson Symphony Center in an All-Ticheli Concert. The featured conductor/composer is well known for his "optimistic and thoughtful" works for concert bands which were paired brilliantly with music by the Jim Cullum Jazz Band, a phenomenally talented seven-piece jazz ensemble from San Antonio.
About Frank Ticheli
One of America's premier composers, Frank Ticheli (pronounced teh-KELLY) began playing the trumpet in 4th grade, attended Berkner High School in Richardson, earned a Bachelor of Music in Composition from SMU, and holds doctoral and master degrees in composition from The University of Michigan. He accepted his first tenure-track position as Assistant Professor of Music at Trinity University in San Antonio before joining the faculty at USC's Thornton School of Music in 1991. Ticheli is a professor of composition, but confesses that the "teaching of creativity is difficult to do" and considers himself more of a cheerleader or psychologist when it comes to fostering development in his students.
Although Ticheli is extremely personable and has garnered considerable recognition in the United States and Europe, he spends much of his time not in the spotlight, but rather by himself with a passion that allows one, as he describes, "to sit in a chair with an instrument or with a pencil and a blank page for hours - hours and hours of what could be very lonely time." But for all of the time that Frank has spent working in an isolated environment, he has emerged with a repertoire of outstanding works; and we are the beneficiaries.
The Concert
The Playing With Fire concert, including the world premiere of San Antonio Dances, was an imaginative expression of Ticheli's talents, experiences, and thoughtful reflections. After an exuberant opening fanfare by self-described "closet composer" Taylor Goodson, a senior at Montclair State University, first up on Tuesday's program was Ticheli's Postcard.
Postcard
Originally entitled A Postcard to Meadville, PA, this funky, energetic, musical reflection with lively bells, tinkling flute melodies, jazzy sax, and crashing cymbals was commissioned by Ticheli's colleague and former mentor, H. Robert Reynolds, in celebration of the life of his mother to whom he frequently sent postcards.
San Antonio Dances
Ah, how we love San Antonio's Riverwalk; and this piece, composed as a tribute to the south Texas city, certainly captures its essence. With Ticheli in the role of guest conductor, the 1st movement, depicting the serene Alamo Gardens, is sultry and peaceful, crescendoing with a hint of mariachi sound that then blossoms in the whimsical 2nd movement, "Tex-Mex on the Riverwalk", which gave us the feeling we were on vacation. After experiencing a "captivating blend of Texan and Hispanic cultural influences" while working in San Antonio, Ticheli proposes that we "Picture a group of friends seated at an outdoor patio of one of the Riverwalk's many Tex-Mex restaurants, enjoying the scenery, the food, the company. In time, the evening settles in, the air cools, the mood brightens, the crowd increases, music is heard from every direction. Before you know it, the whole place is one great big fiesta and one feels it could go on forever. Viva San Antonio!"
Rest
Created in 2010, Rest is a concert band adaptation of Ticheli's work for SATB chorus, There Will Be Rest. Taken from a work by poet Sara Teasdale and turned into a wind piece, it is exquisitely beautiful; and its melancholy nature seems to hold the ability to absolutely dissolve stress on contact. Sitting back and allowing the tones to penetrate the core of one's being could definitely foster hours of peaceful relaxation and slumber. Not because it's uninteresting (quite on the contrary), but because its soothing rhythms gently compel you to conform to its tranquil flow.
Symphony No. 2
Listen online:
In a collections of works referring to celestial light, the jovial 1st movement uses "fleeting events at unexpected moments" as well as some pretty crazy percussion sounds like snapping, knocking, chiming, cranking, and spinning to illustrate quick flashes of color and light, shooting stars, and things that come and go quickly. It's an upbeat complement to the 2nd movement, a recollection of Ticheli's time spent fishing on the Louisiana bayou when hours were stretched and nothing was happening. In stark contrast, the Apollo Unleashed finale offers upbeat tempos and galloping gestures like a mythological action movie.
Playing with Fire
As if that much Ticheli music wasn't enough to make patrons feel as if they'd gotten their money's worth, the Jim Cullum Jazz Band joined the Dallas Wind Symphony onstage, and Playing With Fire opened after intermission with drum beats and bass riffs that left us half-expecting Audrey Hepburn to come gliding across stage at any moment doing her Funny Face dance. Originally composed in 1992 as a concerto for the Jim Cullum Jazz Band and the San Antonio Symphony, Playing With Fire is hot, hot, hot. In the 1st movement ("A la Bauduc", a musical tribute to the late great drummer Ray Bauduc), Steve Pikal placed his musical action high up on the neck of his gut string outfitted bass while Hal Smith (a noted historian and one of the premier drummers in contemporary classic jazz) simultaneously leaned over and thumped out a rhythm on that same bass with his drumsticks. Their repeated performance was an incredible treat for the eyes and ears that had the crowd's feet tapping and people literally dancing in their seats all over the auditorium.
Cornetist Jim Cullum (who began playing when he saw an antique cornet in a store window one day while helping his dad in the grocery business) has been playing from The Landing in San Antonio since 1963. Cullum's soulful, bluesy melodies alongside an extraordinary clarinet solo by Ron Hockett (former lead saxophonist and clarinet soloist for the "President's Own" U.S. Marine Band), trombone features by Kenny Rupp (who's played behind vocalists Frank Sinatra, Tony Bennet, Ella Fitgerald, Lena Horne, etc.), snazzy keys by Jim Turner (award-winning piano music producer), and highlights from the 1930 Gibson tenor banjo of Howard Elkins (composer of the Riverwalk Jazz theme "Nightspell") are absolutely beyond description, so we've included this link to "Sidewalk Blues" so you can hear them for yourself.
Playing With Fire surprises and even toys with you, and where exactly the 1st movement transitioned into the 2nd ("Shades of Blue") and the 3rd ("Polyphonies and Riffs"), we have no idea. Forget about a notable pause or the don't-clap-between-movements rule - the wildly appreciative audience couldn't contain themselves from offering very enthusiastic applause at minimal lulls, right throughout the music itself, and while on their feet for a roaring standing ovation in the end.
In the famous words of Brian Setzer of the Stray Cats, Frank Ticheli and the Jim Cullum Band have definitely "got cat class and [they've] got cat style"!
What's Next?
Frank Ticheli and the Dallas Wind Symphony will be recording a CD this summer which will include Postcard, Rest conducted by Ticheli himself, Symphony No. 2, and Playing With Fire featuring the Jim Cullum Jazz Band. We're so in! This will be a must-have for jazz music fans and collectors.
Upcoming DWS shows include Christmas at the Meyerson on December 21, 2010 featuring soprano Mela Dailey and organist Bradley Welch; Roman Festivals on January 25, 2011 featuring the Greater Dallas Youth Orchestra and the Meyerson's impressive Lay Family Concert Organ; the annual salute to Big Band Boogie on February 15, 2011 featuring piano man Jeff Hellmer leading the 19-piece DWS Swing Band and the Dallas Wind Symphony performing the music of Glenn Miller, Woody Herman, Tommy Dorsey, Duke Ellington, Benny Goodman, Count Basie, and more. And you won't want to miss Redshift on April 20, 2011 when John Gibson will premiere a host of his self-created patuba (puh-TOO-buh) instruments, the pieces for which he picked up at Elliott's Hardware!
You can also join Frank on tour June 28 - July 5, 2011 in Rome, Venice, and Florence for "Ticheli's Italian Homecoming" as he acts as guest composer/conductor on a journey to the country of his ancestry. Presented by Kingsway International, you can attend rehearsals, hear concerts, experience the gala, and tour the Colosseum, the Vatican, the Trevi Fountain, and more!
What's Backstage?
Wanna know "What's Backstage" at the Dallas Wind Symphony? For $85 tuition, you can enroll in their series of five evening classes starting March 29, 2011 where you can:
* Learn about all the instruments of the Dallas Wind Symphony
* Meet Wind Symphony Musicians
* Share dinner with Maestro Jerry Junkin
* Sit in on a Wind Symphony rehearsal
* Take a backstage tour of the Meyerson Symphony Center
* Attend a Dallas Wind Symphony Concert
* Have Fun, Make Friends, Be Amazed!
Additional Resources on The Flash List
We at The Flash List are big fans of Dallas Wind Symphony events for their casual laid back style, their entertaining educational lectures, as well as their wide variety of musical selections. Says DWS Founder and Executive Director Kim Campbell, "If you don't hear something you like, wait five minutes." Generally, when you attend a DWS concert, you don't just hear some really great music, but you understand it as well. Read more at:
Dallas Wind Symphony: DWS history, programs, dress, etiquette, etc.
Seating at the Meyerson: Where to sit to get the best experience?
Symphony Terms: What's SATB, fanfare, movement, crescendo?
For More Information
Frank Ticheli
List of works, news, upcoming event information, free mp3 downloads, etc.
http://www.manhattanbeachmusiconline.com/frank_ticheli/index.html
http://www.usc.edu/schools/music/private/faculty/ticheli.php
Fantastic Set of Frank Ticheli Interview Videos
http://www.artistshousemusic.org/videos/about+frank+ticheli
http://www.artistshousemusic.org/videos/the+importance+of+passion
http://www.artistshousemusic.org/videos/making+a+living+as+a+composer
http://www.artistshousemusic.org/videos/the+process+of+composing
Frank Ticheli Interview Article
http://www.banddirector.com/article/rl-interviews/an-interview-with-frank-ticheli
Frank Ticheli Online Music
http://www.youtube.com/user/concertbandland#p/c/86D56C2B436A8C1A
http://www.last.fm/listen/artist/Frank%2BTicheli/similarartists
htttarget="_blank" p://itunes.apple.com/us/album/composers-collection-frank/id260219860
Jim Cullum Jazz Band
http://www.riverwalkjazz.org/profiles/Performers
Jim Cullum's Landing
Editorial Policy: The Flash List is dedicated to providing trustworthy editorial content by maintaining strict ethical standards, journalistic integrity, and credible professionalism regardless of potential compensation as working media. The Flash List discloses receiving tangible and/or intangible benefits for the purposes of providing media coverage for certain events, venues, products, and/or services.
MORE ON THE FLASH LIST
50 Things to Do
Bored? Well, there's definitely no need to be. Take your pick of these fun things to do.
Entertainment News
The latest breaking news and top stories in arts, dining, culture, movies, music, and sports.
Events Calendar
Not everything in town that you could do, but a list of events that you definitely should consider.
Date Night Ideas
From retro candy stores to luxury car rentals, let us help you impress on your next date night out.
Movies in Theaters
See previews of movies coming soon and trailers for films now playing at local theaters.
Go Gallivanting
Our sister website, The Art of Gallivanting, offers extraordinary adventures for ordinary people.