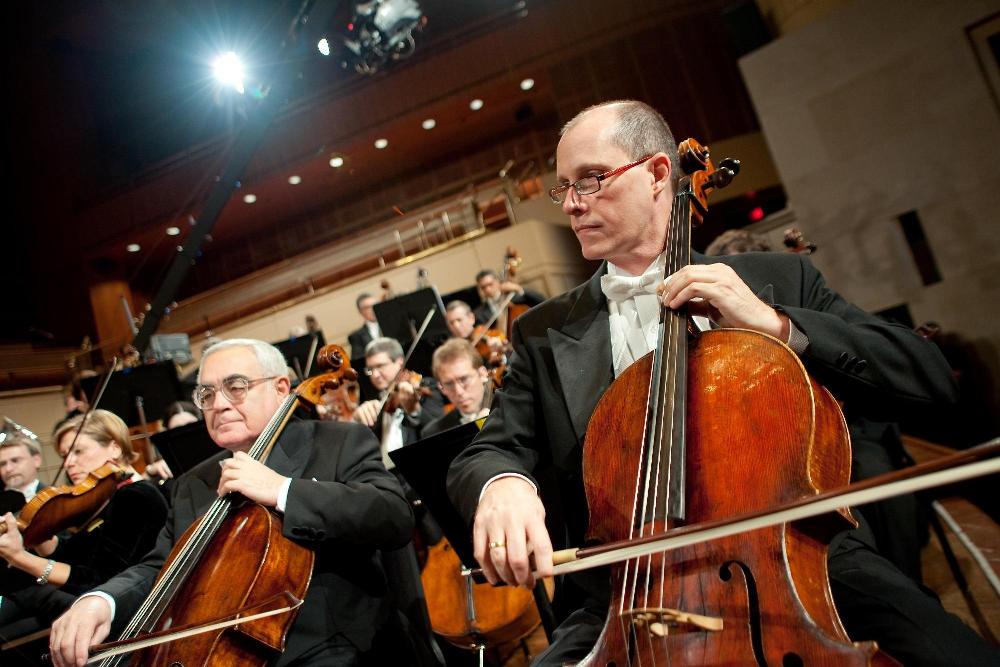 Posted February 15, 2014 | © Photo courtesy of Dallas Symphony Orchestra
At times, the music that emanates from the Meyerson Symphony Center stage seems almost tangible, so full of rich texture and vibrant color, that you wonder if you might ... just maybe ... reach right out and touch it. On Friday night, during the Dallas Symphony Orchestra's performance of Love is in the Air, that ethereal moment happened for us during Rachmaninoff's Variation No. 18 from Rhapsody on a Theme of Paganini (which you might remember from the 1980 sci-fi romance film Somewhere in Time). Pianist Gabriel Sanchez's dreamy solo was certainly moving enough on its own; but when subsequently accompanied by the sweeping, lifting melodies of the violins and orchestra, it was, as conductor Alasdair Neale stated, "one of those pieces that's over too soon."
The romantic evening began with the heralding of trumpets which evoked an eager sense of anticipation toward the charming selections to come. The full version of Mendelssohn's "Wedding March" offered enjoyable extensions of the song rarely heard beyond the fade-out that generally occurs when the bride has completed her journey down the aisle; and Kreisler's Liebesleid [Love's Sorrow] and Liebesfreud [Love's Joy], performed with DSO's Co-Concert Master Nathan Olson on violin, brought to mind the days of black and white 'pre-talkie' silent films. (With accompanying audio, visualize an intimate Italian restaurant, candlelit checked tablecloth, a couple hopelessly in love, an abrupt and unfortunate misunderstanding leading to a terrible argument, a rushing into the rain-drenched street outside, and a camera zoom-in revealing heavy drops of rain falling from dramatically blinking and thickly mascara-ed eyelashes.) But no worries, despite the 'angsty' tones of Liebesleid, the soothing sounds of Liebesfreud provided relationship-redeeming smoothing over in that "awww, I could never stay mad at you" kind of way.
Similarly, Tchaikovsky's eighteen-minute Romeo and Juliet Overture-Fantasy, inspired by the great Shakespearean love story, highlighted the full force of the orchestra from the solemn foreboding of the low stringed instruments to the stair-step plucking of the violins and airy gentleness of the harp and flutes. Softly billowing French horns seemed to call out of dark places, and soft rolls of the timpani gave way to triumphant exaltations and full action crescendos in this story of struggle and strife, passion and peace.
After intermission, as a "testament to [George] Gershwin's melodic and harmonic gifts," the DSO performed a nostalgic collection of recognizable, toe-tapping tunes including the overture to the Broadway musical Crazy for You, the jazzy "S'Wonderful" from Funny Face, "The Man I Love" from Lady, Be Good, and the stress-melting (take-a-deep-breath-and-exhale-slowly) "Bess, You Is My Woman Now" from the Catfish Row Suite of Gershwin's 1935 opera Porgy and Bess. The graceful "Love Walked In" from The Goldwyn Follies unfolded layer by layer like an origami fortune-telling game, and the Nat King Cole "Unforgettable" and "Mona Lisa" numbers made us feel like we were lingering on an imaginary club dance floor while the cigarette girl made her final late-night rounds. "I Love You Just the Way You Are" marked the close of the program as part of a four-song Love Notes medley in which the DSO channeled their "inner Roberta Flack and Billy Joel."
Likewise, we appreciate you, Dallas Symphony Orchestra, just the way you are. Thank you for the lovely gift of a heart-warming Valentine's Day and weekend. Love is in the Air continues Saturday, February 15 through Sunday, February 16, 2014 at the Meyerson Symphony Center in the Dallas Arts District. To purchase tickets and view additional details, see the links below.
Editorial Policy: The Flash List is dedicated to providing trustworthy editorial content by maintaining strict ethical standards, journalistic integrity, and credible professionalism regardless of potential compensation as working media. The Flash List discloses receiving tangible and/or intangible benefits for the purposes of providing media coverage for certain events, venues, products, and/or services.
MORE ON THE FLASH LIST
50 Things to Do
Bored? Well, there's definitely no need to be. Take your pick of these fun things to do.
Entertainment News
The latest breaking news and top stories in arts, dining, culture, movies, music, and sports.
Events Calendar
Not everything in town that you could do, but a list of events that you definitely should consider.
Date Night Ideas
From retro candy stores to luxury car rentals, let us help you impress on your next date night out.
Movies in Theaters
See previews of movies coming soon and trailers for films now playing at local theaters.
Go Gallivanting
Our sister website, The Art of Gallivanting, offers extraordinary adventures for ordinary people.