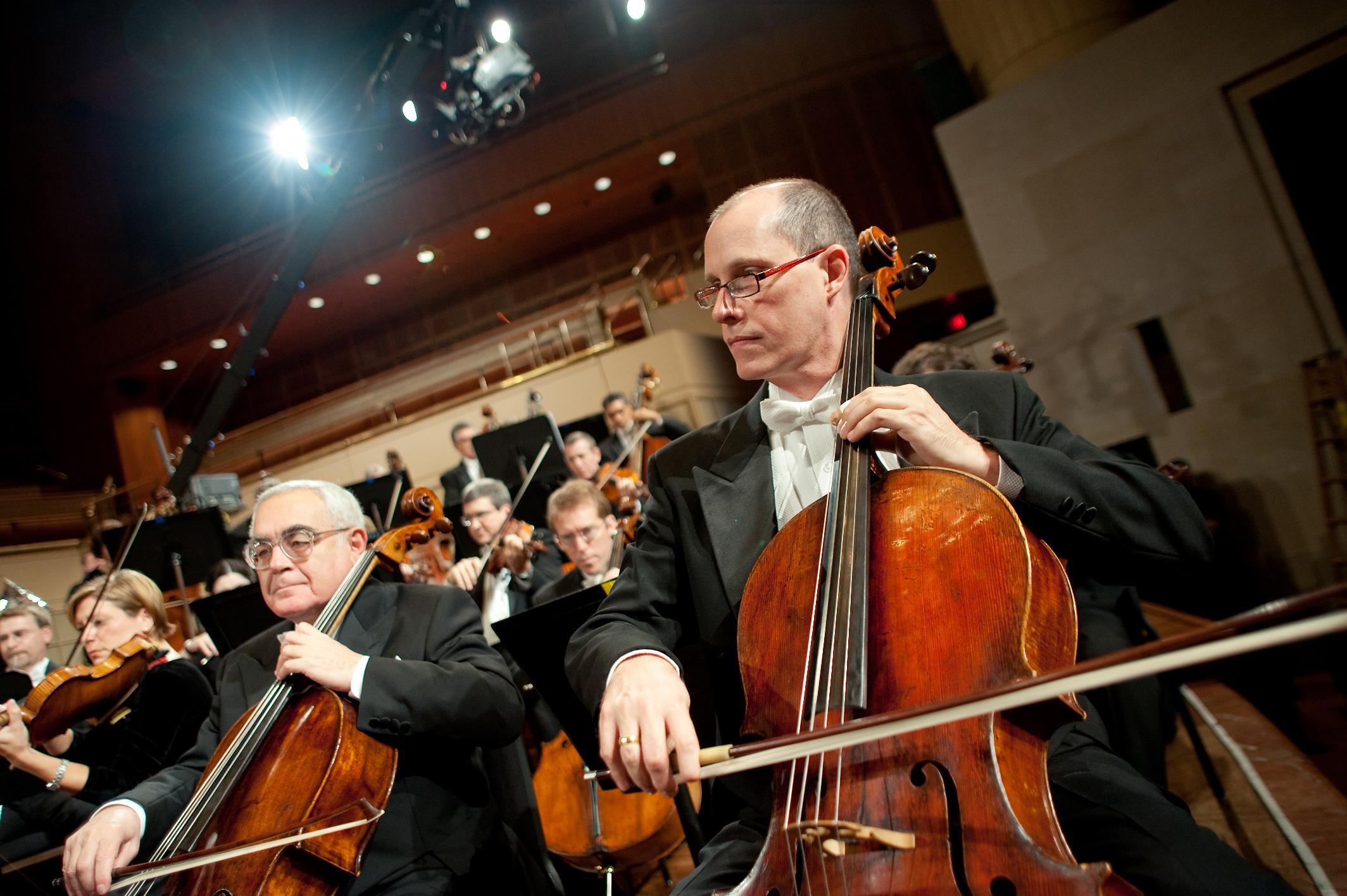 Posted | © Photo courtesy of Dallas Symphony Orchestra
Ever wonder what Saturday mornings in heaven might be like?
Maybe we'll all stroll excitedly up the street to a grand auditorium built by brilliantly gifted architects where we can blissfully enjoy amusing cartoons displaying on a huge screen overhead while a real, live orchestra consisting of a multitude of talented classical musicians enchants our souls with all the beloved theme songs that have over the years become such an integral part of our personal and collective fiber.
Well, no need to wait until the afterlife; we can experience a little bit of heaven right here on earth in George Daugherty's utterly delightful show Bugs Bunny at the Symphony.
This musical tribute to the great cartoon artist Chuck Jones is a combination of live classical music and onscreen classic animation conducted and created by Emmy Awardwinner George Daugherty in collaboration with his producing partner David Ka Lik Wong.This weekend's concert at the Morton H. Meyerson Symphony Center featured everyone's favorite "wascally wabbit" and a host of his zany friends along with the Dallas Symphony Orchestra performing the original score from many familiar Looney Tunes and Merrie Melodies.
Some of our favorite moments include:
Maestro Bugs conducts the orchestra despite wardrobe malfunctions while on the podium in "Baton Bunny";
A "Rhapsody Rabbit" demonstrates his talent on the ivories (pausing only momentarily to snack on a carrot, take a quick phone call, etc.);
Jazz crooner wannabe Owl Jolson expresses "ILove to Singa" along with Pepe Le Pew, Daffy Duck, Porky Pig, and Petunia;
The top-hatted, high-steppin' Michigan J. Frog performs the 1899 song "Hello! Ma Baby";
Wile E. Coyote investigates the art of Road Runner trapping in "Zoom and Bored";
Tweety bird thought he "taw a puddy tat," and bad ol' Sylvester gets a lesson on not putting defenseless feathered creatures in his mouth in "Home Tweet Home";
"The Rabbit of Seville" provides Elmer Fudd with a scalp massage and beauty treatments;
"Tom and Jerry in the Hollywood Bowl" conduct (and then become) the orchestra;
Fred and Barney find misadventure in "Bedrock Ballet," and Scooby goes sleuthing for ghosts in "Hall of the Mountain King";
A banjo/harp/tuba playing "Long-Haired Hare" disrupts the practice session of opera singer Giovanni Jones;
and "Th-th-th-that's [not] all folks!"
This whimsically entertaining production culminates with the 1957 piece de r'sistance "What's Opera Doc?" in which Elmer Fudd is determined to ''Kill the Wabbit'' in this parody of the work of 19th-century classical composer Richard Wagner (pronounced Ree-card Vog-nur).
You can almost throw your stuffy, symphony 'quiet' rules out the window during this program (in part because you would never want to squelch the precious squeals of laughter coming from youngsters sprinkled throughout the audience).This show is excellent for all ages, and is an utterly delightful way to introduce anyone to the symphony!
Get more information, including upcoming tour dates and locations, online at:
http://www.bugsbunnyatthesymphony.net
Editorial Policy: The Flash List is dedicated to providing trustworthy editorial content by maintaining strict ethical standards, journalistic integrity, and credible professionalism regardless of potential compensation as working media. The Flash List discloses receiving tangible and/or intangible benefits for the purposes of providing media coverage for certain events, venues, products, and/or services.
MORE ON THE FLASH LIST
50 Things to Do
Bored? Well, there's definitely no need to be. Take your pick of these fun things to do.
Entertainment News
The latest breaking news and top stories in arts, dining, culture, movies, music, and sports.
Events Calendar
Not everything in town that you could do, but a list of events that you definitely should consider.
Date Night Ideas
From retro candy stores to luxury car rentals, let us help you impress on your next date night out.
Movies in Theaters
See previews of movies coming soon and trailers for films now playing at local theaters.
Go Gallivanting
Our sister website, The Art of Gallivanting, offers extraordinary adventures for ordinary people.