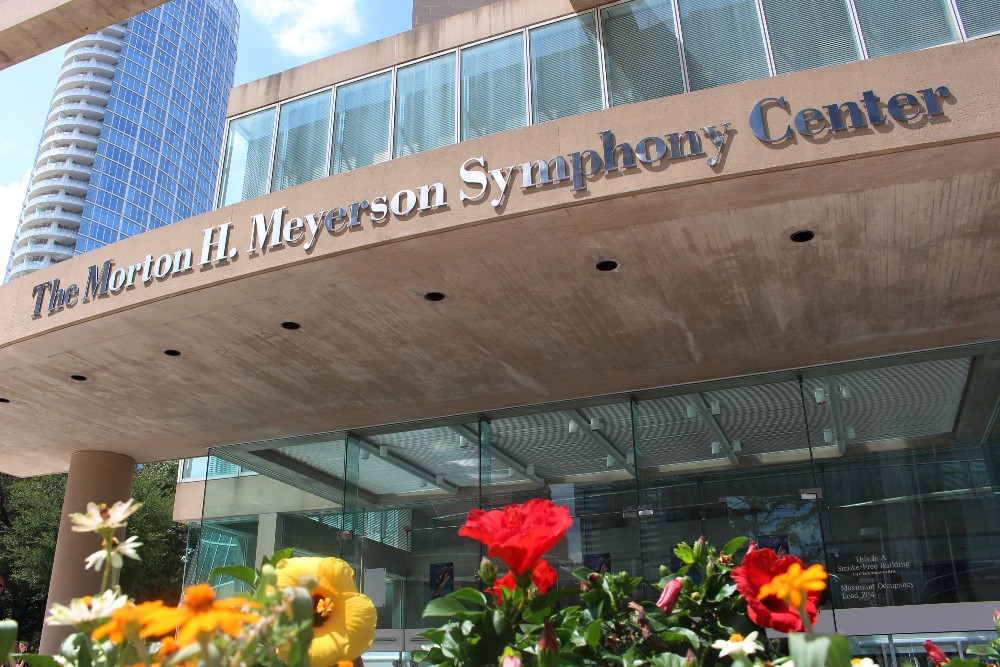 Posted February 6, 2011 | © Photo courtesy of Dallas Symphony Orchestra
The first piece of music by The Police that we ever owned was a Synchronicity cassette (one of 13 selections purchased from Columbia House for a penny each). Popping it into the tape deck of our 1977 black and gold Smokey and the Bandit Firebird Trans Am, we mellowed out to the rhythms of "Every Breath You Take" while pulling into the high school's senior parking lot. Ahh yes, that was back in the day when a young, fresh Motley Crue played the Bronco Bowl.
But we're all grown up now, and this Saturday night was spent at the Morton H. Meyerson Symphony Center where Stewart Copeland, founder and drummer for The Police, joined an eagerly awaiting audience for the much anticipated world premiere of his new composition, Gamelan D'Drum.
Stewart Copeland
Ranked by Rolling Stone magazine's reader poll as the fifth greatest drummer of all time, Stewart learned to play the drums in Beirut, Lebanon, where he grew up. Encouraged by his father (a CIA agent and jazz trumpeter in an orchestra), Stewart honed his skills by learning from professional musicians and scored his first real drumming gig in his early teens. After moving to England, Copeland entered the world of rock 'n' roll as a journalist, a roadie, and then as a drummer for the British progressive rock group Curved Air before creating the immensely popular band The Police, known for mega hits like "Message in a Bottle", "Don't Stand So Close to Me", and one of our personal favorites "Roxanne" (hear as "Raaaaaahhxanne").
Aside from a brief reunion tour in 2007-2008, members of The Police have been pursuing individual interests since the mid '80's with Copeland releasing solo albums and writing scores for movies, television, ballets (including Lear for the San Francisco Ballet), and operas (including Holy Blood and Crescent Moon, commissioned by Cleveland Opera). Oh, and to boot, he was inducted into the Rock 'n Roll Hall of Fame in 2003.
Gamelan D'Drum
But last night, Copeland humbly grinned like a thrilled Cheshire cat at the end of an incredible concert as he turned toward the orchestra onstage and took a knee to show his respect and appreciation for a job most certainly well done. The applause from the audience seemed unending as the crowd remained on its feet demanding that the percussionists continue returning to the stage for a total of four onstage bows.
Copeland had been commissioned to compose a work featuring the five-member Dallas-based percussion group D'Drum along with the Dallas Symphony Orchestra. D'Drum had rocked the house during the 2007 DSO Gala, after which Fred Bronstein, the then president of the DSO, conceived the idea for a collaboration. Names of composers were thrown around, they set their sights on Copeland, and then voil'. The result is Gamelan D'Drum (pronounced gah-meh-lahn dee-drum), a 3 movement, 35 minute composition for world percussion and orchestra; and it is extraordinary - quite possibly the most unique piece of music we've ever heard.
The elaborate gamelan grouping of percussion instruments (which for this show consisted of a pair of Western tuned metallophones, a wooden African xylophone, Balinese bell trees, a variety of gongs including a beautifully sounding set of bronze pot gongs, and so much more) was displayed all across the Meyerson stage, allowing musicians to freely move from instrument to instrument, making the show visually as well as aurally entertaining. The three movements of Copeland's piece are arranged in a fast-slow-fast pattern and seem to guide listeners on a journey to a surreal, exotic, faraway land. It's transcending, reflective, and fascinating. And so varied.
The first movement began really with the silence that preceded it. Conductor Jaap van Zweden stood poised before a silent but ready orchestra. The gentle sound of wooden wind chimes began filtering through the air. Then the very faint, muffled sound of drum beats began to be heard from somewhere way off stage. Anticipation built as the procession drew closer and grew louder until finally the members of D'Drum appeared onstage. Joined then by the orchestra, the sounds of drums, cymbals, strings, and brass elicited a Disney Fantasia-like excitement unlike anything we've garnered from Nat Geo or even any of our favorite GnR "November Rain" type rock music / classical orchestra combinations.
The second movement began in somewhat similar fashion with tranquil but dynamic jungle-like sounds of animals and birds, and then crescendoed into tribal beats mixed with the shrills of flutes and the brass section; but the two highlights for us were the melodic, calming pairing of the rain stick and the cello, and also the very concentrated, intimate sound of Jamal Mohamed's hand softly but determinedly patting the double sided barrel drum.
The third and final movement introduced us to the lesung, an instrument we'd never seen before but would definitely love to hear again. Three members of D'Drum used heavy wooden poles in an alternating, piston-like motion to pound out a rhythm on a hollowed out log. It was jazzy and suspenseful, somewhat warrior-like without being overly aggressive, and captured a sort of James Bond meets Stomp feel.
After Dallas was pelted with a blanket of ice causing the cancellation of the first two scheduled performances of Gamelan D'Drum, three nights' worth of ticket holders consolidated for one evening of what Mark Melson, Vice President of Artistic Operations for the DSO, dubbed "the concert that would not die." Kudos to the Dallas Symphony for accommodating patron ticket exchanges and seating concerns in what appeared to us to be an extremely smooth fashion.
The crowd looked quite pleased all night, whether they were leaning forward in their seats on the upper balconies attempting to take in all that they could from over the rail or as they cheerfully left the green room where Stewart Copeland so graciously made himself available to sign post show autographs and chat with anyone who had been in attendance.
All in all, it was just a really great show.
What's Next?
Stewart Copeland's autobiography, Strange Things Happen: A Life with The Police, Polo, and Pygmies, has recently been published; and stay tuned for more word on his latest work for opera, The Tell-Tale Heart, a retelling of the Edgar Allen Poe short story.
As for the DSO, February features Maestro van Zweden and Love Themes as well as Broadway star Michael Cavanaugh singing the Music of Billy Joel.
For more information about Stewart Copeland, D'Drum, or the Dallas Symphony Orchestra, visit:
Stewart Copeland
http://www.stewartcopeland.net/index.html
D'Drum
http://www.pureddrum.com/index.php
Dallas Symphony Orchestra
Editorial Policy: The Flash List is dedicated to providing trustworthy editorial content by maintaining strict ethical standards, journalistic integrity, and credible professionalism regardless of potential compensation as working media. The Flash List discloses receiving tangible and/or intangible benefits for the purposes of providing media coverage for certain events, venues, products, and/or services.
MORE ON THE FLASH LIST
50 Things to Do
Bored? Well, there's definitely no need to be. Take your pick of these fun things to do.
Entertainment News
The latest breaking news and top stories in arts, dining, culture, movies, music, and sports.
Events Calendar
Not everything in town that you could do, but a list of events that you definitely should consider.
Date Night Ideas
From retro candy stores to luxury car rentals, let us help you impress on your next date night out.
Movies in Theaters
See previews of movies coming soon and trailers for films now playing at local theaters.
Go Gallivanting
Our sister website, The Art of Gallivanting, offers extraordinary adventures for ordinary people.