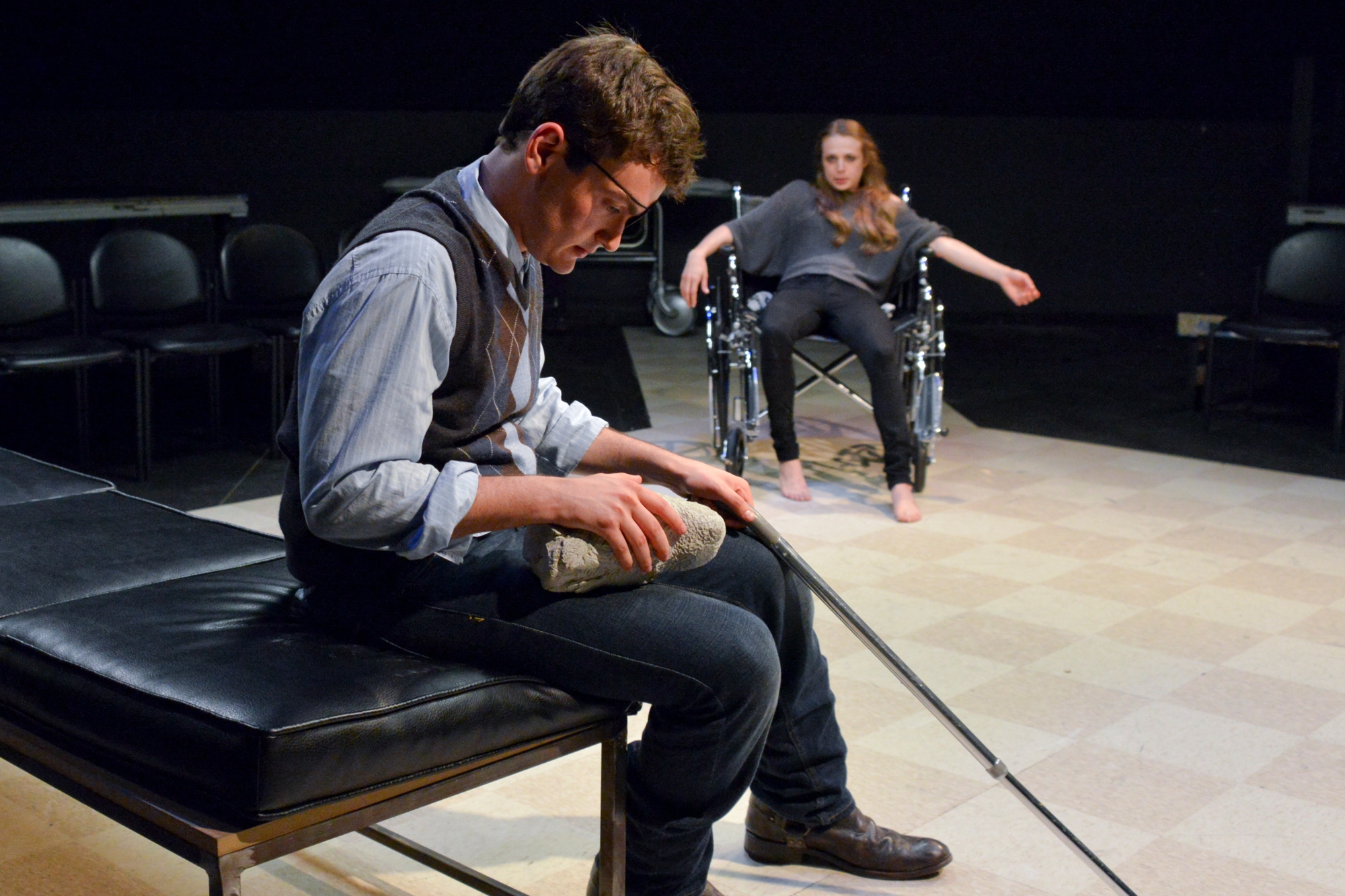 Posted June 14, 2013 | © Photo by Karen Almond
After spending a significant amount of time ourselves sitting in the hospital emergency room looking like a blood-soaked gunshot victim (as the result of a very unfortunate rollerblading accident), it's safe to say that we are all too familiar with gruesome playground injuries.
So when the young woman across the audience last night at Second Thought Theatre expressed her delight in seeing such an insightful presentation of experiences that were so drastically different from her own, we thought "different"? Why, there was hardly an aspect of this play that we couldn't relate to. After all, one friend of ours lost sight in one eye after a fireworks mishap, and another still bears the scars of being struck by lightning ... which, by the way, suddenly brings into question our choices regarding companions; but that's a story for another time.
Rajiv Joseph's contemporary play Gruesome Playground Injuries (directed by Joel Ferrell, Associate Artistic Director of Dallas Theater Center) is a probing examination of the tumultuous relationship between the physically wounded Doug (Montgomery Sutton), whose consistent reckless behavior results in a string of disastrous consequences, and the emotionally scarred Kayleen (Jessica Renee Russell), whose troublesome home life is the catalyst for her sensitive stomach and broken heart.In a series of very humorous yet intensely emotional vignettes, scenes unfold as the two troubled individuals meet in the school nurse's office at age eight and reunite at various intervals of life (ages 13, 18, 23, 28, 33, and 38) in venues such as a hospital room, funeral wake, mental institution, etc.While Kayleen attempts to understand and mend Doug's destructive behavior, she simultaneously spirals down into her own self-inflicted anguish.Reluctantly drawn to the comfort of his distorted predictability however, she is, in many ways, the Jenny to his Forrest Gump.
Jessica Renee Russell is virtually flawless as the tough yet fragile Kayleen with spot-on mannerisms conveying a wide range of sentiments from intensely-focused childlike inquisitiveness to surly teenaged pissed-off-ness to drugged-out glazed-over aloofness.Montgomery Sutton adeptly combines a boyish daredevil style with that of an increasingly protective guardian (particularly in the scene recounting the way he tells off Kayleen's father for his paternal contribution to the wreckage).
Setting their own stage literally and figuratively, the two actors ceremoniously disassemble, rearrange, and reassemble what begins as a heap of furniture (wheelchair, hospital bed, gurney, chairs, and benches) amidst the antiseptic tile floor in this remarkably sterile-but-intimate theater-in-the-round configuration (scenic design by Bob Lavallee, prop design by Drew Wall).Cracked mirrors at each of two dressing tables set at opposing sides of the stage area serve as a metaphor for their damaged selves and are used to display age cues which define plot timelines.The in-view dressing areas also allow audience members to watch the actors as they transform themselves between scenes by changing into age-appropriate attire (costume design by Jennifer Ables), switching to decade-relevant hairstyles, and applying their own makeup including simulations of cuts, gouges, black eyes, razor cuts, etc. (which translate as creatively cosmetic in appearance and not especially gory, thereby enhancing the performance rather than becoming a repulsive distraction from it).
Punctuated by music containing powerfully appropriate lyrics turned up to angst-inciting sound levels (e.g. "Lithium" by Nirvana, "The Fragile" by Nine Inch Nails, "How's It Going to Be" by Third Eye Blind, and more) (sound design by John M. Flores), Second Thought Theatre's production of Gruesome Playground Injuries is touching, oddly realistic, quite believable, and as it turns out ... a compelling observation of evolving answers to the multifaceted question "Does it hurt?"
Gruesome Playground Injuries runs at Second Thought Theatre through June 29.
Editorial Policy: The Flash List is dedicated to providing trustworthy editorial content by maintaining strict ethical standards, journalistic integrity, and credible professionalism regardless of potential compensation as working media. The Flash List discloses receiving tangible and/or intangible benefits for the purposes of providing media coverage for certain events, venues, products, and/or services.
MORE ON THE FLASH LIST
50 Things to Do
Bored? Well, there's definitely no need to be. Take your pick of these fun things to do.
Entertainment News
The latest breaking news and top stories in arts, dining, culture, movies, music, and sports.
Events Calendar
Not everything in town that you could do, but a list of events that you definitely should consider.
Date Night Ideas
From retro candy stores to luxury car rentals, let us help you impress on your next date night out.
Movies in Theaters
See previews of movies coming soon and trailers for films now playing at local theaters.
Go Gallivanting
Our sister website, The Art of Gallivanting, offers extraordinary adventures for ordinary people.