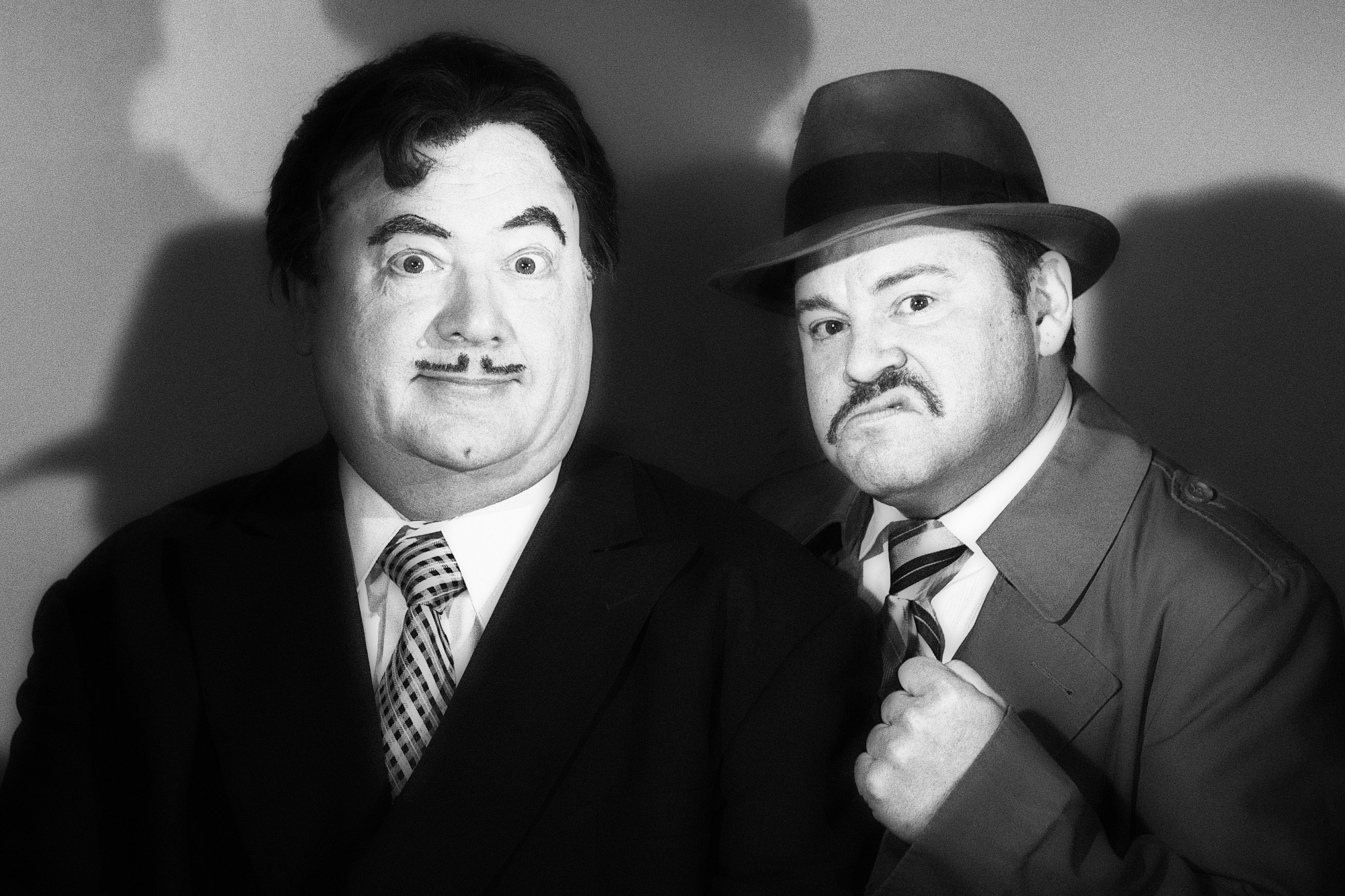 Posted January 3, 2014 | © Photo by Mark Oristano
It takes a good couple of minutes for your eyes (and brain) to adjust to the fact that Detective Lieutenant Foster is not a hologram. There he stands, in front of the curtain, in concentrated spotlight, looking completely two-dimensional. Creating the illusion of a 1930's-40's black and white movie brought to life on stage, Pegasus Theatre presents Rehearsal for Murder in Living Black & White, a uniquely innovative trademarked technique which utilizes trade-secret makeup, clever costuming, stylized acting, strategic lighting, and meticulous totally-grayed-out set design.
In the latest installment of this monochrome series, Lt. Foster (Chad Cline) has inherited a guest inn in the Green Mountains of Vermont. Visitors there include famous writer/director Adrian Garson (Scott Nixon) and a troupe of actors rehearsing for a new Broadway play. But when leading man Allen Simpson falls to his death from Eagle Point, Garson's business partner Edgar Doyle (Francis ""Hank" Henry) scrambles to keep investors happy and determines that the next schmuck to walk through the door will be the actor's unwitting (and quite temporary) replacement. Enter (in Lenny and Squiggy style) bumbling would-be actor turned would-be detective Harry Hunsacker (Kurt Kleinmann) and his straight-man assistant Nigel Grouse (Ben Bryant) who've arrived to get to the bottom of things in this affectionately silly spoof on the classic American whodunit (directed by Michael Serrechia, famed member of Broadway's original Chorus Line cast).
Unassuming bookshelves and mantle levers reveal secret passageways that run throughout the spooky inn, double-meaning situational comedy puts characters in blame-worthy compromising positions, and former theater critic turned nosey reporter Frank Cameron (Ben Schroth) keeps suspense at a premium in this Clue-like guessing game played very near the imaginary intersection where Abbot and Costello might find themselves in a Scooby Doo ghost-chasing adventure.
Does responsibility for the foul play lie in the knife-sharpening hands of the spirit-invoking innkeeper Rebecca Holmes (Terry Mccracken)? Or maybe with the tall, eerie groundskeeper Seth Murdock (Chris Messersmith)? How about the perky yet melodramatic actress Jenny Stewart (Alex Moore)? Or perhaps the sophisticated secret-withholding Alexis Eden (Leslie Patrick)? And who exactly is that dark, mysterious stranger (played by Gordon Fox)?
Correctly guess the culprit by intermission, and your name goes into a drawing to win the first of several prizes offered by Pegasus Theatre. A currently-running raffle also consists of the chance to win an opportunity to appear in your very own autographed and framed Amazing Color Demonstration photo with the full cast of the show, and more.
Arrive early to the Bank of America Theatre at Richardson's Eisemann Center to hear a pre-show vocal performance by Patrick Detloff and Sarah Powell who put audience members in the mood of the era with songs like "I've Got You Under My Skin," "They Can't Take That Away from Me," and the weather-appropriate "Baby, It's Cold Outside." Also be sure to meet the cast in the lobby afterward for a one-of-a-kind photo opportunity (and an extremely surreal experience) that you absolutely won't want to miss.
Rehearsal for Murder runs through Sunday, January 26, 2014 (with a length of 2 hours and 15 minutes including one intermission). For more information, see performance details or visit the Pegasus Theatre website to get tickets now.
Editorial Policy: The Flash List is dedicated to providing trustworthy editorial content by maintaining strict ethical standards, journalistic integrity, and credible professionalism regardless of potential compensation as working media. The Flash List discloses receiving tangible and/or intangible benefits for the purposes of providing media coverage for certain events, venues, products, and/or services.
MORE ON THE FLASH LIST
50 Things to Do
Bored? Well, there's definitely no need to be. Take your pick of these fun things to do.
Entertainment News
The latest breaking news and top stories in arts, dining, culture, movies, music, and sports.
Events Calendar
Not everything in town that you could do, but a list of events that you definitely should consider.
Date Night Ideas
From retro candy stores to luxury car rentals, let us help you impress on your next date night out.
Movies in Theaters
See previews of movies coming soon and trailers for films now playing at local theaters.
Go Gallivanting
Our sister website, The Art of Gallivanting, offers extraordinary adventures for ordinary people.