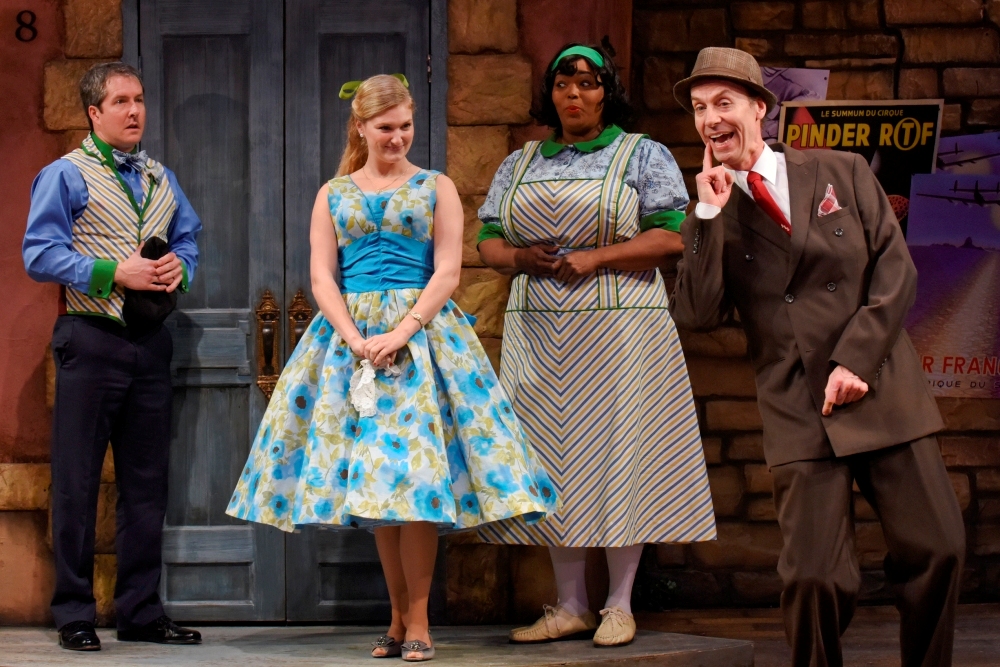 Posted March 2, 2015 | Photo by Karen Almond
Covering a wide spectrum between wedded bliss and marital misfortune, Dallas Theater Center launches its new multi-year Classical Theater initiative with two masterpieces of theatrical literature. Both directed by DTC Artistic Director Kevin Moriarty and currently being performed in repertory at the historic Kalita Humphreys Theater, Euripides' Medea and Moliere's The School for Wives examine "the role of women in society and the cost to everyone in a community when equality and justice are denied."
In the 18th century French farce The School for Wives, Brierley Resident Acting Company Member Chamblee Ferguson hilariously delivers the largest line load of his career as Arnolphe, a wealthy middle-aged man who concocts a foolishly-misguided plan to secure for himself an honorable young wife ... that is to say, a bride who has been protectively sheltered in extreme ignorance apart from the conniving ways of the world which have otherwise led flirtatious loose women to make cuckolds of their helpless husbands. Ferguson's extremely humorous gestures and finely-crafted comedic physicality build to a grand crescendo as Arnolphe's amorous intentions continue to go increasingly awry. SMU's Morgan Lauris perfectly cast as the sweetly naive Agn's who innocently falls in love with a handsome young suitor Horace (Daniel Duque-Estrada), both blissfully unaware of Arnolphe's surreptitious advances.
Among the multi-faceted characters in this play (which is written entirely in rhyming iambic pentameter verse translated into English by two-time Pulitzer Prize winning poet Richard Wilbur) are Brierley Resident Acting Company members Kieran Connolly (as Arnolphe's pragmatic friend Chrysalde) and Liz Mikel (who plays the silly maidservant Georgette in The School for Wives and also the concerned Nurse in Medea) along with additional cast members Chris Hury (as the doltish manservant Alain in The School for Wives), Dennis Raveneau (as Oronte and the Notary in The School for Wives and the Tutor in Medea) and more.
Simultaneously running in the Kalita's Down Center Stage basement performance space (which is being used for the first time in more than 30 years), Medea plunges viewers into the midst of a dreadful domestic dispute designed to be a shocking catalyst for meaningful public dialogue. First produced in 431 BC, this ancient Greek tragedy centers around the myth of Medea (Brierley Resident Acting Company Member Sally Nystuen Vahle), a sorceress and princess who flees her country for the love of the adventurer Jason (Chris Hury) who eventually abandons her in order to marry the beautiful young daughter of Creon, King of Corinth (Kieran Connolly). In this deeply distressing (yet extremely well-acted) plotline, Medea becomes severely distraught from the grief of betrayal and exacts her hostile vengeance by brutally taking the lives of those near Jason including their two young sons (Reed Emmons and Skyler Thomas) before she escapes to Athens to live under the protection of her old friend Aegeus (Chamblee Ferguson).
Both shows run at Dallas Theater Center through Sunday, March 29, 2015 with tickets starting at just $18. Feel free to take part in Dallas Theater Center's Come Early program, an informative 30-minute lecture that will be offered at no cost before every performance of every play at DTC. Beginning one hour before each show in the Wells Fargo Come Early Lounge, you can hear a member of the cast or artistic staff share the play's origin and context as well as insights into the creative process behind the production.
You may also want to stay late afterward for the free, brief, post-show conversation with a cast member (sponsored by Dr Pepper Snapple Group) where you can interact with the artists and hear dialogue about various interpretations from other audience members. With the DTC Stage Pass, you can attend as many Dallas Theater Center performances as you'd like for just $25 per month. Just show up to the theater up to an hour and a half before show time and get the best available ticket for that performance.
For more information, see event details for Medea and The School for Wives.
MORE ON THE FLASH LIST
50 Things to Do
Bored? Well, there's definitely no need to be. Take your pick of these fun things to do.
Entertainment News
The latest breaking news and top stories in arts, dining, culture, movies, music, and sports.
Events Calendar
Not everything in town that you could do, but a list of events that you definitely should consider.
Date Night Ideas
From retro candy stores to luxury car rentals, let us help you impress on your next date night out.
Movies in Theaters
See previews of movies coming soon and trailers for films now playing at local theaters.
Go Gallivanting
Our sister website, The Art of Gallivanting, offers extraordinary adventures for ordinary people.