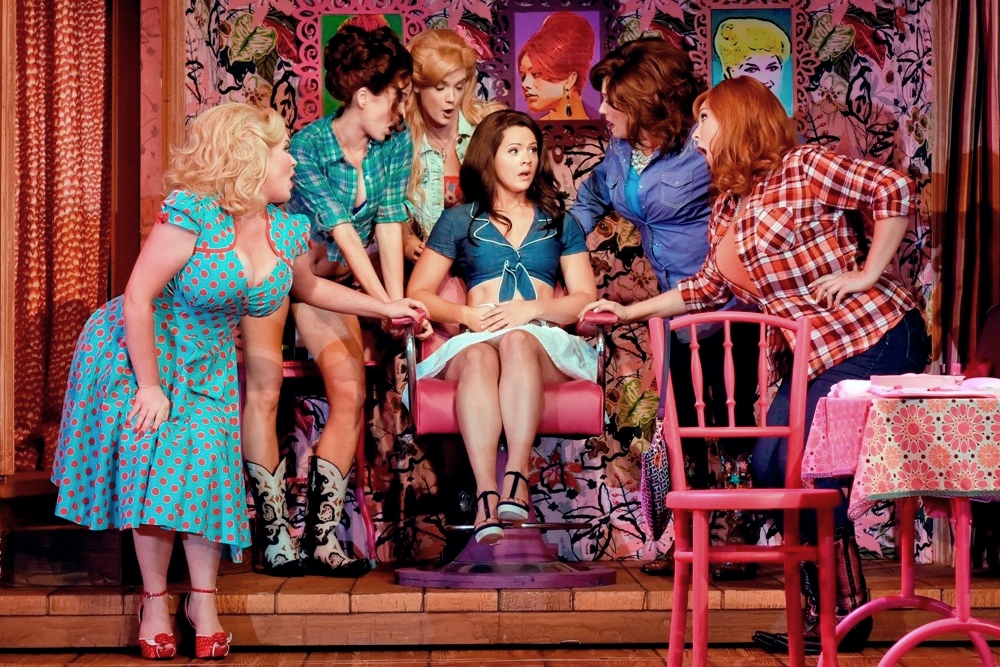 Posted 9/3/16 | © Photo courtesy of Dallas Theater Center
You know that a show's jokes are resonating with audiences when the actors on stage have to hold their ensuing lines until the knee-slappin' laughter subsides. You know that a score's meticulously-arranged music is striking a chord with listeners when rounds of enthusiastic applause occur after every single song. And you know that the ultimate success of a well-crafted production is imminently plausible when the whole crowd erupts into a big ol' hootenanny at curtain call.
The world premiere of Moonshine: That Hee Haw Musical is all at once simple and sophisticated, facetious yet honest, and respectfully illuminative of the cultural values that are still deeply entrenched in today's Southern way of life. Now running at Dallas Theater Center, this brand-new musical directed by Gary Griffin features a fully-original book by Robert Horn inspired by the long-running television series hosted by Buck Owens and Roy Clark. Radio-worthy tunes by Grammy-nominated singer/songwriter Brandy Clark and Grammy-winning songwriter/producer Shane McAnally are intertwined with so many cleverly-corny, double-entendre word-play jokes that a good portion of the hijinks had to be cut just to keep the endearing storyline moving along smoothly.
The utterly delightful Rose Hemingway (from the Tony Award-nominated How to Succeed in Business Without Really Trying) is pleasant like the afternoon sun on a real nice day as the sweetly innocent Misty Mae who trades her roots for wings by leaving her small dwindling-horse town in present-day Kornfield Kounty with the hopes of finding a new life in the big city of Tampa. Broadway actor and recording artist Justin Guarini of American Idol fame plays her sly suitor Gordy who tries to swindle Misty Mae out of an uncovered fortune in mineral rights. But when his beautifully-exaggerated spur-of-the-moment vocal serenades begin to elicit a lyric-infused starry-eyed euphoria while disco-ball sprays of rainbow-colored light are glittered across the theater floor, it becomes increasingly hard to remember that he's the bad guy.
Ryah Nixon is sheer perfection as Misty Mae's well-endowed gun-totin' cousin Lulu who peddles her jugs (of moonshine, that is) to the local menfolk while simultaneously hoping to settle down with a sensitive soul. When Misty Mae returns to the tightly-knit community with her highfalutin new beau in tow, Lulu teams up to protect the honor of Misty Mae's now-rekindled childhood love interest Bucky Jr., adeptly played by actor Ken Clark who could just as easily double as a guitar-slingin' country music heartthrob. Bucky Jr.'s brother, Jr. Jr., is hilariously portrayed by veteran Broadway actor Kevin Cahoon, whose poetic rapping and witty punch lines kept the audience in stitches all evening long and whose good friend Jesse Tyler Ferguson from Modern Family was among close pals attending on opening night to watch him perform.
This knock-out cast of particularly notable talent also includes P. J. Benjamin, who played the Wizard in Wicked for 13 years on Broadway, as Grandpa; Aaron Ramey and Rob Morrison as superb mountaineer musical narrators; and canine thespians Pete and Lilly as Beauregard the bloodhound. Intermittently popping up from behind the iconic cornrow is a boot-scootin' ensemble of plaid-clad kinfolk consisting of DTC alums John Campione and Julie Johnson along with Mackenzie Bell, Travis Kirk Coombs, Kate McMillan, Harris Milgrim, Adam Perry, and Jonalyn Saxer.
We reckon Dallas Theater Center is fixin' to catch themselves a little lightnin' in a bottle; so get your seats now for Moonshine: That Hee Haw Musical which runs through Sunday, October 11, 2015 with tickets starting at just $18. Be advised, though, that in addition to what just might be the beginnings of a whole new genre of musical entertainment, this show does contain sexual humor, social satire, and mild language.
After all, this ain't yer mama's Broadway score.
Feel free to take part in Dallas Theater Center's Come Early program, an informative 30-minute lecture that will be offered at no cost before every performance of every play at DTC. Beginning one hour before each show in the Wells Fargo Come Early Lounge, you can hear a member of the cast or artistic staff share the play's origin and context as well as insights into the creative process behind the production.
You may also want to stay late afterward for the free, brief, post-show conversation with a cast member (sponsored by Dr Pepper Snapple Group) where you can interact with the artists and hear dialogue about various interpretations from other audience members. With the DTC Stage Pass, you can attend as many Dallas Theater Center performances as you'd like for just $25 per month. Just show up to the theater up to an hour and a half before show time and get the best available ticket for that performance.
See additional information below or visit:
MORE ON THE FLASH LIST
50 Things to Do
Bored? Well, there's definitely no need to be. Take your pick of these fun things to do.
Entertainment News
The latest breaking news and top stories in arts, dining, culture, movies, music, and sports.
Events Calendar
Not everything in town that you could do, but a list of events that you definitely should consider.
Date Night Ideas
From retro candy stores to luxury car rentals, let us help you impress on your next date night out.
Movies in Theaters
See previews of movies coming soon and trailers for films now playing at local theaters.
Go Gallivanting
Our sister website, The Art of Gallivanting, offers extraordinary adventures for ordinary people.