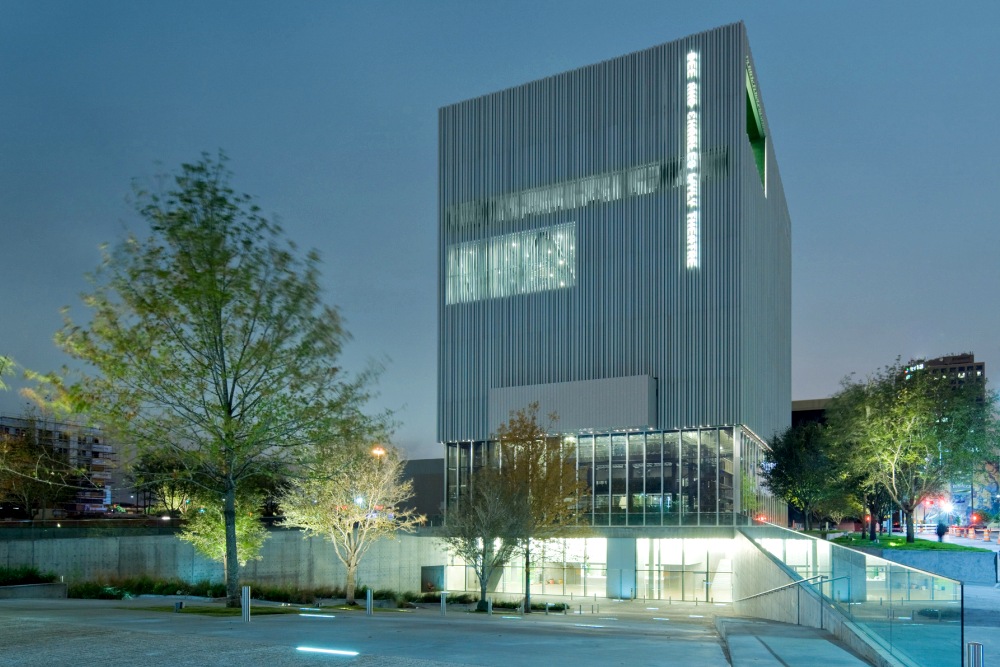 Posted March 16, 2014 | Photo by Iwan Baan
Following the success of the epic saga Giant which took a lil' bit of Texas to New York, Dallas Theater Center has once again collaborated with The Public Theater to now bring a part of New York City to Dallas. The world premiere of the brand new musical The Fortress of Solitude (a reference to Superman's secret headquarters) introduces a coming-of-age story about two motherless boys who discover superpowers and bond over comic books, LPs, and graffiti. It's a fresh yet sentimental musical walk down memory lane featuring reimagined songs of the '70's, '80's, and '90's; it's a journey through love and loss, hope and despair, unity and division ... and, in one way or another, it's a story specifically relevant to each of us.
Based on the nationally best-selling, semi-autobiographical novel of the same name by 2005 MacArthur Fellow Jonathan Lethem, The Fortress of Solitude recounts the history of teenaged friends Dylan Ebdus (Broadway's Adam Chanler-Berat), one of only three white kids on his 1970's Brooklyn block, and his biracial neighbor Mingus Rude (Broadway's Kyle Beltran). The introverted Dylan is encouraged by an occasional postcard from the mother who abandoned him (local musical theater star Patty Breckenridge) and does his best to cope with his emotionally-distant, avant-garde artist father Abraham Ebdus (DTC Brierley Resident Acting Company member Alex Organ). Conversely, the young Mingus toughens under the shadow of his drug-numbed single father Barrett Rude, Jr. who lounges robe-clad reminiscing about his glory days as the lead singer of a moderately successful soul group called Subtle Distinctions (a role played with fierce emotion by Broadway actor Kevin Mambo).
The neighborhood scene never really changes. Literally, in the sense that the modest set stays constant throughout the entire play despite the ever-changing lives of those who move about within it (scenic design by legendary three-time Tony Award-winning set designer Eugene Lee); and figuratively, in that the story is primarily set on Dean Street where inhabitants (who move on, but not out) include the chess-playing, self-loathing, nerdy and neurotic Arthur who yells at his mom Howard Wolowitz-style (Etai BenShlomo from the Broadway production of Wicked); the Vin Diesel-ish neighborhood bully Robert (Nick Christopher from the Broadway production Motown); and others like Lala and Marilla, the hand-clap gaming, Double Dutch jumping, nosey Tootie and Natalie of the bunch (Broadway actress Carla Duren and local actress Traci Lee respectively). Then arrives Mingus' recently-paroled ex-preacher grandfather Reverend Barrett Rude Sr. (Emmy Award-winning and Tony Award-nominated actor AndrDe Shields who has appeared in countless Broadway productions including The Wiz, Ain't Misbehavin', and The Full Monty). Before his character becomes the catalyst for a great unfortunate change in the neighborhood, De Shields momentarily brings the entire show to a completely enthralling, utterly captivating halt with his powerfully-commanding voice because, oh boy, the man can hold a note!! And we mean an incredibly sustained, full-on, gospel-church-show-choir no-ooohh-aaahh-ooohh-ote!
Under the direction of Daniel Aukin, the award-winning cast and creative team valiantly bring to light the strengths and weaknesses of diligently-crafted characters while understated costumes (by Jessica Pabst) prove perfectly nostalgic and intricate lighting (designed by Tyler Micoleau) provides a virtual ballet of illumination that punctuates each scene with particular poignancy. Spanning generations, musical genres, and cultural boundaries, this intriguing production serves up soulful harmonies and music that's finger snappin' good. Via a live band positioned above the stage and song styles that progress as the years advance, audiences will hear echoes of Motown, folk, R&B, funk, and hip hop as well as rap, and can expect to walk away humming infectiously catchy and soul-stirring tunes such as "Superman," "You Gotta Grab Something," "Bothered Blue," "Who's Calling Me," and more. (Hear clips).
After this Dallas debut, the coproduced show will continue on to Manhattan later this year for The Public Theater's 2014-2015 season. And barring any catastrophic diversions, it is quite expected that the show will go to New York, it will be successful, and it will change lives.
Don't miss your opportunity to experience The Fortress of Solitude now as it runs at Dallas Theater Center through Sunday, April 6, 2014. Note that the show contains adult themes and language and is recommended for ages 14 and above. Feel free to take part in Dallas Theater Center's Come Early program, an informative 30-minute lecture that will be offered at no cost before every performance of every play at DTC. Beginning one hour before each show in the Wells Fargo Come Early Lounge, you can hear a member of the cast or artistic staff share the play's origin and context as well as insights into the creative process behind the production. You may also want to stay late afterward for the free, brief, post-show conversation with a cast member (sponsored by Dr Pepper Snapple Group) where you can interact with the artists and hear dialogue about various interpretations from other audience members. With the DTC Stage Pass, you can attend as many Dallas Theater Center performances as you'd like for just $25 per month. Just show up to the theater up to an hour and a half before show time and get the best available ticket for that performance.
MORE ON THE FLASH LIST
50 Things to Do
Bored? Well, there's definitely no need to be. Take your pick of these fun things to do.
Entertainment News
The latest breaking news and top stories in arts, dining, culture, movies, music, and sports.
Events Calendar
Not everything in town that you could do, but a list of events that you definitely should consider.
Date Night Ideas
From retro candy stores to luxury car rentals, let us help you impress on your next date night out.
Movies in Theaters
See previews of movies coming soon and trailers for films now playing at local theaters.
Go Gallivanting
Our sister website, The Art of Gallivanting, offers extraordinary adventures for ordinary people.