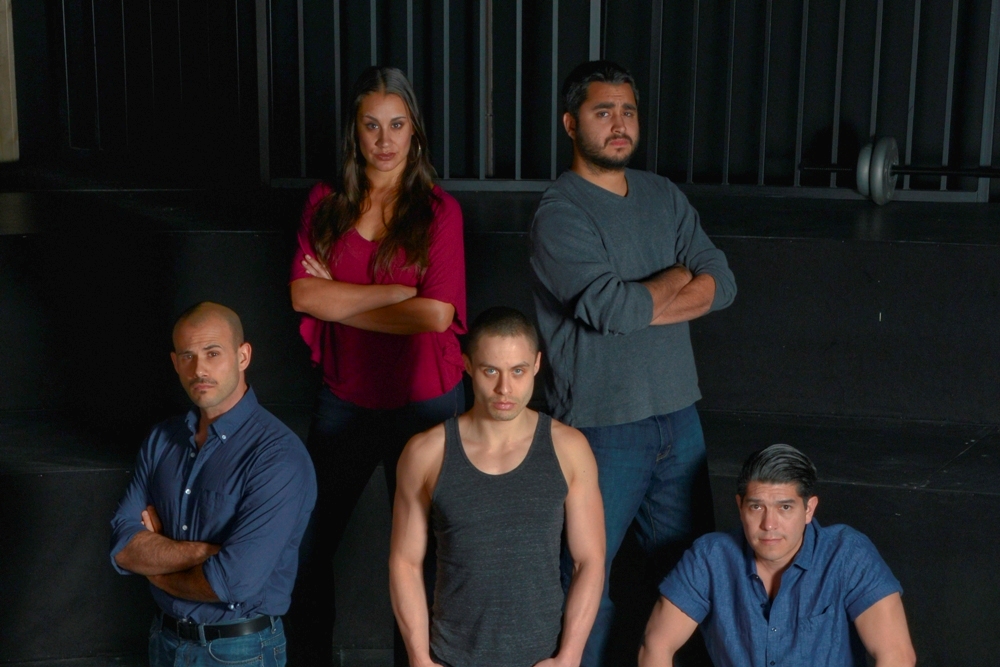 Posted January 25, 2014 | Photo by Karen Almond
Go to jail. Go directly to jail. Do not pass go. Do not collect $200 ...
Well, not until the sentence-ending time of release anyway when you'll slip on a new pair of state-issued tennis shoes and be expected to find yourself someplace else to live. In the meantime, you'll have an ample opportunity to reflect on the meaning of life and how we all travel through it. So kick back, try to relax, and just go along for the ride; but do keep in mind, it's probably not going to be an entirely comfortable journey.
For this intensely intimate performing arts experience depicting brutal life in a violent barrio and the ineffectual nature of the American prison system, the Wyly's sixth-floor studio theater is transformed into an intentionally over-tight, slightly anxiety-inducing, small arena configuration with only several square feet of acting space on the floor below and a few stairs that lead up to a perimeter catwalk of sorts ... with the audience confined in between (set design by Matthew McKinney). Inside this bare-bones simulation of California's North Kern State Prison, you will walk in a single-file line; you will be told where to sit; you will smell real cigarette smoke; and if you leave the theater for any reason whatsoever, you will not be allowed to return. With a very limited number of seats per show, you will be extremely close to the action; and if you sit on the very front rows, you might have to wash a small splattering of stage blood off your clothes. This raw, edgy production is equally as spellbinding whether you're fully familiar with the ancient Greek tragedy by Sophocles or are solely experiencing Luis Alfaro's riveting modern adaptation which thoroughly examines the issue of recidivism, the tendency to habitually relapse into criminal behavior.
Abandoned at birth by his evil-omen-fearing parents, Oedipus (Philippe Bowgen) is a young Chicano male who's spent most of his formative years in juvenile detention centers and now finds himself incarcerated yet again. This time however he is joined by a paternal force, the blind Tiresias (Rodney Garza), his father's former assistant who declares to have gotten himself locked up with the purpose of taking care of Oedipus and ushering him toward a better way of life. Despite Tiresiasstern warnings against heading back to the vicious Los Angeles barrios and his prompting to find honest work on a buffet line in Las Vegas, Oedipus has lofty aspirations of being in charge of his own fortune and destiny. Once on the outside, Oedipus finds himself in a violent confrontation with Laius (David Lugo) and consequently kills the vicious gangland kingpin in a struggle that ensues. Afterward, Oedipus reconnects with former fellow inmate Creon (Brierly Resident Acting Company member Daniel-Duque-Estrada) and falls in love with Creon's sister Jocasta (Sabina Zuniga Varela) whom Oedipus later realizes is his mother.
The all-Latino cast performs not only each character role (with Ruben Carrazana, Steve Torres, etc. in multiple roles), but the acting team also performs all necessary technical work as well including sound and lighting.There is no behind-the-scenes team and no curtain. When scenes change, it is simply announced; when music is necessary, the chorus sings; when Zuniga Varela and Bowgen disrobe and re-dress, it is in plain sight.
Get tickets now to experience this extremely unique and thought-provoking production grappling with fate versus free will. Oedipus el Rey runs at Dallas Theater Center through Sunday, March 2, 2014. Seating for each performance is extremely limited and many shows are already sold out. Run time is approximately ninety minutes with no intermission.
Note: Please do heed all viewer discretion advisories; this fascinating albeit graphic depiction contains mature themes, adult language, violence, extended full nudity, and cigarette smoke.
Feel free to take part in Dallas Theater Center's Come Early program, an informative 30-minute lecture that will be offered at no cost before every performance of every play at DTC. Beginning one hour before each show in the Wells Fargo Come Early Lounge, you can hear a member of the cast or artistic staff share the play's origin and context as well as insight into the creative process behind the production. You may also want to stay late afterward for the free, brief, post-show conversation with a cast member (sponsored by Dr Pepper Snapple Group) where you can interact with the artists and hear dialogue about various interpretations from other audience members.
With the new DTC Stage Pass, you can attend as many Dallas Theater Center performances as you'd like for just $25 per month. Just show up to the theater up to an hour and a half before show time and get the best available ticket for that performance.
MORE ON THE FLASH LIST
50 Things to Do
Bored? Well, there's definitely no need to be. Take your pick of these fun things to do.
Entertainment News
The latest breaking news and top stories in arts, dining, culture, movies, music, and sports.
Events Calendar
Not everything in town that you could do, but a list of events that you definitely should consider.
Date Night Ideas
From retro candy stores to luxury car rentals, let us help you impress on your next date night out.
Movies in Theaters
See previews of movies coming soon and trailers for films now playing at local theaters.
Go Gallivanting
Our sister website, The Art of Gallivanting, offers extraordinary adventures for ordinary people.