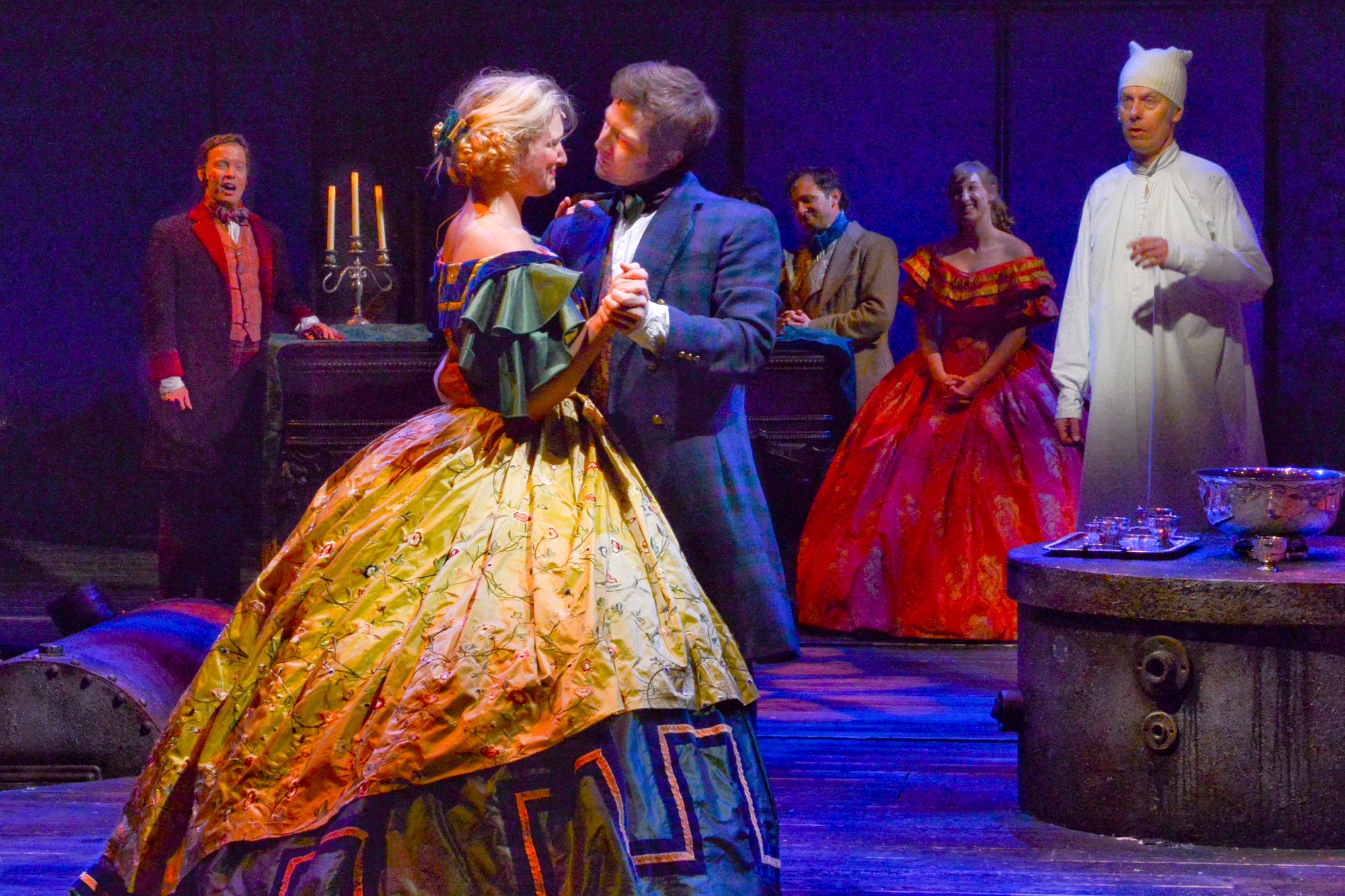 Posted December 3, 2014 | Photo by Karen Almond
We've seen it from afar in the lives of Ebenezer Scrooge in A Christmas Carol and George Bailey from It's a Wonderful Life ... a troubled man watches his life play out before his eyes in a dramatic 'what-might-have-been' fashion. But now, in a powerfully immersive experience at Dallas Theater Center, you too can encounter the spirit hosts of the Christmas season as if you were standing right alongside the characters throughout their epiphanous journey toward benevolence.
The times, they are a-changin'; and DTC's revamped production of this holiday classic melds the old with the new in a freshly relevant yet distinctly traditional way. Surrounded by the action, audience members are plopped right down into an industrialized factory space where soot-smudged children and over-toiled adults work the machinery to the point of becoming mechanical themselves. The miserly Scrooge (Chamblee Ferguson) defiantly towers above them on a huge platform that rises to the height of the lower balcony level and then later descends to become the canopy bed from which the Ghost of Christmas Past (Sabina Zuniga Varela) surprisingly springs forth.
Juxtaposed to all the heavy metal however, are the earthy-soft underpinnings of hope, charity, and redemption along with several stirring a cappella vocal performances and soothing live acoustic music which is sprinkled throughout the production like the snowflakes that intermittently fall through the air. Lending a bit of a Once feel, "fellow travelers in this life" appear from all corners of the theater playing a variety of instruments like guitar, accordion, drum, banjo, and even piano. An endearing little parade of kids on kazoos easily elicits a string of "aww"s from audience members.
The robust Mr. and Mrs. Fezziwig (John Flores and Julie Johnson) are adorably jolly in one of the fantastically festive song-and-dance party scenes, while the chained Jacob Marley (Cameron Cobb) is especially frightful after being lifted from the afterlife far below. The conventional roles of meager employee Bob Cratchit (Daniel Duque-Estrada) and gracious nephew Fred (Seth Magill) are relatively understated when set against the sudden appearance of The Ghost of Christmas Present (nine-year-old Salma Salinas) who flies onto the scene overhead, flips in midair, and delivers her introductory lines while floating upside down.
This enjoyable theatrical holiday treat runs through December 27, 2014 at the Wyly Theatre with tickets starting at just $18. Feel free to take part in Dallas Theater Center's Come Early program, an informative 30-minute lecture that will be offered at no cost before every performance of every play at DTC. Beginning one hour before each show in the Wells Fargo Come Early Lounge, you can hear a member of the cast or artistic staff share the play's origin and context as well as insights into the creative process behind the production
You may also want to stay late afterward for the free, brief, post-show conversation with a cast member (sponsored by Dr Pepper Snapple Group) where you can interact with the artists and hear dialogue about various interpretations from other audience members. With the DTC Stage Pass, you can attend as many Dallas Theater Center performances as you'd like for just $25 per month. Just show up to the theater up to an hour and a half before show time and get the best available ticket for that performance.
For the seventh consecutive year, DTC is partnering this month with the North Texas Food Bank, providing theatergoers with an opportunity at each show to drop off canned goods and/or make a monetary donation for those in need.
For more information, see event details for A Christmas Carol.
Editorial Policy: The Flash List is dedicated to providing trustworthy editorial content by maintaining strict ethical standards, journalistic integrity, and credible professionalism regardless of potential compensation as working media. The Flash List discloses receiving tangible and/or intangible benefits for the purposes of providing media coverage for certain events, venues, products, and/or services.
MORE ON THE FLASH LIST
50 Things to Do
Bored? Well, there's definitely no need to be. Take your pick of these fun things to do.
Entertainment News
The latest breaking news and top stories in arts, dining, culture, movies, music, and sports.
Events Calendar
Not everything in town that you could do, but a list of events that you definitely should consider.
Date Night Ideas
From retro candy stores to luxury car rentals, let us help you impress on your next date night out.
Movies in Theaters
See previews of movies coming soon and trailers for films now playing at local theaters.
Go Gallivanting
Our sister website, The Art of Gallivanting, offers extraordinary adventures for ordinary people.