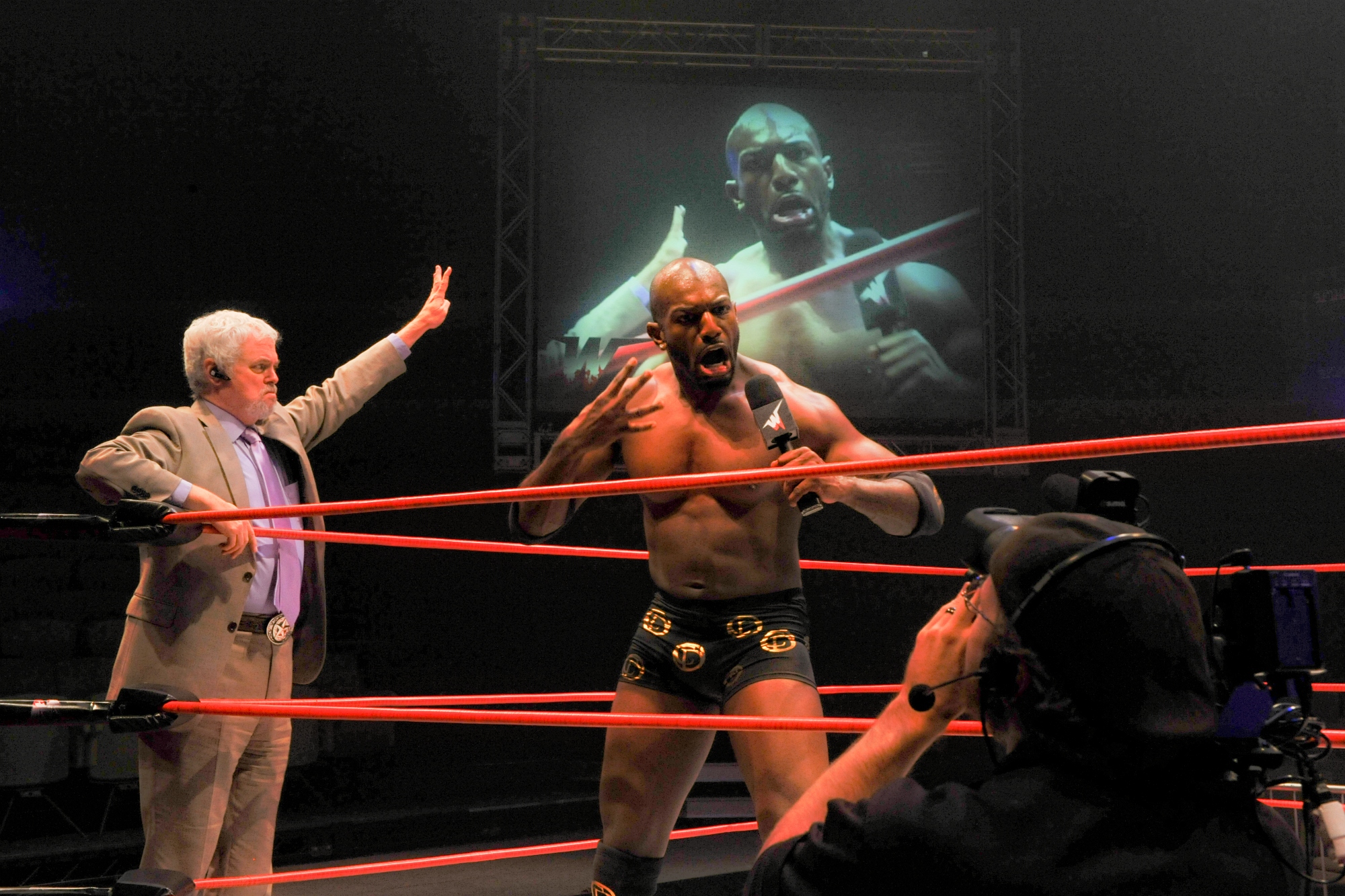 Posted October 29, 2012 | Photo by Karen Almond
Hailing from his luxurious penthouse loft, weighing in with a Dallas Cowboys cheerleader on each arm, and confidently making his way out of the limo and into your heart, it's The Elaaaaaborate Entrance of Chaaaaad Deity!!
"Ooooh ... aaaahhh."
He's cocky; he's charismatic. He wears white fur (and not much else), sports a winning smile, speaks about himself in third person, and 'makes it rain' by throwing handfuls of bills over his audiences like he's "Million Dollar Man" Ted DiBiase. He's the one, the only, the wildly adored wrestling superstar "Chad Deity" (portrayed by Corey Jones).But despite his attractive physique, ostentatious bling, and extravagant displays of affluence ... well, Chad lacks substance and he's a bad wrestler.So in order to stay on top, Chad needs someone to help him look good.He needs a heel.
Which brings us to Wrestling Lesson #1: "You can't kick a guy's ass without the help of the guy whose ass you're kicking."
Enter Macedonio Guerra, a.k.a. "The Mace" (brilliantly played by talented Brooklyn-based actor and self-proclaimed "amateur hooligan" Alex Hernandez). The Mace is a "jobber to the stars" of sorts with a task to be "evil and nefarious" ... and to lose.He soon recruits Vignesh Paduar (Aly Mawji), a scrappy little basketball-playing, hip-hop ladies' man from Brooklyn ("whuaat?") by way of Mumbai, India.Mace's boss, promoter Everett K. Olson (Kieran "Michael" Connolly), quickly transforms V.P. into "The Fundamentalist" complete with a bedazzled military uniform, turban, scraggily beard, and a string of anti-American insults sure to stir up nationalistic fear and bait the "capitalist pigs."Knowing that "they'll hate us" is one of the best things one can hear in the world of professional wrestling entertainment, the tactless E.K.O. creates outlandish villainous characters by strategically exploiting racial and ethnic stereotypes and is seemingly oblivious to the ridiculous levels of his offensiveness.
This unique theatrical experience (which should be distinctly clarified as being primarily a play about wrestling) utilizes slow-mo playback video and trash-talking promos on four large screens along with a storyline that cleverly incorporates easy-to-follow explanations throughout as well as a cast of extremely irreverent but highly comical 'good vs. evil' characters. The menacing "Che Chavez Castro," donned in striped Mexican serape and sombrero (Clint Ramos, Costume Designer), is juxtaposed with the patriotic hero "Old Glory" draped in a star-emblazoned red-white-blue cape and also "Billy Heartland," a cowboy hat and fringed vest wearing 'pretty boy' who whipped out a couple of Chippendales dance moves right in the lap of a lady on the front row (both noble contenders played by real-life wrestler and fight choreographer Jamin Olivencia).
One pair of seating risers separate repeatedly (audience in tow) for a light/sound/fog spectacle as these over-the-top actor/athletes ultimately make their way to the wrestling arena located in the smack-dab center of the Wyly's theater-in-the-round configuration (Takeshi Kata, Scenic Designer).The crowd interacts with loud cheers and boos during the few quick-but-exciting high-action bouts (Christian Litke, Fight Director) that take place solely in the second act.
Through satirical (but not entirely exaggerated) scenarios, a sensitive nerve is struck as we begin to question whether all that glitters is really gold (both in and out of the ring).As a thought-provoking allegory for socio-political struggle and class warfare, this play doesn't just examine a misguided cultural convention ... rather, like two eight-year-old boys who've found a dead grasshopper at the far edge of the playground, The Elaborate Entrance of Chad Deity pokes it with a stick, breaks it apart, and surveys the very guts of the creature.Playwright Kristoffer Diaz (a finalist for the 2010 Pulitzer Prize for Drama for this work) adeptly exposes the cult of personality found not only in the pre-determined world of wrestling, but also hidden within the "profound expression of the ideals of this nation."And it drops us like a powerbomb, 'cause we know he's right.We've always known.
The Elaborate Entrance of Chad Deity (directed by Jaime Castaneda) makes its regional premiere at the Wyly Theatre now through Sunday, November 11; and you do not have to be a wrestling fan by any means to enjoy this thrilling production that, as stated by Dallas Theater Center Artistic Director Kevin Moriarty, "provokes and entertains us at the same time."
Information
DTC is one of the leading regional theaters in the country, produces classic as well as contemporary plays, and performs for over 90,000 North Texans annually.
FlashPoints Reviews
Reviews of currently running and/or previous Dallas Theater Center productions performed at the Wyly Theatre in the AT&T Performing Arts Center.
Special Offers
Special offers from Dallas Theater Center. See world-class live theater for as little as a penny and join free informative talks before and after performances.
Editorial Policy: The Flash List is dedicated to providing trustworthy editorial content by maintaining strict ethical standards, journalistic integrity, and credible professionalism regardless of potential compensation as working media. The Flash List discloses receiving tangible and/or intangible benefits for the purposes of providing media coverage for certain events, venues, products, and/or services.
MORE ON THE FLASH LIST
50 Things to Do
Bored? Well, there's definitely no need to be. Take your pick of these fun things to do.
Entertainment News
The latest breaking news and top stories in arts, dining, culture, movies, music, and sports.
Events Calendar
Not everything in town that you could do, but a list of events that you definitely should consider.
Date Night Ideas
From retro candy stores to luxury car rentals, let us help you impress on your next date night out.
Movies in Theaters
See previews of movies coming soon and trailers for films now playing at local theaters.
Go Gallivanting
Our sister website, The Art of Gallivanting, offers extraordinary adventures for ordinary people.