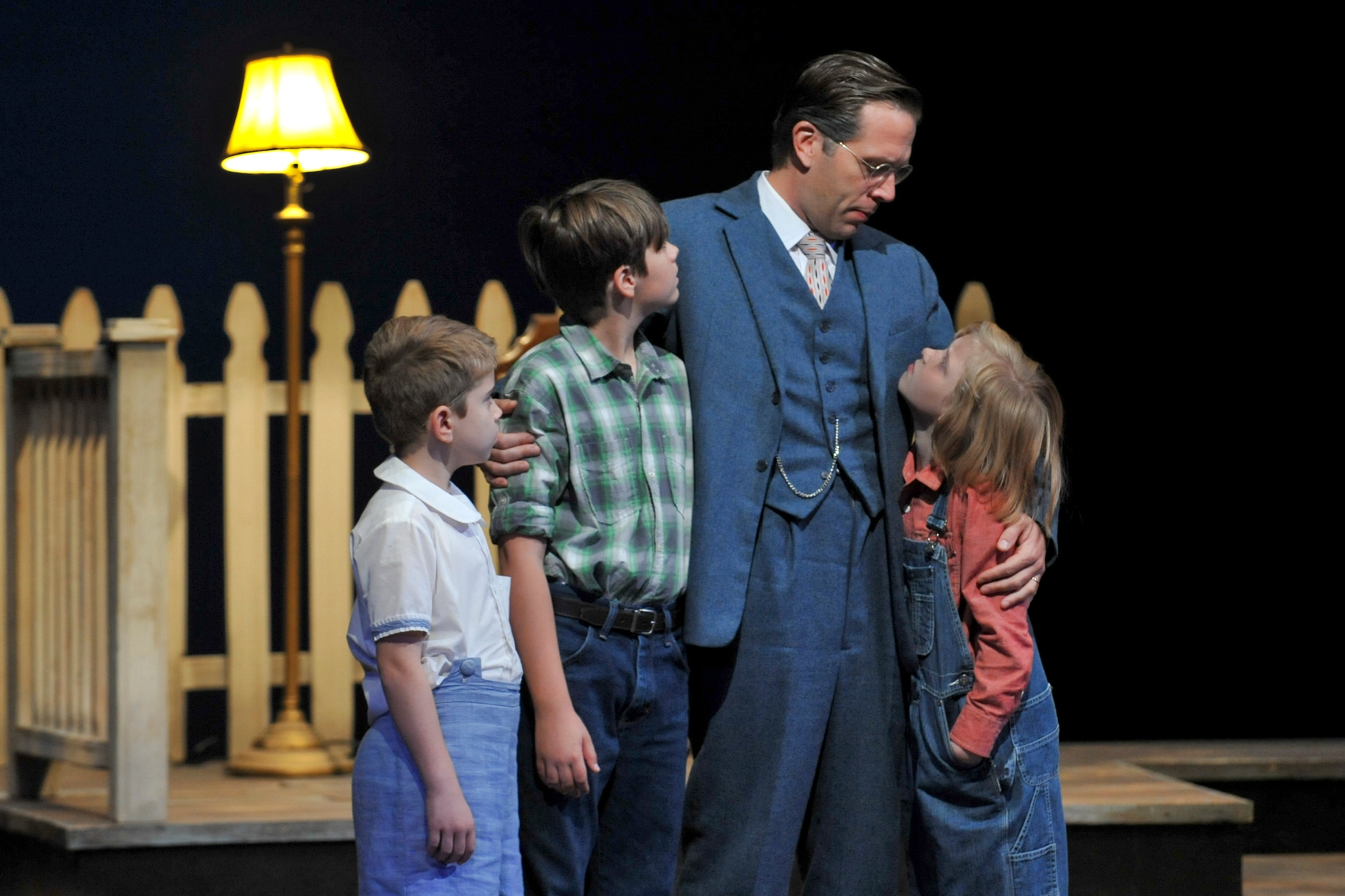 Posted October 28, 2011 | Photo by Karen Almond
"You feel all right, girl?"
"I feel old" replies the emotionally weary Scout Finch, played by 11-year-old Morgan Richards.
Aptly spoken, Richards herself might just as well have felt like a grown up after a commendable opening night performance in such a substantial role as this famous character adapted from the Pulitzer Prize winning novel by Harper Lee about a young girl's discovery of injustice and racism in her "tired old town" of Maycomb, Alabama.
Sweet and somewhat Dakota Fanning-like in style (and with that on-the-button, thick-as-molasses southern accent spoken for this role, a possible Joy Hickey in the making), Richards took a mostly adult audience through an unfolding journey of social consciousness with the ease of a pro.
Richards is joined on stage by David Allen Norton (playing Scout's brother Jem) and the young, sandal footed Aidan Langford (portraying their visiting friend Dill). The three kids move about as a cohesive pack, cool as a summer breeze, each displaying his own individual merits; and despite a comment or two about voice/sound constaints, the lobby buzzed with praise for all three of them after the show.
Drama Desk Award winner Jeremy Webb plays Scout's widowed attorney father Atticus Finch who is appointed by the court to defend Tom Robinson (Akron Watson), a black man who has been accused of raping a young white woman, Mayella Ewell (Anastasia Munoz). While Webb offers a round, compassionate Atticus with the subtle nuances of rich, reserved charisma, it's Munoz as the victim/accuser and Watson as defendant that help him bring the action to its peak. Munoz pours herself into the court scenes in which this awkward, disconcerting daughter of town drunk Bob Ewell (James Dybas) falsely testifies, after which Watson delivers the anxiety, weighty nervousness, and belabored speech of an honest man dishonestly blamed. Coupled with the conflict of a lawyer who is certain he's lost his case before he begins, spectators are left with a discomfort and stern reminder that life doesn't always progress in a tidy manner.
Emotionally stabalizing forces however come by way of neighbor Miss Maudie (Brierley Resident Acting Company member Sally Nystuen Vahle who is also the dialect coach for this production) as the audience is easily drawn into her series of short, narrating monologues which provide a sense of understanding and nurturing. Likewise, town sheriff Heck Tate (Brierley Resident Acting Company member Matthew Gray) is played with the steady protective reassurance that you expect.
Other notable performances included those of Calpurnia (M. Denise Lee), the children's colored caretaker, who despite being poised and proud will "skin every one of [them] alive" should they get too far out of line; as well as the humorously cranky, off-puttingly prejudiced, elderly Mrs. Dubose (Pam Dougherty); Reverend Sykes (accomplished actor Akin Babatunde); and Boo Radley (Van Quattro), the town recluse of whom the three children are terrified until he finally makes his 'gentle giant' appearance in the end.
"People generally see what they look for, and hear what they listen for."
To Kill a Mockingbird is an intense, dramatic social commentary mixed with a good dose of comic relief ... you're sure to find what you are looking for.
For More Information
Dallas Theater Center on The Flash List
Editorial Policy: The Flash List is dedicated to providing trustworthy editorial content by maintaining strict ethical standards, journalistic integrity, and credible professionalism regardless of potential compensation as working media. The Flash List discloses receiving tangible and/or intangible benefits for the purposes of providing media coverage for certain events, venues, products, and/or services.
MORE ON THE FLASH LIST
50 Things to Do
Bored? Well, there's definitely no need to be. Take your pick of these fun things to do.
Entertainment News
The latest breaking news and top stories in arts, dining, culture, movies, music, and sports.
Events Calendar
Not everything in town that you could do, but a list of events that you definitely should consider.
Date Night Ideas
From retro candy stores to luxury car rentals, let us help you impress on your next date night out.
Movies in Theaters
See previews of movies coming soon and trailers for films now playing at local theaters.
Go Gallivanting
Our sister website, The Art of Gallivanting, offers extraordinary adventures for ordinary people.