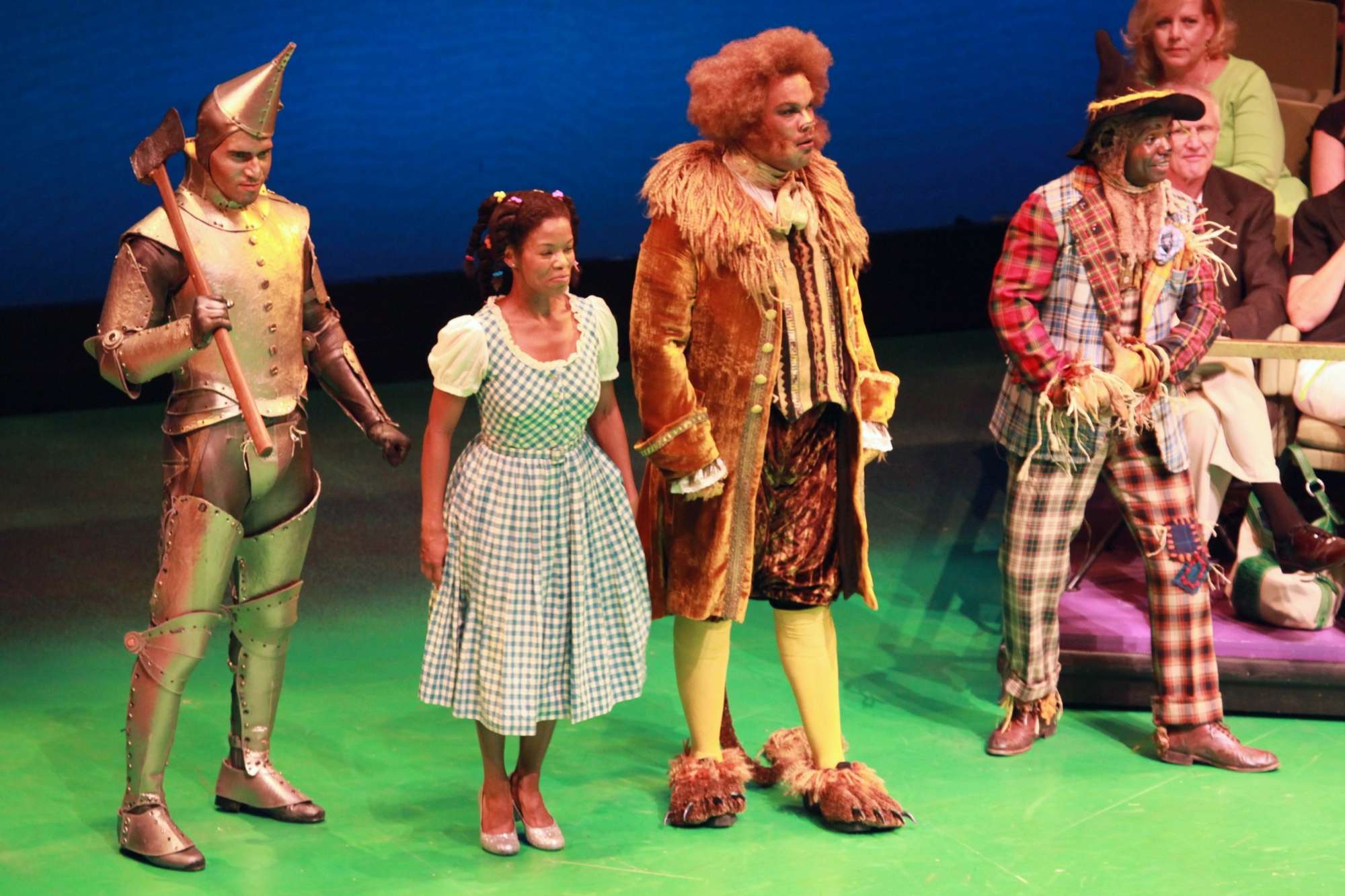 Posted July 15, 201 | Photo by David Leggett
The 1939 movie
The Wizard of Oz
(starring Judy Garland) had a message: "There's no place like home." The 1978 Motown retelling
The Wiz
(starring Diana Ross, Michael Jackson, Richard Pryor, etc.) also had a message: "Knowledge is power." And now, in a 2011 collaboration with
Dallas Black Dance Theatre
,
Dallas Theater Center's
new production of the Broadway hit
The Wiz
also has a message: "I want you to be everything I see in my dreams."
Spoken in the script by Aunt Em (Denise Lee) to Dorothy, the sentiment can also aptly apply to Director Kevin Moriarty regarding his vision for the Wyly Theatre. In yet another creative reconfiguration of this infinitely versatile space, DBDT dancers came in like a 'storm' on Friday night (literally dressed that way) in an opening scene in which Dorothy, the house, and even near half the audience members were carried away from a little farm in Kansas. In moveable seating 'pods' that were rearranged by stage hands several times during the show (think something to the effect of wheeled bleachers with chairs that move around a diamond for different perspectives of a baseball game), several groups of spectators became participants in this show with extremely high audience interaction.
Once in the Land of Oz, the sweet, adorable Dorothy (aka "Little Mama" and played by Trisha Jeffrey) is greeted by some snappily dressed munchkins and outfitted with the Wicked Witch of the East's silver shoes before commencing to "Ease On Down the Road".
Dorothy soon meets up with James Tyrone Lane, who was perfectly charming as the Scarecrow in tattered plaid and straw, as well as the austere Tinman (Sydney James Harcourt) whose robot / mime / tap dance number was superfly. David Ryan Smith as the hilarious Lion was fierce (hear as Christian Siriano) as well as faaaabulous and looking very Louis XIV / Henry VIII dapper in his gold velvet knickers, fur trimmed king's jacket, and blonde-ish afro. His beastly, animated discourse about his dysfunctional family, overbearing mother, and time spent in counseling with an owl were a lighthearted distraction from our wondering whaaat the heck were those long-clawed, furry creatures with the red lit eyes that rose up from the dark and crept past our seats??
In her quest to find a way home, Dorothy and her accompanying entourage overcome obstacles such as some big bootied crows, seductive poppies, and a tribe of winged monkeys (who were actually way more cool than scary). Along the way, Dorothy inadvertently kills Evillene, the Wicked Witch of the West, thereby releasing her oppressed servants into an exuberant round of "A Brand New Day (Everybody Rejoice)" during which the DBDT cast showed off their fantastic contemporary dance skills (along with amazingly fit bodies that effectively reignited our workout resolutions).
Amidst bat wing room decor and cobweb covered bone chandeliers, the extravagant Evillene was played by Dallas star Liz Mikel, who was both charismatic and menacing while cracking her huge whip and threatening "Don't Nobody Bring Me No Bad News" (our new favorite song of the show). Before and after 'disappearing' from stage after being doused with water, Liz also played her own counterpart, the humorous Addaperle, Good Witch of the North, complete with platinum wig, defunct magic skills, and sparkles.
When Dorothy and her band of newfound friends finally make their way back to The Emerald City (a sort of Tron-like carnival funhouse) to request payment for services rendered, the group discovers that they have always had the power within themselves to achieve their dreams. The Wiz (Brierley Resident Acting Company member Hassan El-Amin) was actually just a door-to-door salesman whose balloon miraculously transported him from a revival in Omaha, Nebraska (where attendees had been enjoying a two piece fish fry and some bread) and dropped him square in the Land of Oz where he began to preach that if you "Believe in yourself, maybe you can believe in me too."
Like Dorothy, the transported audience members (who, by the way, intermittently wore emerald green tinted glasses throughout the performance) are each returned to 'home' in the end - back to exactly where they started. Theater seating on the floor level gives one a much preferred amusement park type ride through this wonderful journey (which will even put you facing the rest of the audience at some points), but sitting up in the balcony is also recommended as well since those seats offer an overall view of an experience that is more than a little circus-like in nature.
Either way, follow the yellow brick road (which begins on Flora Street and makes its way to the door of the Wyly) and groove to the funky beats of the live band for this hour and a half adventure (no intermission). Then, as always, be sure to stick around after the play for the free, brief, lively Dr Pepper Snapple post-show conversation with cast member(s) where you can hear and share insights.
More Information
Editorial Policy: The Flash List is dedicated to providing trustworthy editorial content by maintaining strict ethical standards, journalistic integrity, and credible professionalism regardless of potential compensation as working media. The Flash List discloses receiving tangible and/or intangible benefits for the purposes of providing media coverage for certain events, venues, products, and/or services.
MORE ON THE FLASH LIST
50 Things to Do
Bored? Well, there's definitely no need to be. Take your pick of these fun things to do.
Entertainment News
The latest breaking news and top stories in arts, dining, culture, movies, music, and sports.
Events Calendar
Not everything in town that you could do, but a list of events that you definitely should consider.
Date Night Ideas
From retro candy stores to luxury car rentals, let us help you impress on your next date night out.
Movies in Theaters
See previews of movies coming soon and trailers for films now playing at local theaters.
Go Gallivanting
Our sister website, The Art of Gallivanting, offers extraordinary adventures for ordinary people.