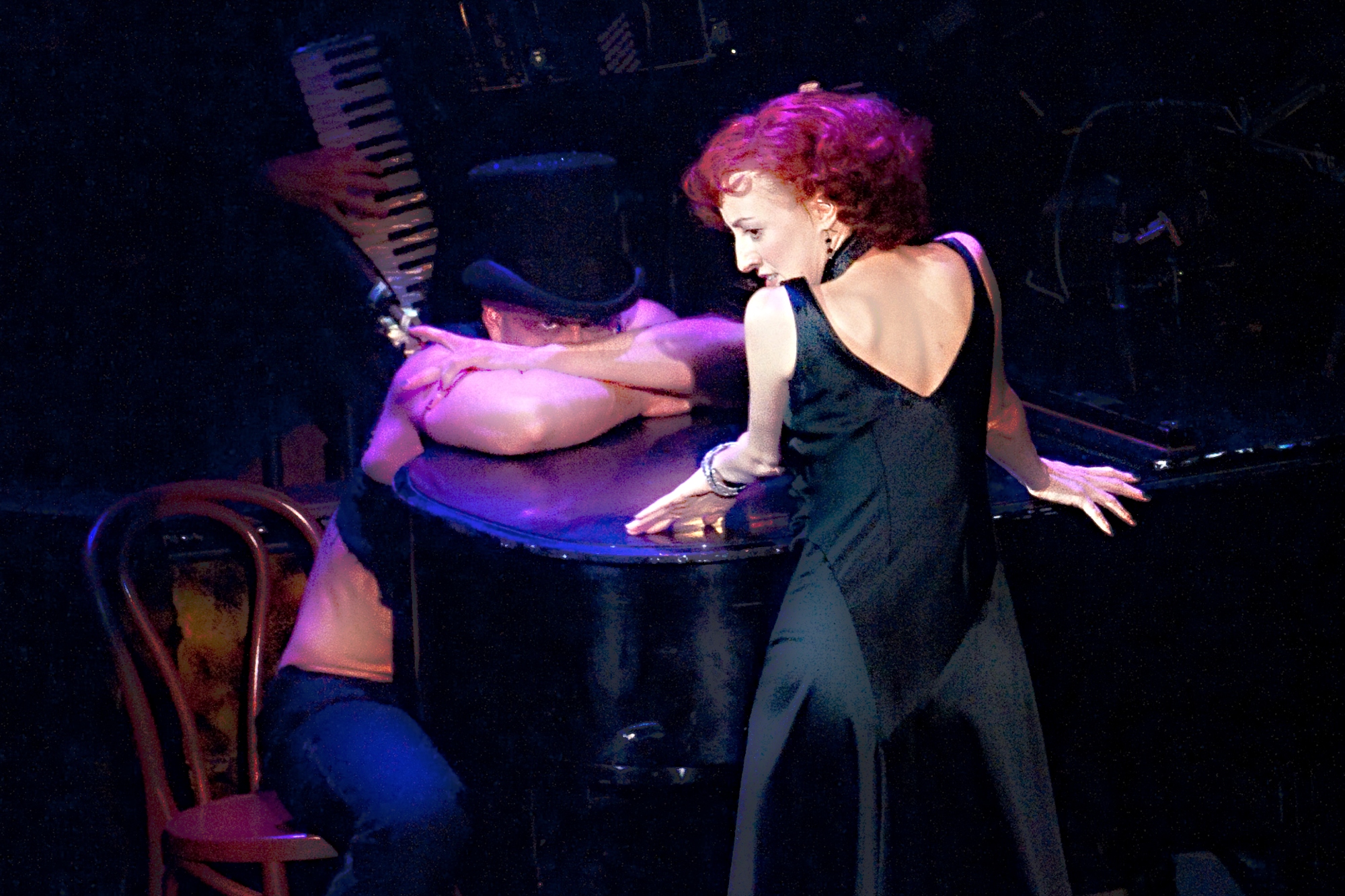 Posted April 29, 2011 | Photo by Karen Almond
Low lights, 'candlelit' cocktail tables, a live six piece orchestra, bustling waiters toting trays of champagne, couples chatting nose to nose ...
A swanky new Dallas nightclub?
Nope, not exactly. Just yet another innovative stage configuration of the still new Wyly Theatre at the AT&T Performing Arts Center in downtown Dallas where the celebration of Cabaret beckons you.
"Leave your troubles outside." "Life is beautiful."
Willkommen / Bienvenue / Welcome to the Kit Kat Club. It's New Year's Eve, Berlin, 1931; and a shady looking, cigar smoking, club owner meanders along the balcony and winding staircase overseeing the working girls (and boys) who are poised to meet your 'needs' at this provocative but seedy little German dive. Scantily clad cabaret girls dance suggestively across the stage (and occasionally throughout parts of the nearby audience).
Repeatedly emerging in the spotlight (from his frequent lurking in the shadows) and pulling emotional strings like a crafty, cocky puppet master, Wade McCollum is the evening's Emcee / Master of Ceremonies / Cirque du Soleil type ringmaster mesmerizing the audience with his seductive German / French / English musical dialogue translations and Axl Rose serpentine dance moves.
"Politics? What has that to do with us?"
With the Nazis rising to power, Clifford Bradshaw (Lee Trull), an American writer, has come to Berlin looking for "something to write about". Upon arrival, he befriends Ernst Ludwig (Chamblee Ferguson), a German with mysterious affiliations, fierce national pride, and an affinity for the prostitute Fraulein Kost (Sally Nystuen Vahle).
Clifford's travels also bring him across the path of the sexy Sally Bowles (Kate Wetherhead), the Kit Kat Club's sultry headlining singer (whose mama thinks she lives at a secluded little convent in the southern part of France).After being fired from the club, Sally moves into Clifford's already small room at the boarding house where she promises to be an inspiration rather than a distraction. Naturally, Clifford falls in love with her; and it's completely believable - Trull exudes a sort of Nicolas Cage type 'coolness' and we could've listened all night as Wetherhead recited her lines in that sweet, feminine, British / Old Hollywood accent.
"I'm no Juliet; you are no Romeo."
Despite Ludwig's fervent devotion to his country and Bradshaw's painfully passionate (albeit intermittently unrequited) love, the unquestionable stars of this romantic trifecta are Julie Johnson as boarding house owner Fraulein Schneider and David Coffee as Herr Schultz - a fruit vendor, Schneider's suitor and love interest, ... and a Jew.
In a role drastically different than when we last saw Julie as the voluptuous Super Villain Scarlet Widow, Johnson skillfully played the rather dowdy, conventional Fraulein Schneider with the character's delicate balance of tentativeness and vigor.She brought us well into her world as she sang "So What?" while expressing appreciation of whatever life brings her way and again with "It Couldn't Please Me More" upon receiving an unusual, unexpected gift.
Coffee's Herr Schultz was tender and endearing, as well as strong and steadfast in the face of opposition, with a few humorous Hogan's Heroes Sergeant Schultz mannerisms thrown in.His duet of "Married" with Johnson was divine as he urges her, "For you wake one day, Look around and say: Somebody wonderful married me".
"He's having a glass of schnapps - with everyone. You'll forgive him if he's a little woo-hoo."
Cabaret is great musical theater, but be aware that it is replete with controversial elements.Expect adult themes, swearing, intimate touching, simulated drug use, and brief nudity (simply put, a pair of boobs and some bare derrieres).
Should you desire to venture in however, you can choose a seat at a table up near the stage (on the floor level) where you can sip drinks (and maybe catch a polite little caress at some point) or you can get a fantastic overhead view of the show from the first row of either of the two balconies (side or center/back are both really good options).Either way, get to the theater early and just ask one of the ushers to help you locate your seats so you don't have to worry about whether you are in the right place.
And as always, stick around after the play for a free, brief, lively post-show conversation with a cast member where you can hear and share insights.
More Information
Performance Details & Cast Bios
Editorial Policy: The Flash List is dedicated to providing trustworthy editorial content by maintaining strict ethical standards, journalistic integrity, and credible professionalism regardless of potential compensation as working media. The Flash List discloses receiving tangible and/or intangible benefits for the purposes of providing media coverage for certain events, venues, products, and/or services.
MORE ON THE FLASH LIST
50 Things to Do
Bored? Well, there's definitely no need to be. Take your pick of these fun things to do.
Entertainment News
The latest breaking news and top stories in arts, dining, culture, movies, music, and sports.
Events Calendar
Not everything in town that you could do, but a list of events that you definitely should consider.
Date Night Ideas
From retro candy stores to luxury car rentals, let us help you impress on your next date night out.
Movies in Theaters
See previews of movies coming soon and trailers for films now playing at local theaters.
Go Gallivanting
Our sister website, The Art of Gallivanting, offers extraordinary adventures for ordinary people.