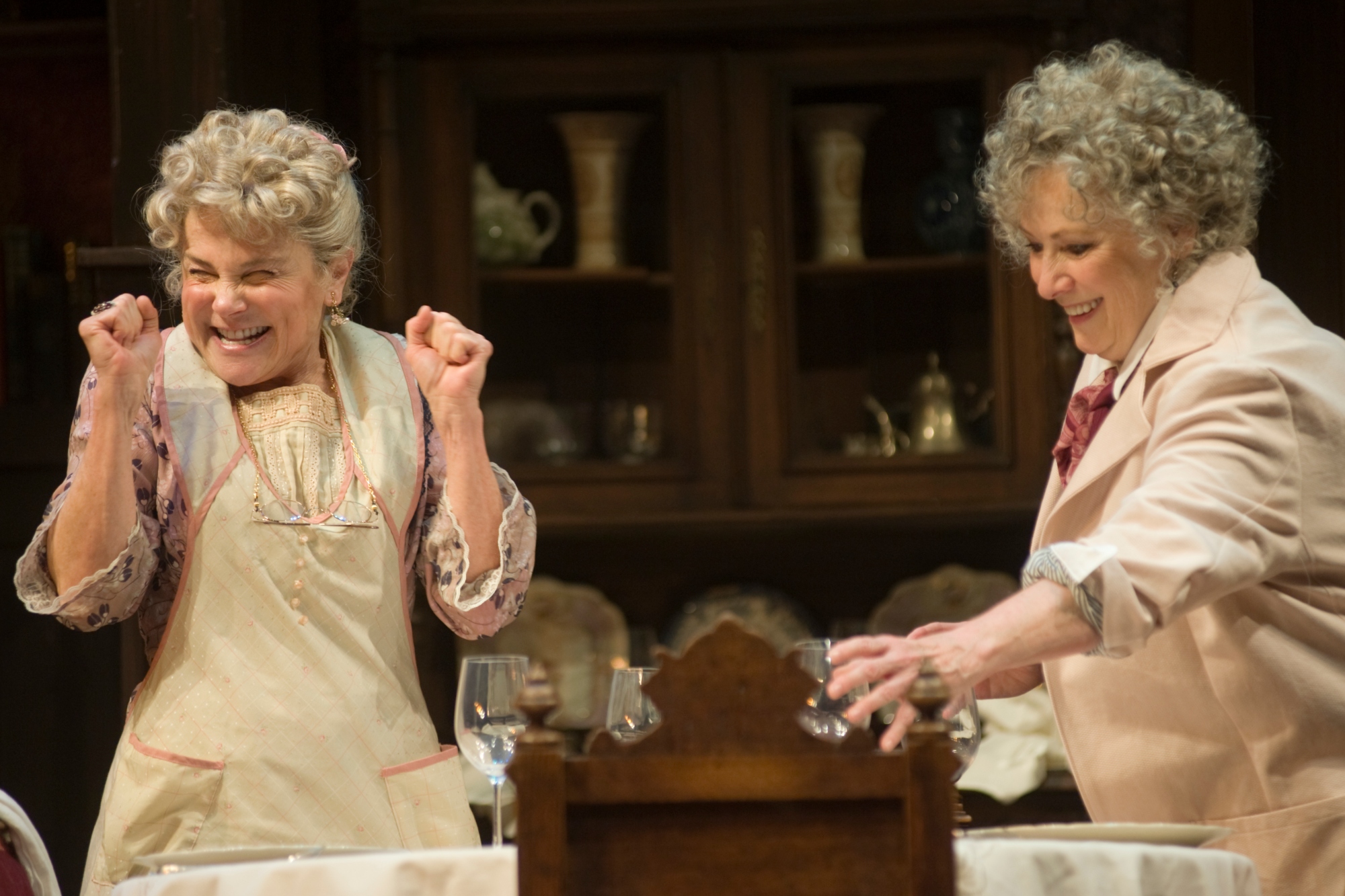 Posted February 11, 2011 | Photo by Brandon Thibodeaux
In the style of comedic team Carol Burnett and Vickie Lawrence, film and theater legends Tovah Feldshuh and Betty Buckley "knock 'em dead" in Arsenic & Old Lace, the newly revived farce about sisters Abigail and Martha Brewster who help lonely old men die happy by serving them poisoned wine.
This American classic is set in 1941 and takes place in the women's daintily appointed two story home which in this case rotates atop the Kalita Humphreys Theater's 52-year-old turntable stage and is furnished with antiques, velvet curtains, stained glass, and a staircase up which their nephew Teddy (who thinks he's Teddy Roosevelt) repeatedly runs screaming Charge! when he's not disturbing the neighbors by playing his bugle late at night.
Spitfire Tovah Feldshuh, who's starred in dozens of plays and has earned four Tony nominations for Best Actress for her work on Broadway, hilariously plays Abigail Brewster in a Joan Rivers meets Golden Girls Estelle Getty meets Mike Myers' SNL character Linda Richman (hostess of Coffee Talk) sort of way. Her perfect complement and accomplice is Tony Award-winning Betty Buckley (Martha Brewster) who cheerfully joins the Kevorkian-esque festivities not only by waving off would be detractors with a dish towel, but also by lending her voice for one victim's funeral service for which Buckley received rousing applause from the crowd.
DTC's Lee Trull plays nephew and reserved theater critic Mortimer Brewster; and much like Jason Bateman's character Michael in the FOX series Arrested Development, Mortimer is the only sane member in a family where he admits that not only does insanity run, it practically gallops. Trull is intriguing and a looked endearingly Dagwood while getting a workout both comedically and physically by performing onstage acrobatics like jumping on the sofa, crawling under the phone cord, suspending himself between wall panels, trotting out a Mexican hat dance on the ottoman, and succumbing to slapstick torturing devices like chattering teeth and items typically found in an OB/GYN office. This all at the hands of the sinister Jonathan Brewster (very creepily portrayed by Jason Douglas, a recent transplant from Houston) and sidekick Dr. Einstein (a colorful role very well played by Nehal Joshi).
Abbey Siegworth is just a deary (feel those rosy cheeks getting pinched) as Mortimer's girlfriend Elaine Harper, a minister's daughter - bless her heart - who learned about life in the choir loft. As usual, The Flash List is going to dote on Abbey like we always do. When we go to the theater, it's for entertainment, relaxation, and enjoyment. We don't want to have to work for it. We don't want to be looking around blankly asking, 'What'd they just say? Abbey has a clear voice that carries, and she enunciates so well that she practically delivers her performance right into the laps (and hearts) of audience members. We like that.
Keeping up with this zany cast is like watching a macabre three ring circus of stooges ... you have to keep your eyes moving to keep from missing all the action. But to quote Teddy, it's bully, just bully!
Editorial Policy: The Flash List is dedicated to providing trustworthy editorial content by maintaining strict ethical standards, journalistic integrity, and credible professionalism regardless of potential compensation as working media. The Flash List discloses receiving tangible and/or intangible benefits for the purposes of providing media coverage for certain events, venues, products, and/or services.
MORE ON THE FLASH LIST
50 Things to Do
Bored? Well, there's definitely no need to be. Take your pick of these fun things to do.
Entertainment News
The latest breaking news and top stories in arts, dining, culture, movies, music, and sports.
Events Calendar
Not everything in town that you could do, but a list of events that you definitely should consider.
Date Night Ideas
From retro candy stores to luxury car rentals, let us help you impress on your next date night out.
Movies in Theaters
See previews of movies coming soon and trailers for films now playing at local theaters.
Go Gallivanting
Our sister website, The Art of Gallivanting, offers extraordinary adventures for ordinary people.