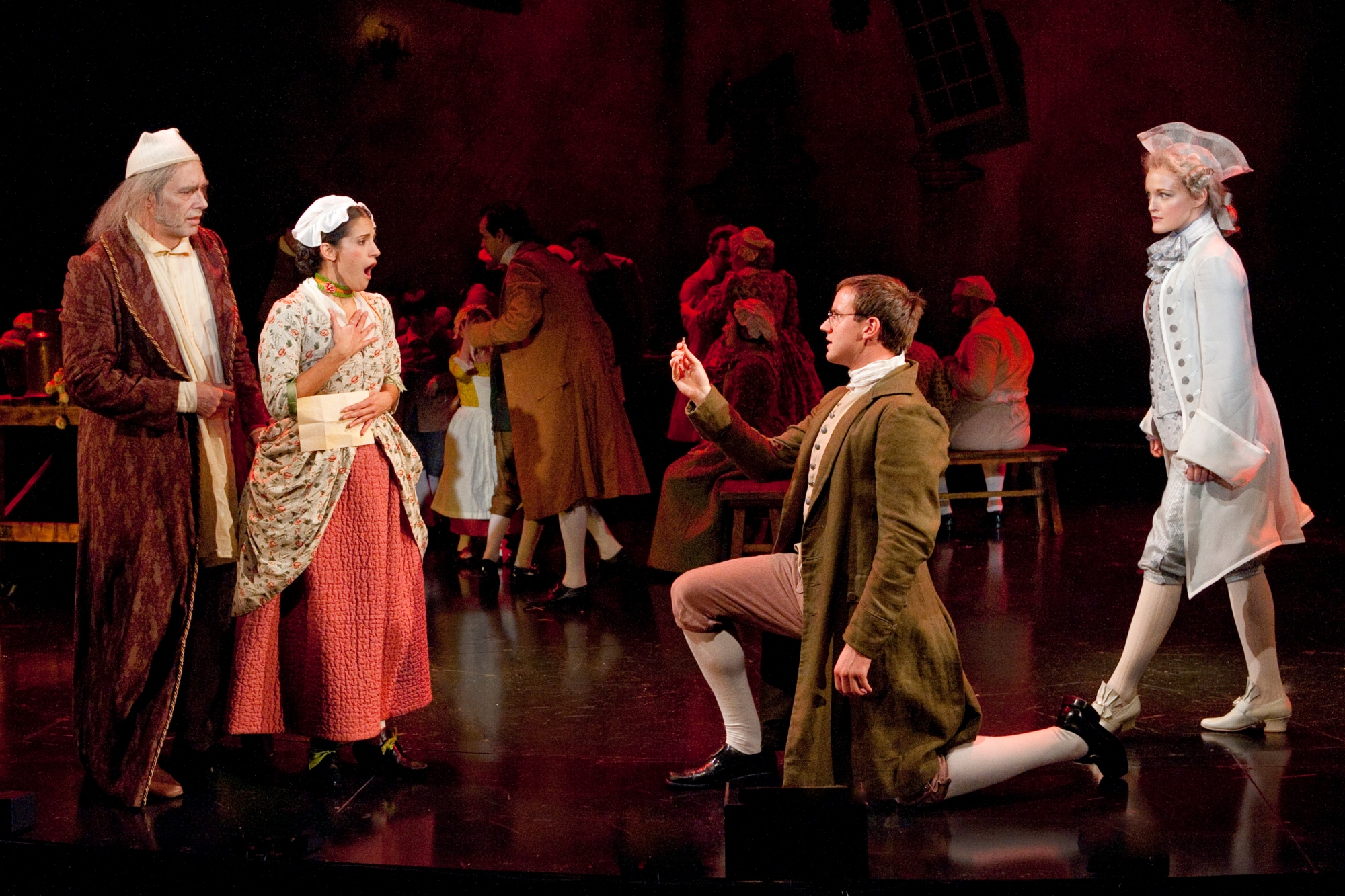 Posted December 2, 2011 | Photo by Karen Almond
Christmas is a magic ring, it is stated, if it binds us all together.And in this year's version of Dallas Theater Center's annual production of the Charles Dickens classic holiday tale, several factors from opposite ends of the spectrum are wonderfully bound together in a 1 plus 1 equals "too cute" equation.
Set in London, England in 1843 and dubbed "A Ghost Story of Christmas," traditional elements of festive holiday celebration featuring the cast's cheerful singing and lively dancing are mixed with eerie apparitions, ominous clock chimes, sudden flashes of light, and startling booms that caused some audience members to jump in their seats.Ten large scenic prop pieces including a canopy bed and remote controlled chair twirled around the large, moving, turntable stage seemingly on their own; candles came 'ablaze' with the mere wave of a lighter wand; and enough dry ice fog, smoke, and even snowfall floated through the air to douse the "bah, humbug" right out of the harshest of yuletide resisters.
Kurt Rhoads (who returns to DTC this season after starring as King Henry in Henry IV) plays a very gruff, cantankerous, cold-hearted, (and just plain ol' MEAN) Ebenezer Scrooge; and we loved every minute of his smooth transformation from the scraggily haired, furrowed-browed, book-throwing, stingy oppressor to the enlightened, sincerely generous giver who became "light as a feather" and "happy as an angel."
Jonathan Brooks (a company member at the Undermain Theater) plays the chained and tethered Ghost of Jacob Marley, Scrooge's deceased business partner who appears in the night to give warning about the consequences of a "life of opportunities misused."In great contrast, Brooks also cracked up the audience in his secondary role as Topper, the drunken, somewhat acrobatic, blindfolded, Christmas party kissing bandit.
David Ryan Smith (who was recently fierce as the Lion in The Wiz) walked with natural ease on some very high platform shoes as the "jolly giant" Ghost of Christmas Present, and did a fantastic job of narrating/storytelling with that clear, commanding voice of his. On a much smaller scale, the show's children (often coming and going via the audience aisles) were all of course adorable, but second grader Kuran Patel (who played the child Ebenezer as well as Tiny Tim) was absolutely puh-recious!
In addition to DTC resident actors Abbey Siegworth (Ghost of Christmas Past), Lee Trull (Bob Cratchit, Scrooge's underpaid clerk), and Steven Michael Walters (Fred, Scrooge's nephew) who rounded out the cast with their colorful individual styles, we were particularly struck by SMU Meadows School of the Arts graduate student Vanessa Gibens who delivered the touching role of Belle, Ebenezer's former fiancee, in an impressively sweet, strong, and resolute manner.Offering a healthy corresponding dose of comic relief, the silly, jolly Fezziwig couple was played by Brian Gonzales (who is joined in this production by his wife Ashley Puckett Gonzales who plays Fred's wife) and Emily Gray (who trained at Drama Studio London and provided dialect coaching for the variety of English accents in this play - think Eliza Doolittle beginning to end).
This story not only offers alternating views between poverty and prosperity, modest to luxury lifestyles, and a stark contrast between the lower and upper class families, but theatergoers are also given an opportunity to respond. In a continued partnership with the North Texas Food Bank, Dallas Theater Center is providing a location for patrons to donate non perishable food items, and members of the cast will also collect monetary donations after every performance.There was no pressure at all; but as quoted by actor Lee Trull on our way out (regarding his pint-sized assistant), "Cute kid with a bucket here!"
A Christmas Carol runs through Saturday, December 24, 2011 at the Kalita Humphreys Theater. As always, stick around after the play for a free, brief, lively post-show conversation with a cast member where you can hear and share insights.
For more information and tickets, see the following websites; and may "God bless us, every one!"
Dallas Theater Center on The Flash List
Editorial Policy: The Flash List is dedicated to providing trustworthy editorial content by maintaining strict ethical standards, journalistic integrity, and credible professionalism regardless of potential compensation as working media. The Flash List discloses receiving tangible and/or intangible benefits for the purposes of providing media coverage for certain events, venues, products, and/or services.
MORE ON THE FLASH LIST
50 Things to Do
Bored? Well, there's definitely no need to be. Take your pick of these fun things to do.
Entertainment News
The latest breaking news and top stories in arts, dining, culture, movies, music, and sports.
Events Calendar
Not everything in town that you could do, but a list of events that you definitely should consider.
Date Night Ideas
From retro candy stores to luxury car rentals, let us help you impress on your next date night out.
Movies in Theaters
See previews of movies coming soon and trailers for films now playing at local theaters.
Go Gallivanting
Our sister website, The Art of Gallivanting, offers extraordinary adventures for ordinary people.