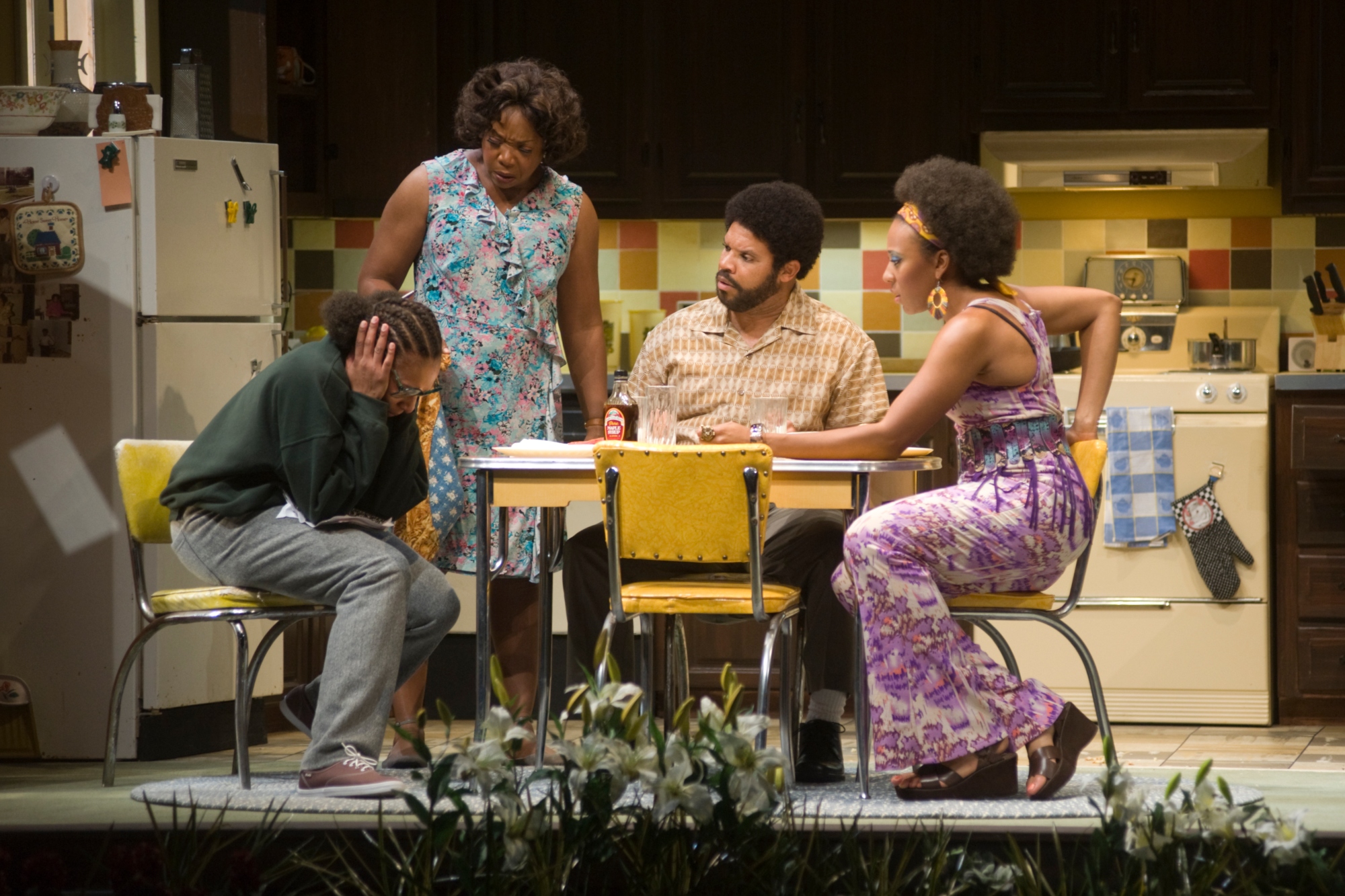 Posted November 14, 2010 | Photo by Brandon Thibodeaux
From teenage French kissing lessons to the aftermath of sexual indiscretion, and with Soul Train dance moves alongside unrequited love and bitter grief, the world premiere of Regina Taylor's new trilogy The Trinity River Plays is a soul piercing account of one woman's struggle to come to terms with her past as it continues to affect her future.
Playwright and native Dallasite Regina Taylor is well known for her acting roles in blockbuster films such as Losing Isaiah, Courage Under Fire, and The Negotiator (one of our all time favorite movies) as well as her depictions of Lilly Harper in the television series "I'll Fly Away" and Molly Blane in CBS's The Unit (which we ... [long sigh] ... very sorely miss).
In the style of Steel Magnolias, The Joy Luck Club, Soul Food, and T. D. Jakes' Woman Thou Art Loosed, The Trinity River Plays tell a cross-generational story as seen through the eyes of Iris, a young woman whose loss of innocence on her seventeenth birthday becomes the catalyst for years of secrecy and suppressed animosity. Cosby this ain't.
Told through a series of intense vignettes, the story hits close to home for many both emotionally and geographically.Set in Oak Cliff, TX beginning in 1978, references are made throughout the production to a host of nearby cities and area landmarks providing audience members with a personal connection to unfolding events.The show offers the most elaborate set design we've seen at the Wyly so far, with a huge "Brady Bunch" house (view the model) complete with a 'backyard garden', a climbable 'pecan tree', and an impressive onstage downpour of 'rain' with actual water.
Exceptionally well cast and extremely well acted, The Trinity River Plays chronicle the life of Iris (Karen Aldridge) as she interacts with a houseful of strong, resilient women and the men who come and go in their lives.Aldridge is fantastic in this dual role which portrays Iris at ages seventeen and thirty four.Iris' prim and proper, pillar-of-the-community mother, Rose, is played by Penny Johnson Jerald, known for her role in the Tina Turner biopic What's Love Got to Do With It as well as her appearances on 24, Frasier, Star Trek DS9, The Larry Sanders Show, etc.
Rose's sister, Daisy, is Iris' lively, expressive, pharmaceutically medicated aunt who alternately puffed her cigarette along with her asthma inhaler.You know that relative who tells you the honest truth no matter how harsh it feels because that's just what's best for you 'child'?Sort of that Tyler Perry / Madea type who's not afraid to use a weapon when necessary (in this case a handy water hose) to keep her family in line? That's Aunt Daisy, flawlessly portrayed by Jacqueline Williams whose credits include roles in The Break Up, The Lake House, Hard Ball, ER, Prison Break, and more.
Aunt Daisy's daughter, Iris' cousin Jasmine (Christiana Clark - City Pages' Best Actress '09) looked sexy (in a Thelma from Good Times kind of way) in her bell bottom jumpsuit and afro as she futilely aspires to become a successful choreographer with a "deluxe apartment in the sky" before her substance abuse problem changed her course.
Like any analysis of the human experience, this play exposes some pretty raw, often unattractive, aspects of life; but it's quite funny as well.To quote Iris referring to her ex-husband's basketball skills, "It was too funny ... and a little sad."
Particularly impressive though were the exceedingly well-thought-out, subtle nuances of a large number of onstage details like retro glass Dr. Pepper bottles, Tupperware on the counter, the tea kettle whistle, and decade specific dialogue including the "plop, plop, fizz, fizz" Alka-Seltzer jingle.Even the folded paper grocery sack by the refrigerator, the sound of Daisy's hand patting the side of the cake pan to level the batter, and the living room entertainment unit with turntable and stack of record albums reminded us of our own youth and worked beautifully to gel the story into a believable, albeit simulated, reality.
This deep reflection on family ties that bind (and occasionally choke) delivers the message that life's ebbs and flows can sometimes include breaking away from the pain of home only to return again to its healing embrace, and that sometimes a necessary separation from family members that seem to know everything about you (and yet often don't really know you at all) can ultimately produce an enduring reconciliation.
Somewhat autobiographical, but mostly a composite of people she's known and imagined, it is Regina's hope that The Trinity River Plays will cause audiences to think about their relationships, their choices, and "the possibilities of transformation that each test in life gives us."
As always, Dallas Theater Center hosts a discussion after each performance, and this show definitely warrants reflective conversation afterward.But with a 3hour run time (which includes two fifteen minute intermissions), a post show wrap up might not be ideal. Maybe a Saturday night show and a conversation over Sunday lunch. That seems more fitting.
The show runs here in Dallas through December 5, 2010 (click here for details) and then heads to the Goodman Theater, Chicago's oldest and largest not-for-profit theater. We eagerly anticipate Regina Taylor's next round of work; but in the meantime, The Flash List highly recommends Dallas Theater Center's A Christmas Carol (details and photos here), playing at the Kalita Humphreys Theater November 26 - December 24, 2010.Read our review of last year's fantastic performance.
MORE ON THE FLASH LIST
50 Things to Do
Bored? Well, there's definitely no need to be. Take your pick of these fun things to do.
Entertainment News
The latest breaking news and top stories in arts, dining, culture, movies, music, and sports.
Events Calendar
Not everything in town that you could do, but a list of events that you definitely should consider.
Date Night Ideas
From retro candy stores to luxury car rentals, let us help you impress on your next date night out.
Movies in Theaters
See previews of movies coming soon and trailers for films now playing at local theaters.
Go Gallivanting
Our sister website, The Art of Gallivanting, offers extraordinary adventures for ordinary people.