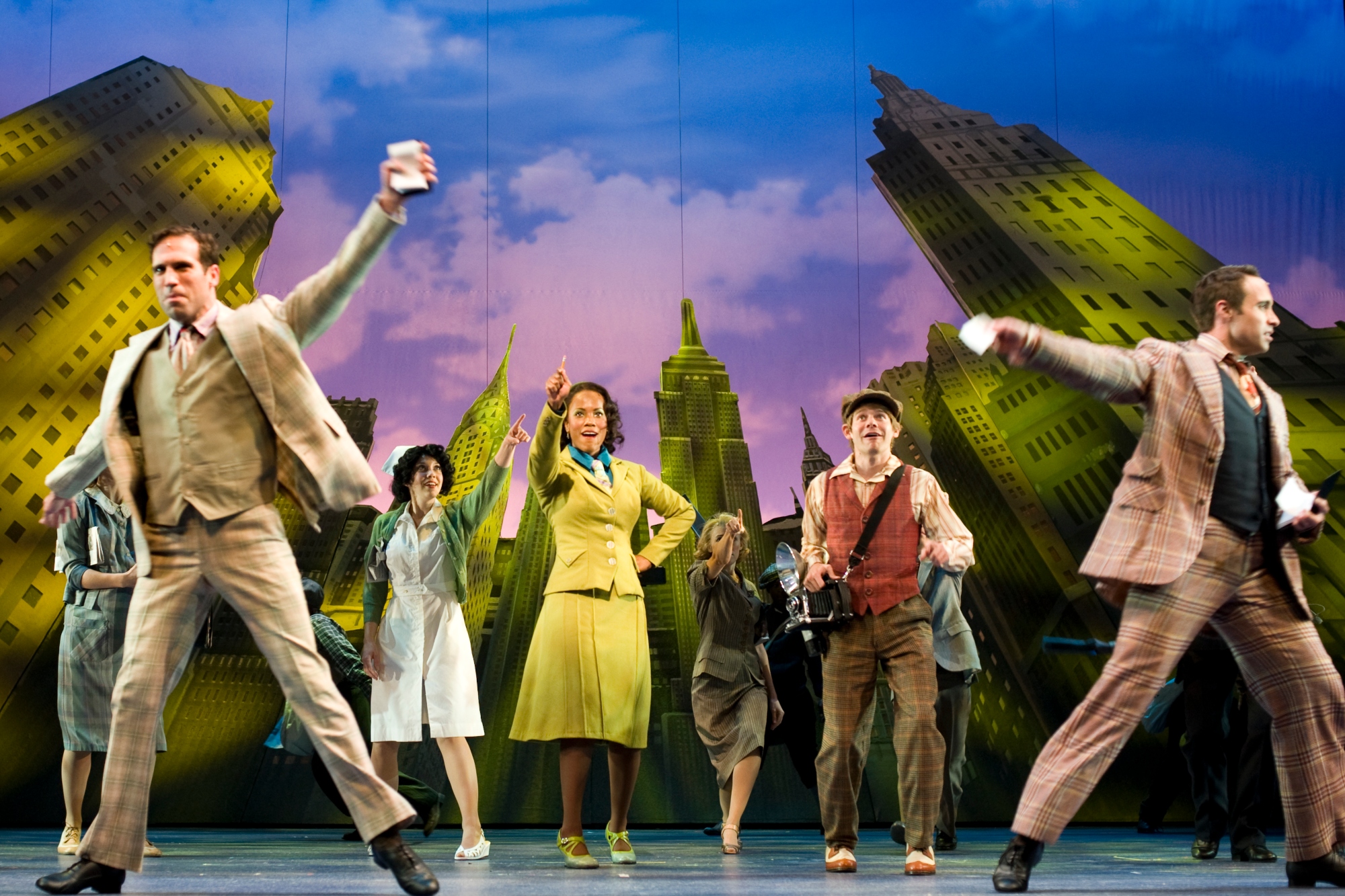 Posted April 26, 2010 | Photo by Brandon Thibodeaux
Look, over at the Wyly! It's a Bird ... It's a Plane ... It's Superman. And the Man of Steel is dispersing truth, justice, and the American way via a musical.But it works.
Background
Originally opening on Broadway in 1966 and starring Jack Cassidy (David Cassidy's dad) and Linda Lavin (from the 70's sitcom Alice), the show was well received but ran for only four months.In 2008, however, Dallas Theater Center's Artistic Director Kevin Moriarty approached the show's composer Charles Strouse and its lyricist Lee Adams (whose collaborative efforts include the score for Bye Bye Birdie and the All in the Family theme song "Those Were the Days").Moriarty acquired permission to revise the work and then commissioned Roberto Aguirre-Sacasa, a "lifelong fan" of the musical, to create an updated book which features several new characters.
DTC Production
The show is set in 1939, a year after Superman arrives in Metropolis and focuses on the relationship between Superman (Matt Cavenaugh) and Lois Lane (Zakiya Young). Cavenaugh (whose voice sounds remarkably similar to Patrick Duffy's) transitioned well between his two characters - Superman and mild mannered reporter Clark Kent (whose name, by the way, is a combination of actors Clark Gable and Kent Taylor).
The superhero is determined to fight "evil and corruption in the city" and repeatedly 'flies' onto the stage to save Metropolis from a menacing band of criminals.Erupting gunfire and ensuing fight scenes were reminiscent of the Batman television series (especially when coupled with the song "Pow! Bam! Zonk!") and were complete with acrobatics as well as impressive mid-air flipping and spinning.All this interspersed between song and dance numbers like the deliberately campy but entertaining "Supernice" with its "Boogie Woogie Bugle Boy" style bop.
Creative use of onstage props included x-ray vision (now you see someone behind the door, now you don't) and a door that seemed to slam by use of 'superpowers'.Scenic designer Beowulf Boritt also offered an artistic three dimensional lighted cityscape set backdrop that reminded us of looking up at the sky from downtown's Pegasus Plaza or through Nasher Sculpture Center's Tending, (Blue) exhibit.
We super-loved the Secret Society of Super Villains which included Space Age Cowboy Jupiter James (Kent Zimmerman); the voluptuous Scarlet Widow (Julie Johnson, who is also the voice of Barney and Friends' Baby Bop); the sexy, feathered Blackbird (Kate Wetherhead); dancing Court Jester (Bob Hess); as well as the team of Cadabra (DTC's Cedric Neal) and Kazam (Matthew J. Kilgore) who seemed to be a crazy cross between the Mad Hatter and Ronald McDonald.Kudos to costume designer Jennifer Caprio for era specific business wear and outstanding villain costumes.
Highlight Performances:
Patrick Cassidy (son of Jack Cassidy and Shirley Jones, brother of Shaun Cassidy, and half brother of David Cassidy) carried a substantial portion of show with his performance of the evil mastermind and arch-villain Maxwell Menken, the role his late father played in the original production.Patrick has acted on Broadway, toured nationally, and has been seen on television shows such as ER, CSI Miami, Smallville, Law & Order and more.
Equally as impressive was Jennifer Powers' portrayal of The Daily Planet's sassy gossip columnist Sydney Sharp.Her strong execution of the song "You've Got Possibilities" makes us understand why famous American composer and lyricist Stephen Sondheim included the tune in his list of songs he wishes he'd written.
Andrew Keenan-Bolger did an exceptional job playing the spirited cub reporter Joseph "Torchy" Carter, and Cara Statham Serber was fabulous as Max Menken's sexy assistant Miss Marilyn Nessbit as she delivered humor and emotion along with a tight skirt walk and Cyndi Lauper-esque accent.
You don't have to be extremely familiar with the Superman story or comics in general to enjoy this play, although you'll probably enjoy it even more if you are a fan.The show is three hours long including intermission; so you might plan to eat beforehand especially since DTC invites you to stay late afterward to see the stage and hear their crew reveal the magic behind Metropolis.
Editorial Policy: The Flash List is dedicated to providing trustworthy editorial content by maintaining strict ethical standards, journalistic integrity, and credible professionalism regardless of potential compensation as working media. The Flash List discloses receiving tangible and/or intangible benefits for the purposes of providing media coverage for certain events, venues, products, and/or services.
MORE ON THE FLASH LIST
50 Things to Do
Bored? Well, there's definitely no need to be. Take your pick of these fun things to do.
Entertainment News
The latest breaking news and top stories in arts, dining, culture, movies, music, and sports.
Events Calendar
Not everything in town that you could do, but a list of events that you definitely should consider.
Date Night Ideas
From retro candy stores to luxury car rentals, let us help you impress on your next date night out.
Movies in Theaters
See previews of movies coming soon and trailers for films now playing at local theaters.
Go Gallivanting
Our sister website, The Art of Gallivanting, offers extraordinary adventures for ordinary people.