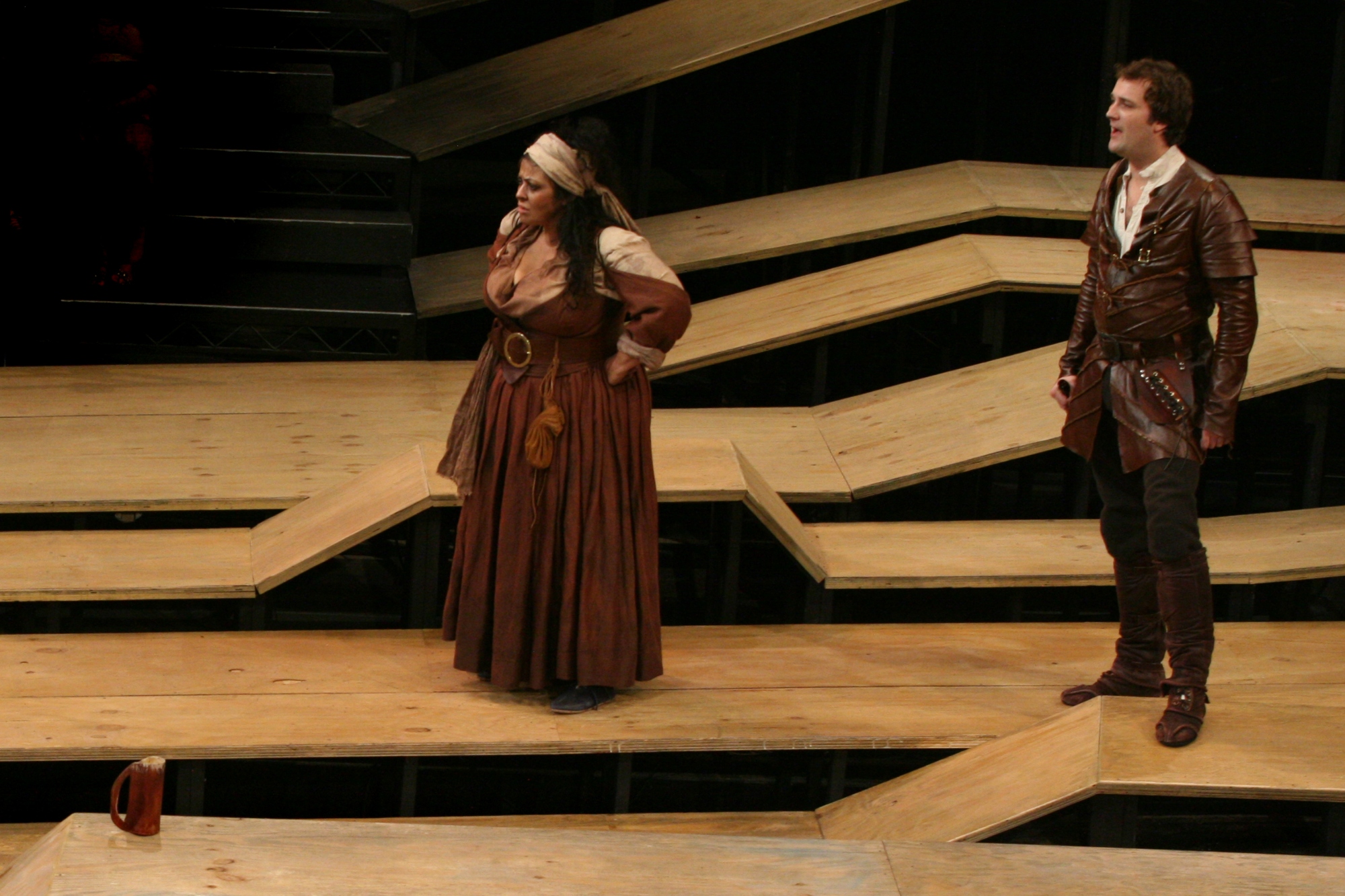 Posted September 22, 2010 | Photo by Nan Coulter
You know a show is going to be different than most when it begins with a warning from house management to "remain in your seats for your safety."And with battle scenes consisting of soldiers running up and down the aisles wielding swords, shields, daggers, spears, and even guns, the advice is well worth heeding.
Henry IV was Shakespeare's most popular play during his lifetime, and Dallas Theater Center's production offers action, suspense, drama, and a good dose of comedy.While the ailing King Henry (Kurt Rhoads) is leading England in a civil war, the wayward Prince Hal (played by Steven Walters of Friday Night Lights) is carousing, drinking, and living the general party life at the local tavern.He is befriended by one of Shakespeare's most beloved comic characters - the obese, cowardly, and extremely funny John Falstaff (Randy Moore).
Walters' Price Hal character is emotionally torn between his naughty, rebellious lifestyle and his royal obligations to his father and his country; whereas Moore's fat Falstaff character is hilarious as he shuffles around the stage like an old pregnant woman telling exaggerated fish tales about would be battle feats.With a motto of "Always be late to a fight and early to a feast" and with a fighting style something akin to a marching band drum major, Moore played Falstaff with comedic perfection.
Despite a mostly male cast, Christina Vela and Abbey Siegworth balance the group as the show's only two female performers.Vela plays the fiery, voluptuous tavern hostess, Mistress Quickly, who holds her own amidst Falstaff's drunken, lusty advances.Her hearty belly laugh and cackling at his stories cracked us up as much as the dialogue.Seigworth, one of our favorite DTC actors, plays two characters - the velvet clad, porcelain skinned Lady Percy who lives and mourns with both strength and delicacy; and in stark but still very likeable contrast, the dark-eyed, ratty haired prostitute Doll Tearsheet who looked a bit deranged and like she'd been wandering the back alleys for a month and a half.
Costumes for this production were period pieces made up of very worn-looking 'peasant' fabrics as well as rich velvets and brocades, metal studded leathers, quilted vesting, and even chainmail.Stage design consisted of 4,000 linear feet of wooden plank ramps which actors used as landscaping in fight scenes, as tables, and even as beds.
The Wyly was configured this time as a theater-in-the-round where the audience surrounds all four sides of the stage action.And the play is not short on stage action - sit close enough and you'll likely be part of it.You may have a cast member shake your hand, give you a hug, caress your neck, throw you a piece of candy, or use you as a hiding place. Sit further back however, and you'll be able to get a wider perspective of the exploits as actors run on and off stage, up and down scaffolding, and all over the theater and balconies.
The show is two and a half hours long plus two fifteen minute intermissions, but you'll want to hurry back and be seated quickly since the returning action begins abruptly and can come from anywhere.And hopefully, despite being a row or two off the stage, you will (like us) hear the house manager say, "Your seats are pretty safe."
Editorial Policy: The Flash List is dedicated to providing trustworthy editorial content by maintaining strict ethical standards, journalistic integrity, and credible professionalism regardless of potential compensation as working media. The Flash List discloses receiving tangible and/or intangible benefits for the purposes of providing media coverage for certain events, venues, products, and/or services.
MORE ON THE FLASH LIST
50 Things to Do
Bored? Well, there's definitely no need to be. Take your pick of these fun things to do.
Entertainment News
The latest breaking news and top stories in arts, dining, culture, movies, music, and sports.
Events Calendar
Not everything in town that you could do, but a list of events that you definitely should consider.
Date Night Ideas
From retro candy stores to luxury car rentals, let us help you impress on your next date night out.
Movies in Theaters
See previews of movies coming soon and trailers for films now playing at local theaters.
Go Gallivanting
Our sister website, The Art of Gallivanting, offers extraordinary adventures for ordinary people.