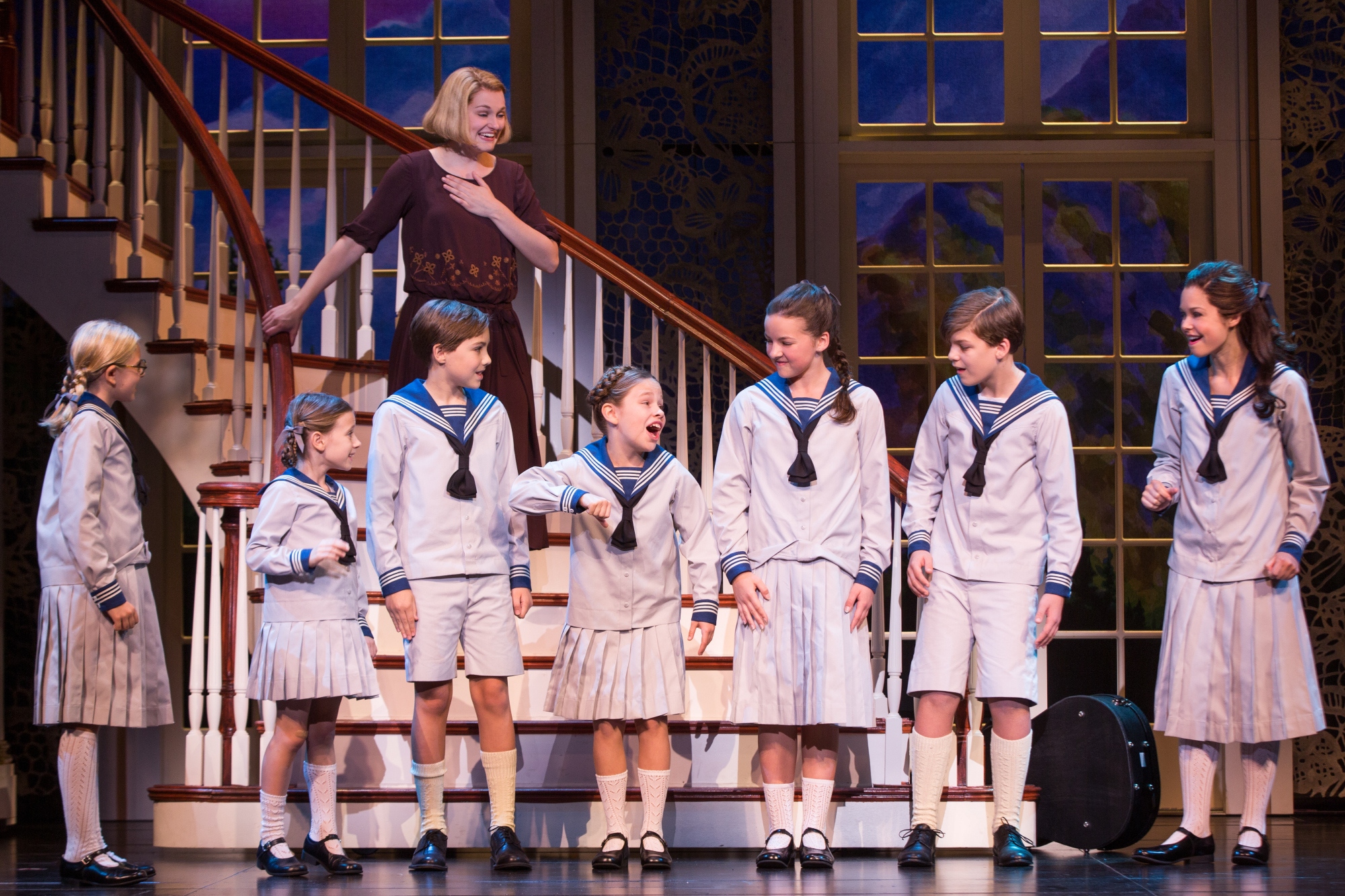 The Music Hall at Fair Park is now fully alive with The Sound of Music in a brand new national tour directed by three-time Tony Awardwinner Jack O'Brien. This low-key production of one of the most beloved musicals of all time features music and lyrics by Rodgers and Hammerstein and a book by Lindsay and Crouse. Currently making its North Texas debut, the story is inspired by the real-life events of Maria von Trapp which have become world-renowned due in large part to the 1965 film starring Julie Andrews and Christopher Plummer.
So let us share with you five of our favorite things about this heartwarming show in which a young woman works as a governess to the seven children of a retired naval officer while she simultaneously decides whether to become a nun.
1) The Hills
From the darkened shadows of monastic life in the Nonnberg Abbey to the richly-saturated colors of the enormous backdrop depicting the Swiss Alps mountain range, the set design for this picturesque Salzburg local is impressively grand and beautifully ornamental. And reminding us of the calculated risks which must often be weighed when attempting to "Climb Ev'ry Mountain," Ashley Brown (Broadway's Mary Poppins and NBC's The Sound of Music) brings a younger and more gently empathetic presence to the role of the overseeing Mother Abbess.
2) The Sound
A sweet little songbird from the moment we "start at the very beginning," the fresh-faced Kerstin Anderson delivers exactly what is expected vocally as the postulant Maria and even more. As natural as an Edelweiss flower springing forth from rocky inclines at high altitudes, Anderson beautifully delivers one familiar tune after another with what seems like an innately-instinctive casual effortlessness.
3) The Walls
Whether dancing the Lindler within the lavishly filigreed walls enclosing the high-ceilinged salon of his stately mansion or introspectively working to break through the walls of his mournfully sorrowful heart, Ben Davis performs splendidly as the dignified Captain Georg von Trapp. When his character is faced with an unwelcome order to accept a commission within the German navy, Davis pulls off the transition from terse to tender with a swift yet thorough effectiveness.
4) The Allegiance
In sit-com quick timing, rising political drama is softened by the well-timed comedy relief delivered by Merwin Foard as Max Detweiler as he arrives on scene with Teri Hansen as the uber-wealthy Baroness Elsa Schraeder. As a pacifistic citizen of a nation whose borders have been invaded, the mooching "Uncle Max" nonetheless believably plays a part in supporting the von Trapp family's escape from the country.
5) The Kids
Real-life couple Dan Tracy and Paige Silvester lend credible romantic chemistry to the onstage attraction between teenagers Rolf and Liesl while the remaining von Trapp children are skillfully played by Erich Schuett (Friedrich), Maria Knasel (Louisa), Quinn Erickson (Kurt), Svea Johnson (Brigitta), Mackenzie Currie (Marta) and Audrey Bennett (Gretl). This stair-stepped group of seasoned young actors makes immensly-entertaining work of songs like "Do Re Mi," "The Lonely Goatherd," and "So Long, Farewell." These positively adorable kiddos are as cute as a matching set of buttons on an elaborately-embroidered pair of Bavarian-styled lederhosen. And that's cute.
Longtime fans of the classic movie are certainly liable to appreciate the close-to-original sound of the beloved songs that so many people have grown to adore over the decades. For more information, see performance details below, view additional general information about Dallas Summer Musicals, or visit the Dallas Summer Musicals website to Get Tickets for this or other upcoming shows, and more.
Dallas Summer Musicals' highly anticipated 2015-2016 Season has been announced kicking off with Rodgers & Hammerstein's The Sound of Music, November 3-22, 2015; followed by Elf The Musical, December 8-20, 2015; The Bridges of Madison County, February 2-14, 2016; DSM's production of Disney's The Little Mermaid, March 11-27, 2016; Wicked, April 20-May 22, 2016 as a season add-on; Ragtime, May 24-June 5, 2016; Bullets Over Broadway, June 14-26, 2016; and closing the season will be 42nd Street, June 28-July 10, 2016. Performing Arts Fort Worth's 2015-2016 Broadway at the Bass Season kicks off with the Fort Worth debut of The Book Of Mormon Dec. 1-6, 2015; followed by Motown The Musical January 13-17, 2016; Disney's The Little Mermaid March 29-April 3, 2016; The Wizard of Oz June 7-12, 2016; 42nd Street July 12-17, 2016; The Sound Of Music August 17-21, 2016; and, closing out the season, the spectacular new production of The Phantom Of The Opera Oct. 20-30, 2016. Dallas Summer Musicals and Performing Arts Fort Worth will co-present three of these titles: Disney's The Little Mermaid, 42nd Street, and The Sound Of Music. The shows will play in Dallas for two weeks, then head to Fort Worth for limited, one-week runs.
Editorial Policy: The Flash List is dedicated to providing trustworthy editorial content by maintaining strict ethical standards, journalistic integrity, and credible professionalism regardless of potential compensation as working media. The Flash List discloses receiving tangible and/or intangible benefits for the purposes of providing media coverage for certain events, venues, products, and/or services.
MORE ON THE FLASH LIST
50 Things to Do
Bored? Well, there's definitely no need to be. Take your pick of these fun things to do.
Entertainment News
The latest breaking news and top stories in arts, dining, culture, movies, music, and sports.
Events Calendar
Not everything in town that you could do, but a list of events that you definitely should consider.
Date Night Ideas
From retro candy stores to luxury car rentals, let us help you impress on your next date night out.
Movies in Theaters
See previews of movies coming soon and trailers for films now playing at local theaters.
Go Gallivanting
Our sister website, The Art of Gallivanting, offers extraordinary adventures for ordinary people.